CD receivers buying guide
How to choose a car stereo that's right for you
With so many in-dash receivers to choose from, how do you pick the right one? Answering the questions below will help you narrow down your choices to get the right stereo for you.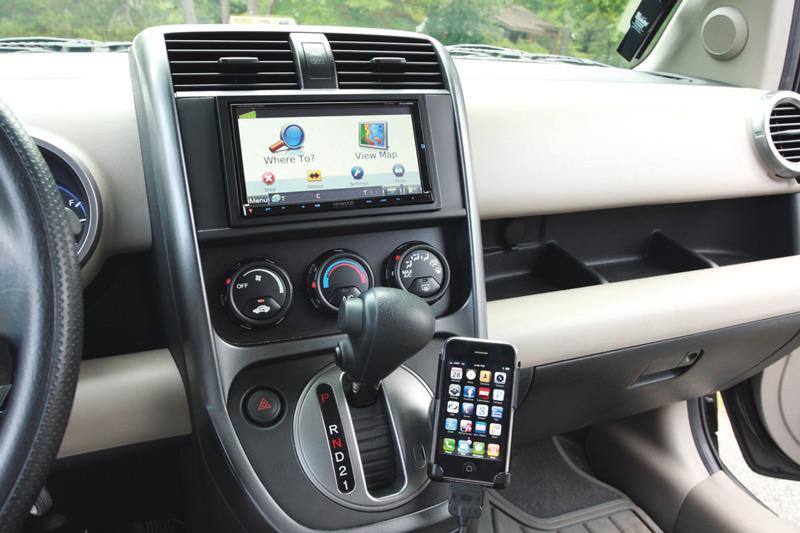 What's in your car now? Why do you want to replace it?
These are two of the first questions our advisors will ask when you call us. Your answers can help them zero in on the features and products that'll work for you. After finding out a little about your interests, they can suggest other possibilities and offer viable solutions that'll include all the features you'll enjoy.
On your own, these questions can help you focus on what exactly it is you're missing and what you want to gain with a new stereo.
What fits your car?
Step one is making sure you choose a stereo that fits perfectly in your dash. That part's easy — use our vehicle selector tool. Enter your vehicle information, and we'll filter out the options that don't fit in your vehicle. Plus, we'll let you know about the installation kits, instructions, and special adapters you might need — which we offer at a discount when you buy a receiver from us.
How do you listen to your music?
Answering this question is the next step in selecting the right CD receiver. Knowing which options are "must-haves" will help you narrow your search and focus on the features that are important to you. These days you can choose from a lot of listening options, and how you listen to music breaks down into two broad categories:
Listening to your own music
Music on an iPod® or iPhone®: Look for a stereo with iPod controls if you want to be able to control your iPod from your stereo's faceplate. You simply plug your iPod into the stereo's USB input to get full access to your iPod and charge it at the same time.
Thumb drives: Many in-dash receivers feature USB inputs, so you can load music files onto a thumb drive or other type of mass storage device, and have a ready-to-go library of music in your car all of the time. Some receivers feature SD™ card slots too.
Other kinds of music players: Your new stereo needs an auxiliary input in order to connect an external device, whether it's an iPod, an MP3 player, or some other audio source. Front-panel auxiliary inputs make connecting a portable especially convenient.
Bluetooth® audio streaming: When we think of Bluetooth, we usually think of hands-free calling. But many phones and music players can stream music wirelessly to receivers (referred to as A2DP protocol). If you want this ability, make sure that the stereo you get is capable of audio streaming, because some are limited to only using Bluetooth for hands-free calling. See our article, The ABC's of Bluetooth in the Car, for more info.
CDs: Today's receivers will play your favorite CDs or home-made compilations on recordable discs. One differentiating specification to look for is a stereo's CD signal-to-noise ratio — the higher the rating in decibels (dB), the cleaner the CD playback will sound. Most CD players will play MP3 discs, and many also play WMA (Windows Media Audio) files and AAC files too.

Listening to music from broadcast sources
Pandora® Internet radio: Many receivers now let you control Pandora – including thumbs up and thumbs down via a connection to your smartphone. The ability to control other Internet-based audio sources, like Aha! Radio and Spotify, are also starting to appear.
Satellite radio: If you want to add satellite radio to your new car stereo, make sure the stereo you choose is "satellite radio-ready." That means it can control an optional hideaway satellite radio tuner. If you already have a portable satellite radio, then your new stereo just needs an auxiliary input.
FM radio: Radios with a low FM sensitivity do a better job of pulling in radio signals. An FM sensitivity of 8 to 12 dBf is considered very good. Some stereos use digital processing to clean up the analog radio signal, so the music is clear and free of static. Be sure to look for this detail in the stereo's description if a better-than-most AM/FM radio is high on your list.
HD Radio™ broadcasts: Radio stations broadcasting digital signals are becoming more and more prevalent. To gain the benefits of static-free reception and better sound quality, your stereo must have an HD Radio tuner.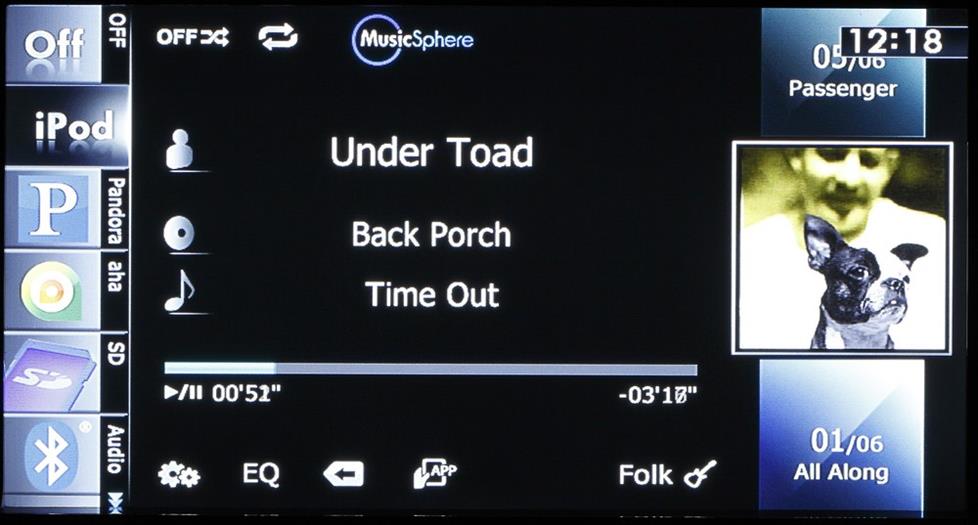 App-compatible stereos bring your mobile apps to the car
What are the non-music functions that you want?
Today's car stereos can do much more than just play music. Consider other options like these.
App control: Cutting-edge receivers are integrating software apps into the stereo. These receivers vary in how they use apps, but they often work with apps for streaming music from the Internet, navigation, and weather reports. Some of them even let you hear updates from your Facebook and Tweeter feeds!
Bluetooth: Bluetooth connectivity gives you the freedom of hands-free calling when used with a compatible phone. As mentioned above, some receivers with Bluetooth also support music streaming.
GPS Navigation: Stereos with built-in navigation help prevent you from getting lost (or help you find your way if you do). The navigation screen is much larger than most portable navigators and you get the added luxury of touch screen controls for your stereo.
DVD playback: Being able to play standard DVDs on your car stereo is great if you want to build a mobile video system. But the real kicker is the touchscreen controls that come with it! If you don't need built-in navigation, a DVD receiver is a less expensive way to get that cool touchscreen interface.
What other things should you consider in a CD receiver?
Discs or no discs? There are receivers designed specifically for those people who no longer own CDs. They're called "digital media receivers" (also referred to as "mechless") and they tend to offer more connectivity options than regular CD receivers at a similar price. Read our Digital Media Receivers Buying Guide for more details.
Sound controls: Controls beyond basic bass and treble adjustments let you tailor the music to your car's acoustics. Even if you are the "set it and forget it" type, look for a stereo with treble, bass, and midrange controls — the ability to adjust the midrange will improve the sound of your music. On the other hand, if you're a "tweaker" who likes to experiment with the sound adjustments, look for a model with a more sophisticated equalizer (such as a parametric EQ), with digital signal processing (DSP), or with digital time correction — these types of sound controls give you total control over the effect of the acoustics in your vehicle.
Power: Are you keeping your factory speakers? If so, you don't need to worry about your new stereo's power rating. It'll drive your factory speakers just fine. If you plan on replacing your factory speakers, however, look for one of the higher-powered models. (Remember, CEA-2006 compliant models will have lower RMS power ratings than non-CEA models.)
Preamp outputs: Preamp outputs let you connect external amplifiers to power your speakers or a subwoofer. The number or outputs can vary, but you should have at least one set. The higher the output voltage rating, the cleaner the signal. If you know you will be adding a subwoofer, look for a model with a dedicated subwoofer output — this will allow you to adjust the subwoofer volume independently, rather than using the bass control.
Display and controls: Consider stepping up to a 2-line display so that you can see song, album, and artist information without a lot of scrolling. Enhanced graphics make it easier to see the display at a glance and provide you with more information. They also make it easier to control and adjust the stereo. And some displays let you select their color, for a better match to your dash lighting.

Alpine's no-frills display on the CDE-172BT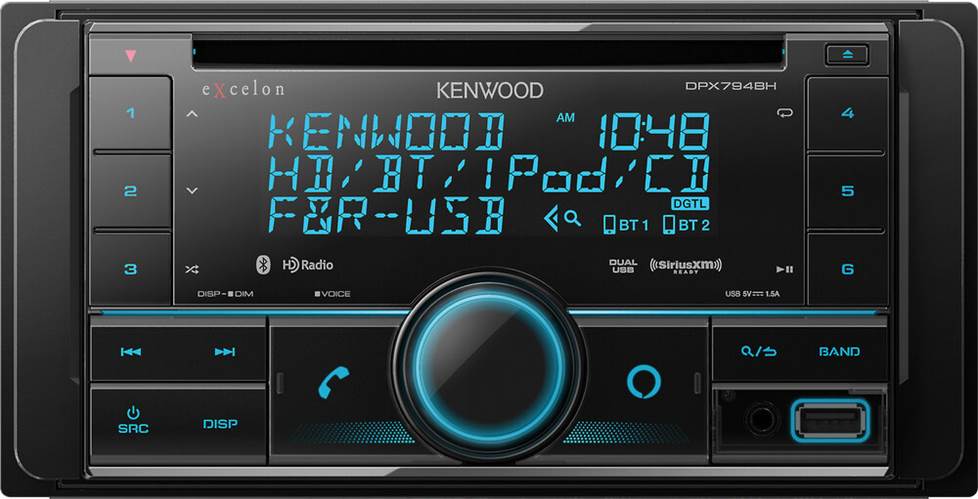 The Kenwood Excelon DPX794BH double-sized receiver has three lines of text
Why would I buy a higher-priced model?
For many people, a lower-priced stereo will do everything they need. So why should you spend more? More expensive stereos will offer:
Better sound: Higher-priced stereos often feature improved processors and more flexible fine tuning. That means better sounding music for you, especially if you're upgrading the rest of your vehicle's audio system.
Easier to use: As I touched on above, advanced controls and a larger display make it easier to operate the stereo. Touchscreen controls are among the most intuitive to use and give your stereo a futuristic feel. Read more in our article about touchscreen displays.
"Wow" factor: Top-end stereos offer a more striking visual appearance — multi-color fluorescent displays, customizable graphics, and motorized faceplates, for example.
What's the next step?
Write down a list of the features you most want. Then, use our vehicle selector to create a list of stereos that fit your car. Or worry about that later and jump right into the in-dash receivers!
And don't hesitate to give us a call if you have any questions (1-888-955-6000). Before you know it, you'll be riding around with your perfect in-dash stereo.