Crossover/equalizer installation guide
Tips for a successful install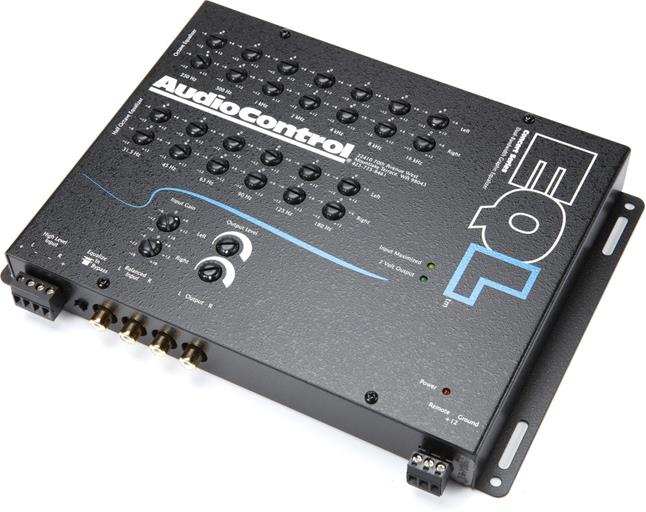 AudioControl EQL 13-band equalizer
This installation guide offers examples of crossover and equalizer (EQ) installation types and suggested system layouts. The installation of your crossover or EQ will depend on the make and body style of your vehicle as well as the equipment purchased.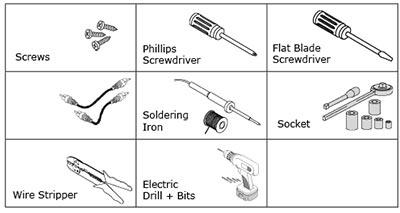 Tools needed, depending on vehicle
A note about wiring: In addition to the tools listed above, your equalizer or active crossover installation will require power and ground wiring, plus RCA cables, terminals, and a remote turn-on lead. The easiest way to get all of these items is in an amplifier wiring kit, available at Crutchfield.
You can also download a pdf of the Crossover/EQ Installation Guide. Note: To view this file, you will need the Adobe Acrobat PDF reader (free download).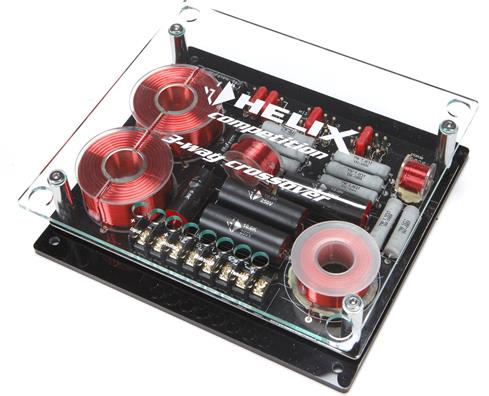 The passive crossover from a set of component speakers
Crossovers
Passive crossovers:
A passive crossover steps into the signal path after the amplification. It's a capacitor or coil usually installed right on your speaker lead. A passive crossover comes with every pair of drivers in a set of components, sometimes mounted on the speaker's frame.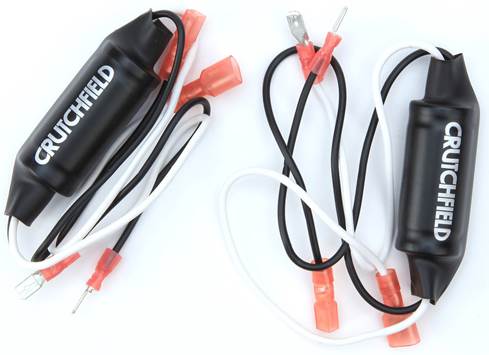 Crutchfield also carries passive high-pass crossovers, called Bass Blockers, that clean up the sound of midrange speakers and tweeters by removing the low frequencies. They get installed by the speakers and use the factory wiring with standard quick-slide connectors.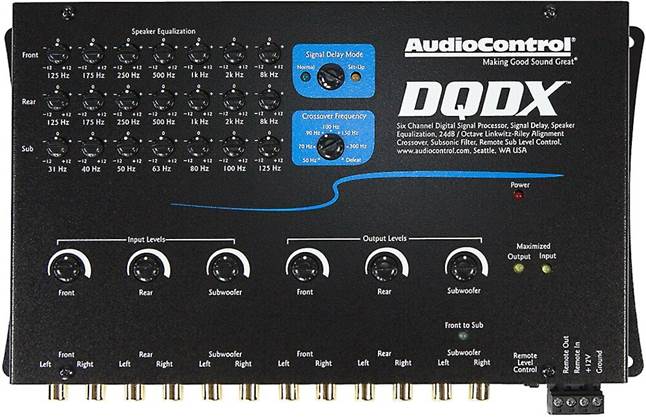 AudioControl DQDX processor
Active crossovers:
Installing an active crossover requires a little more work. You have to connect 12-volt power, ground, and a turn-on lead. The active crossover gets installed between your receiver and your amplifier. (Many active crossovers have both speaker-level and preamp inputs, so they can usually accommodate either type of connection.)
Equalizers
Like a crossover, the equalizer gets installed between your receiver and your amplifier. And like a crossover, an equalizer needs power, ground, and turn-on wires. You'll find equalizers that are designed to be installed in the dash, above or below your receiver. These might require custom installation work. Other equalizers are designed to be mounted in a remote location, like the trunk. Either way, the wiring connections required will be the same. To install:
1. Installing (active crossover or equalizer):
A remote-mount equalizer or crossover can be securely mounted with just a few screws. Anywhere between the receiver and the amp is fine. Most people mount the device in the trunk near their amp, especially if you have more than one amp. This also makes it easier to add additional amps later. You should mount it where it will be easy to get to so that you can make adjustments without too much trouble. Don't mount your equalizer or crossover directly on steel — you will invite noise problems. Instead, install it on a non-conductive board and attach the board to the car body (or use rubber grommets under the screws to isolate the chassis).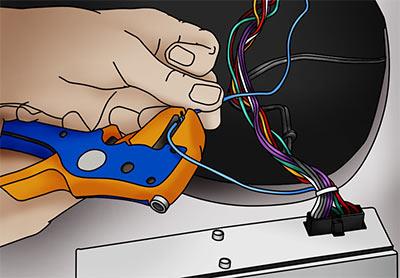 Locate the remote turn-on lead behind your radio (usually a blue wire).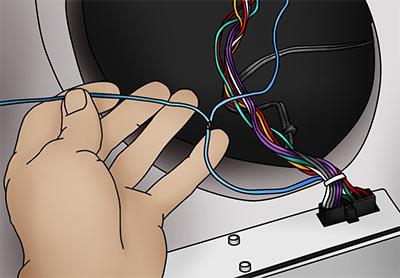 Connect the turn-on lead from your amplifier wiring kit to the blue wire. You can wrap the bare wire ends together and cover with electrical tape, or use solder.
2. Making the power connections:
To obtain 12-volt power:

Cut a length of small-gauge cable (16 gauge is typically sufficient) long enough to reach from the EQ or crossover location to your vehicle's fuse panel. Strip one end of the wire, and attach it to the device's power input. This may require a crimp-on connector, or bare wire might be sufficient, depending on the equipment you're installing. Route the wire from the device's location to your car's fuse panel. Using a fuse tap, connect the wire to a source of switched 12V power.

To ground the equalizer or crossover:

Remove a bolt near the mounting location. Crimp a ring terminal to one end of a length of small-gauge wire, and then bolt the terminal tightly to the vehicle's metal chassis. Scrape away any paint and clean the bolt location thoroughly. If you can't find a convenient ground screw or bolt, drill a hole for one — be careful not to drill into the gas tank or a gas or brake line.

Making the turn-on connection:

In most cases, you can tap into your in-dash receiver's amp turn-on lead to get a turn-on signal for your device. Remove the receiver from the dash to access the turn-on wire (usually a blue wire). For step-by-step instructions on removing your vehicle's radio, see your vehicle-specific Crutchfield MasterSheet™, or read our In-Dash Receiver Installation Guide. Strip the insulation off a small section of this wire coming from the radio. Strip the insulation off another small-gauge cable that's long enough to reach from the in-dash receiver to the EQ or crossover, then connect the two with crimp caps or solder. Wrap the solder or crimp connection with electrical tape to guard against a short. Using wire ties to secure the wire, route the turn-on lead behind your dash all the way to the mounting location.
3. Making the signal connections:
In most cases, you'll be routing RCA cables from your in-dash receiver's preamp outputs to the inputs of your EQ or crossover. While your receiver is out of the dash to access the turn on lead, connect a set of RCA patch cables (long enough to reach your crossover in its mounting location) to these outputs, taping them together so they won't come apart. Route the patch cables (again using wire ties) behind the dash, and to the crossover mounting location.
The best of both worlds
If you plan on using both an equalizer and a crossover together, the order of connection should be:
The receiver's outputs go to the equalizer's inputs
The equalizer's outputs go to the crossover's inputs
The crossover's outputs go to your amplifier's inputs

AudioControl EQL dual 13-band equalizer