Best ways to control your iPhone® or iPod® in the car
A guide to iPod/iPhone and car stereo compatibility
If you have an iPod or iPhone you'd like to use in your car, and you're not sure how to do it, you're not alone. Adding iPod or iPhone control to almost any vehicle's stereo can be made simple by using a USB port that's "Made for iPod/iPhone" or a vehicle-specific iPod adapter.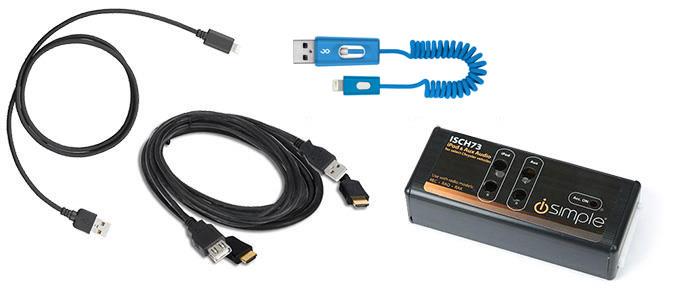 Many new aftermarket stereos have iPod and iPhone controls built in, so you don't need anything more than the iPod cable for basic audio control. On the other hand, some stereos require an adapter in order to access the more advanced features of your device. And many factory audio systems that don't include a USB port require an adapter in order to connect your iPod at all.
Why not just use a Bluetooth® connection or auxiliary input?
The iPod Touch and iPhones offer built-in Bluetooth connectivity, and once they're paired with a car radio equipped with Bluetooth, you can stream content between the two for handy wireless convenience. Learn more in our article about getting Bluetooth in the car. But, not all iPod models have Bluetooth, and a Bluetooth connection won't charge your device's battery — in fact, it will drain it faster. And while it has improved over the years, Bluetooth was not designed for sound quality originally, so the audio can sound compressed.
Auxiliary inputs work great for passing an audio signal from your iPod's headphone output to your car stereo. Most car stereos and many factory systems include them, and the sound quality is very good. But again, your device's battery won't be charged. You'll also can't control your iPod music from the radio, nor will you see any song info on the radio.
Benefits of using a wired iPod or iPhone car adapter
A USB connection or a wired iPhone car adapter offers solid advantages over other connections.
Better sound — A USB connection bypasses the DAC (digital to analog converter) in your iOS device and uses the DAC in your new stereo to get the most out of your sound.
Music controls — This connection also lets you control your music directly from the stereo controls, or in many cases, you can choose to control your music using your iPhone. This makes picking the song or playlist you want much easier. and provides song info on your radio's display.
App controls — Many newer stereos let you access specialized apps on your device from the stereo. The most basic of these is Pandora controls that let you access your Pandora account (select your channels, rate songs, skip tracks, etc.). But other stereos have far more advanced app controls, especially if the stereo has a video screen.
Power — A USB connection also charges your device's battery.
Type of adapter: Will the regular iPod cable do the job?
The kind of cable or adapter you need depends on the capabilities of the stereo you have in the dash.
USB connection
Stereos that have USB inputs that are "Made for iPod/iPhone" usually only need the standard iPod cable for basic audio control. In these cases, you can use the cable that came with your iPod to connect and control it from the stereo, but it's a good idea to purchase an extra iPod cable to leave in the car. You can also purchase cables of different lengths depending on your application. Check out our assortment of 30-pin iPod dock connector cables or Lightning™-to-USB cables.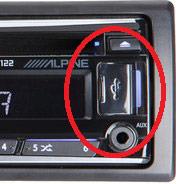 A USB port represents the most common connection for an iPod or iPhone.
iPod adapter cables
Some stereos, especially those with video screens, require a special adapter cable in order to get full iPod integration. You might be able to get basic control of the iPod with the regular iPod cable, but in order to see song titles and menus on the stereo's display, access music and navigation apps, and mirror your phone's display on the big screen, you need the special adapter cable. It's best to check out the "Details" section of the receiver you're considering to determine the right iPod adapter for your application.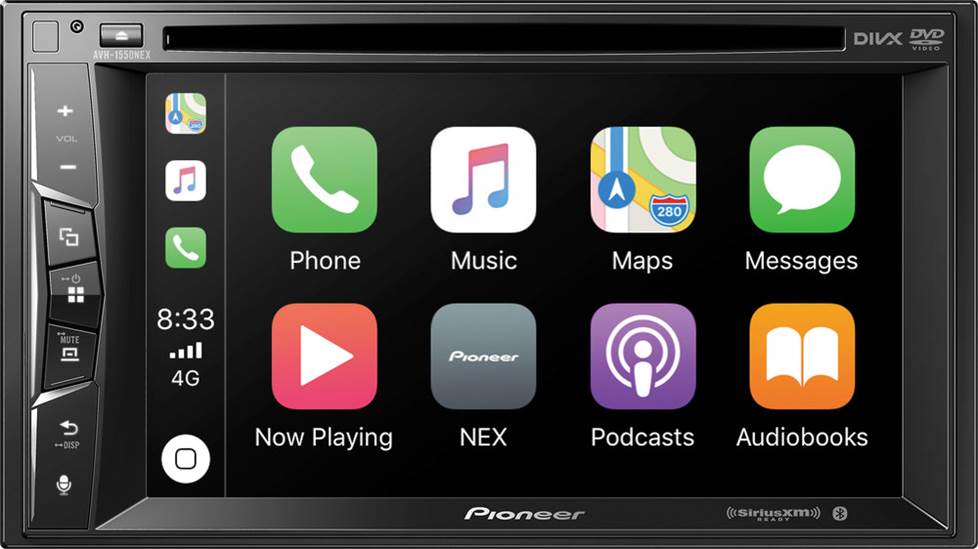 Some touchscreen radios enable you to see and use many of the apps on your iPhone.
FM modulator and cassette adapter
You may have seen them, or at least heard of them. In older aftermarket or factory car stereos with a cassette player, you can use a cassette adapter with a cable that plugs into the headphone jack of your iPod. An FM modulator works by "broadcasting" your audio over an open FM band on your radio. These provide audio from your portable device; however, this audio isn't the highest quality due to the limitations of cassette playback and FM frequencies. Plus, these setups usually mean more wires hanging out of your dash, your device's battery wouldn't be charged, and controls are limited to the iPod itself.
Functionality: How easy is it to control your iPod from the stereo using USB or an iPod interface?
Now let's discuss the stereo itself. Some receivers work better with iPods than others, and it's not that hard to figure out which ones. Functionality refers to how easy it is to manipulate the iPod's functions from your car stereo.
The stereo's display
Consider a basic display with a single line of text, limited to 8 or 10 characters visible at a time. Song text might scroll across the display. You probably have to switch view settings to see artist name, song title, and playlist, or there might be only numeric designations for playlists. Factory stereos and entry-level aftermarket receivers usually fall into this category.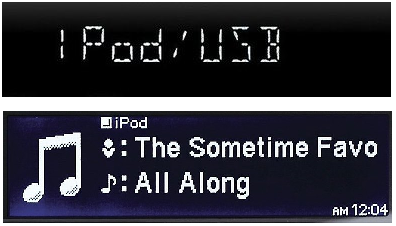 Compare that display to one with two or three lines of text that can show you all of the song information at once. Searching for songs and folders is going to be much easier on a display that shows this much detail.
The stereo's controls
Just as the display is important for being able to see what you're doing, having radio controls that are suited for searching and accessing a song library affects iPod control too. Basic stereo controls can mean extra button pushing to make your way through the song menu to get to the artist and album you want to hear. Stereos with more advanced controls will make it much easier to find the song you want.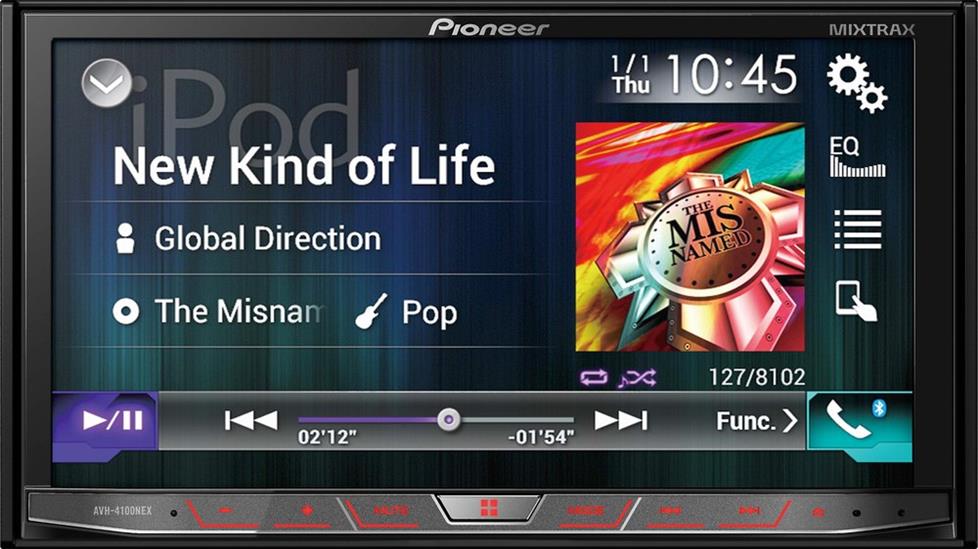 This large touchscreen display provides a user-friendly interface to find music on your iPod. Receivers like this are designed with iPod compatibility in mind.
iPod compatibility and shopping for a new stereo
To help find stereos with the right level of iPod/iPhone control, we've included an iPod compatibility filter in the car stereo section of our web site. We update these dynamic filters for evolving technology, but when it comes to iPod and iPhone, you may want to consider features like these depending on your needs:
App Compatible: These stereos give you access to music on your iPhone. On more advanced receivers, like Pioneer's AppRadio, you might get access to many apps that have been tailored to the stereo.
Audio Playback: This option refers to standard audio controls. You can use the stereo to access the audio content stored on your iPod or iPhone. You usually don't need to buy any optional adapters and they tend to give you the best level of control.
CarPlay: Available on select car stereos, this newer feature works with iPhones that use the Lightning™ connector to enable you to use certain phone functions as you drive, but in a manner that'll let you stay focused on the road. These functions include your iPhone's calling, music, mapping, and message applications. Find out more about CarPlay.
iPhone 6 Compatible: These stereos are specifically compatible with the iPhone 6. Certain app and video functions that are readily accessible from older iPhones may not be available through the newer iPhones, or they may require special cables or connections.
Pandora: This is a subset of the stereos in the above iPhone categories that specifically have the ability to control Pandora Internet radio through your iPhone.
Siri Control: Some stereos let you access Siri through the stereo's Bluetooth® connection. It uses the stereo's microphone to let Siri hear you, and Siri's responses are played over the car's speakers.
Video Playback: This option means that the stereo can play video content from your iPod or iPhone. This includes streaming video content, such as YouTube and Netflix. Keep in mind that viewing videos on your car stereo's screen requires that the vehicle be stopped and the parking brake be engaged. This feature usually requires that you purchase a special adapter cable (you can use the standard iPod cable for basic audio controls, just like the "Audio Playback" category above).
Here to help
If you have any questions about how to add iPhone or iPod control to your current stereo, or want help shopping for a new stereo, chat with us online or give us a call. Our Crutchfield advisors are always ready to help.