Shallow subs for big bass in a tight space
Don't settle for tiny sound just because you have a tiny car
maller cars and trucks present a dilemma when you want to build a system with powerful, thumping bass. To get bass that rattles your teeth (or maybe only your trunk lid), you need big subwoofers and enough space for the subwoofer box that contains them. But in smaller vehicles space for bass is at a premium.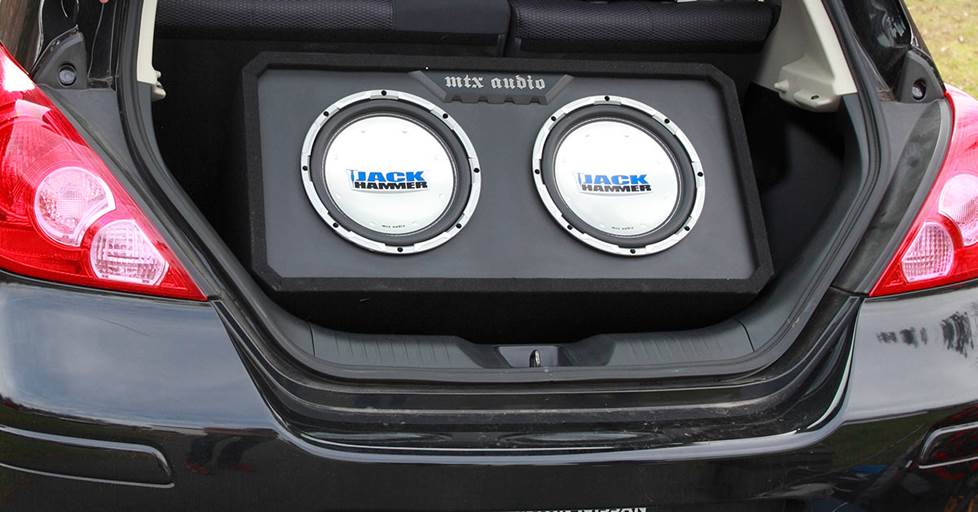 Bass is a necessity, but this might be too much for my small car
Does small car mean small bass?
When you have a smaller car with limited cargo space, sometimes a compact powered subwoofer will do the job. I did that in my Nissan Versa (pictured above, with my camping gear). The compact sub added some needed depth to my music, so that everything sounded more life-like. Most of the time that was fine. But in the end, it wasn't enough. Traditionally, the next step is a "regular" powered subwoofer (that is, not "compact"), like a Bazooka tube.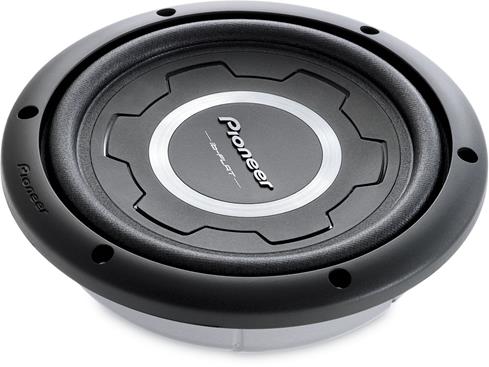 Shallow-mount subwoofers
This is the future. We now have the option of shallow mount subwoofers — slim subwoofers that give you traditional "big bass" sound, but they are designed to perform in a smaller, tighter space. Lots of engineering and design goes into creating these low-profile subwoofers, and each manufacturer does it a little differently. What matters is that us modern drivers who prefer a smaller vehicle can still get bass that's deep and rich from our music.
[Shop for shallow-mount subwoofers]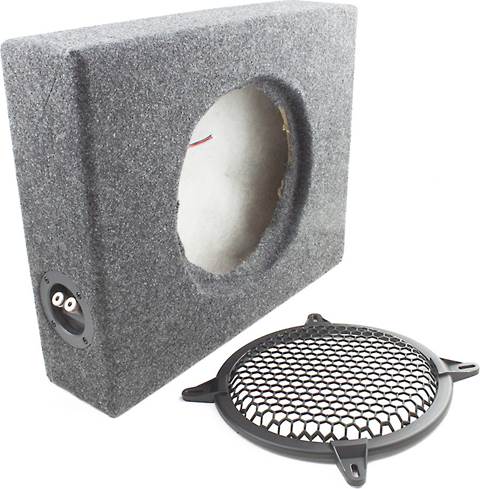 Thin subs need thin boxes
The whole point of making a thin subwoofer is so that it can be mounted in a thin subwoofer box. There are several styles available to accommodate most subwoofer sizes and the space limitations of your vehicle. Just compare the internal volume of the box to the sub's recommended box volume.
[Shop for shallow-mount subwoofer boxes]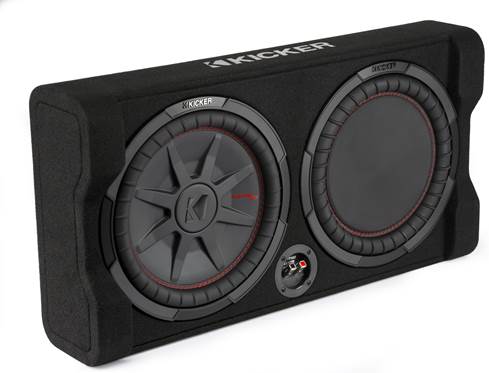 Prefer an all-in-one bass solution?
For an easier option, check out our preloaded boxes. These are subs that come pre-installed in a low-profile enclosure from the manufacturer. We offer these compact subwoofer boxes in a variety of woofer sizes and power handling capabilities.
[Shop for preloaded shallow-mount boxes]
Will a slim subwoofer work for you?
The slim profiles of these subs and the small enclosures they fit into have opened up a variety of subwoofer options for vehicles with limited space. Check out the links above and if you have any questions, contact one of our advisors. They'll help you figure out the best bass solution that'll work best for you. You'll be able to put one (or two) of these subs into the limited space of many of today's smaller vehicles. Just be sure to save room for an amplifier!