Car stereo buying guide
How to choose a car stereo that's right for you
The car stereo is the centerpiece of any car audio system. With so many to choose from, how do you pick the right one? This article will help you narrow down your choices to get the right stereo for you and your car or truck.
hy get a new car stereo? A new car stereo will give you better sound and more playback options than the typical factory stereo. We'll discuss these topics and more while asking a few basic questions about how you use your stereo. And if you have any questions, you can contact one of our adviors (like Ivy, pictured above) at any time. They're patient, friendly, and eager to help.
Watch the video
Before we go into the details, let Crutchfield's training manager give you the highlights.
Better sound quality
Superior built-in power and better circuit design mean that an aftermarket car stereo isn't just louder than the typical factory stereo, it also produces cleaner, richer, more-detailed sound. Enhanced tone controls mean that you can do a better job of fine-tuning the music.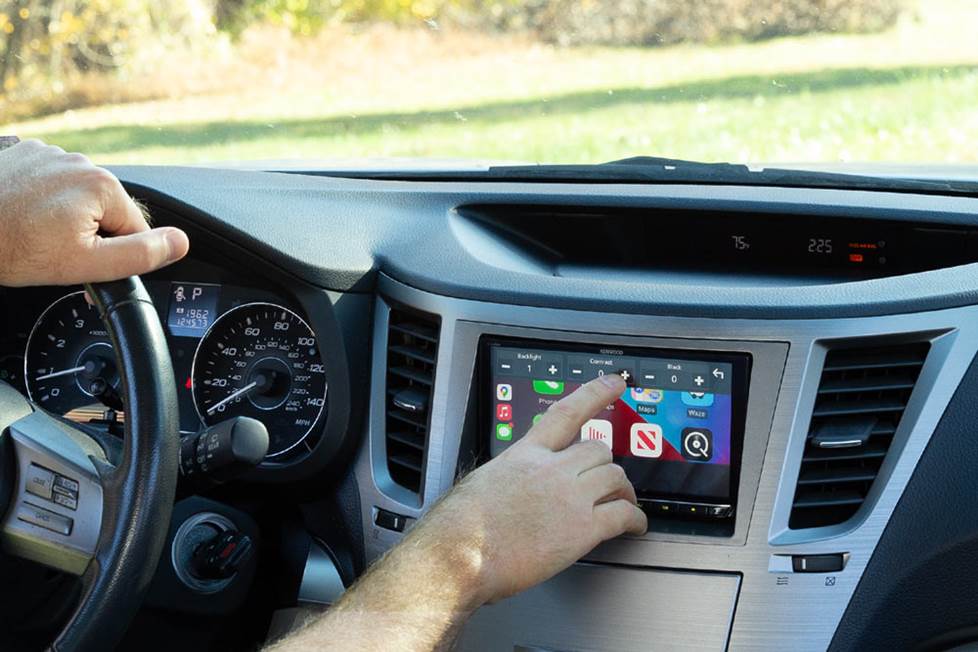 Touchscreens make it easy to control the stereo – and your phone
New sources for music and added functions
One of most common reasons to get a new stereo is to expand your listening options and other functionality, such as:
Digital media playback, including high-res music files
Android™ and iPhone® support, including Android Auto® and Apple CarPlay®
SiriusXM satellite radio
Bluetooth® connectivity
GPS navigation
Support for Pandora®, Spotify®, and other app-related sources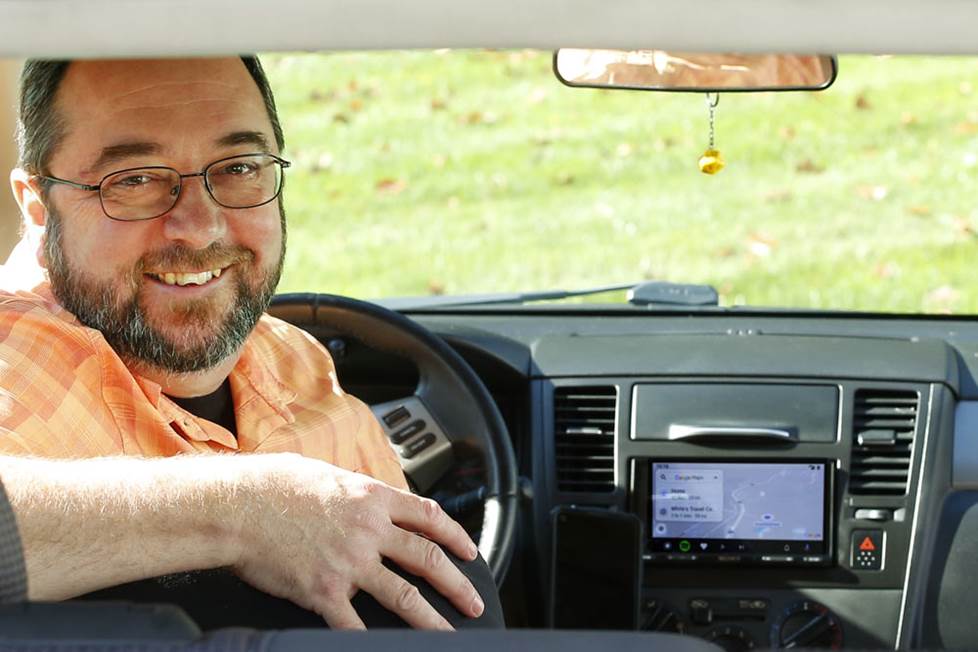 A new stereo can spruce up an older vehicle.
Why do you want to replace your current stereo?
This is one of the first questions our advisors will ask when you call us. This question can help you focus on what exactly it is you're missing and what you want to gain with a new stereo.
What fits your car?
It's important to make sure you choose a new stereo that fits perfectly in your dash. That part's easy — use our vehicle selector tool. Enter your vehicle information, and we'll filter out the options that won't work in your vehicle. Plus, we'll let you know about the installation kits, special adapters, and instructions that you'll need — which we offer at a discount when you buy your new stereo from us.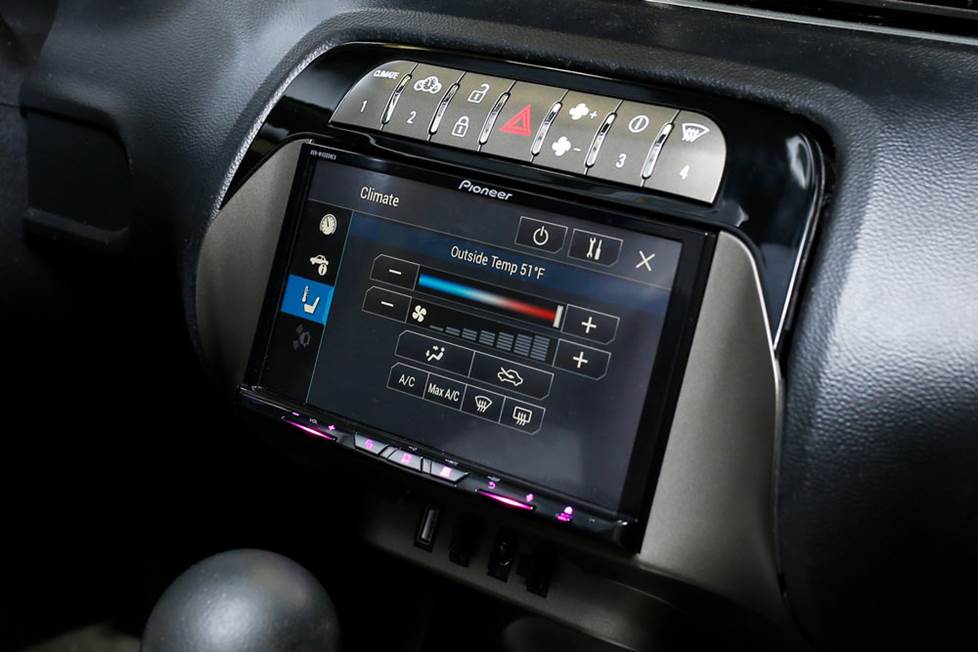 Add even more excitement to your hotrod like we did to this Camaro
How do you listen to your music?
Answering this question is the next step in selecting the right car receiver. Knowing which options are "must-haves" will help you narrow your search and focus on the features that are important to you, so that you can listen in your preferred ways:
Music from your phone: Look for a stereo that will control your phone or that has Bluetooth® streaming capability.
Thumb drives or music players: Most in-dash receivers feature USB inputs, so you can have a ready-to-go library of music in your car all of the time, loaded onto a thumb drive or other type of mass storage device. An auxiliary input lets you connect non-USB devices. Some receivers feature SD™ card slots, too.
CDs: If you still listen to discs, make sure your new stereo can play them. A CD or DVD receiver is what you need. If you don't need disc playback, then a digital media or multimedia receiver might be best for you. Read our digital media receiver buying guide for more info.
Pandora or Spotify: Many receivers let you control Pandora or Spotify when connected to your phone.
SiriusXM: If you want to add satellite radio to your new car stereo, make sure the stereo you choose is "satellite radio-ready." That means it can control an optional hideaway satellite radio tuner. If you already listen via the phone app or have a portable satellite radio, then your new stereo just needs an auxiliary input or Bluetooth.
FM radio: Radios with a low FM sensitivity do a better job of pulling in radio signals. An FM sensitivity of 8 to 12 dBf is considered very good. Be sure to look for this detail in the stereo's description if a better-than-most AM/FM radio is high on your list.
HD Radio™ broadcasts: Radio stations broadcasting digital signals are becoming more and more prevalent. To gain the benefits of static-free reception and better sound quality, your stereo must have an HD Radio tuner.

What are the non-music functions that you want?
Today's car stereos can do much more than just play music. Consider other options like these.
CarPlay and Android Auto: Touchscreen stereos do the best job of bringing your smartphone into the car. The CarPlay and Android Auto apps pull in your favorite car-centric phone services (navigation, calling, and music listening). Check out our guides to car stereos with Apple CarPlay and car stereos with Android Auto for more details.
Bluetooth: Bluetooth connectivity gives you the freedom of hands-free calling and audio streaming when used with a compatible phone. Frankly, even if you think you don't need this, you should probably make sure you new stereo has it.
GPS Navigation: Stereos with built-in navigation help prevent you from getting lost (or help you find your way if you do). The navigation screen is much larger than your phone and most portable navigators. And you get the added luxury of touchscreen controls for your stereo.
Speaking of touchscreen controls: Large screens, loads of built-in features, and easy viewability are just some of the advantages to building your audio system around a large-screen receiver. Read our article about the advantages of a touchscreen receiver to learn more.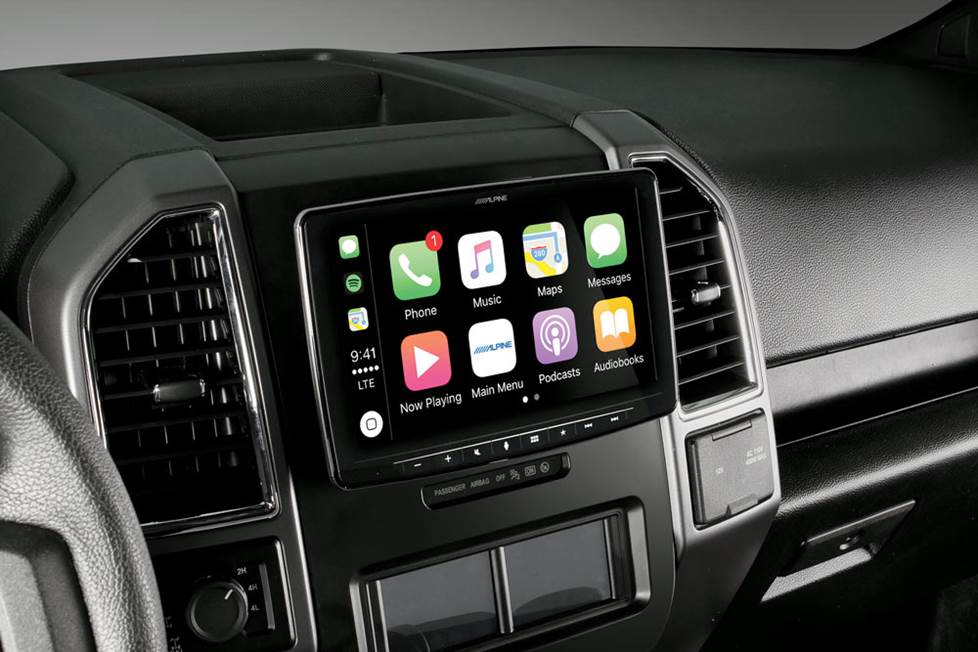 The Alpine Halo series of stereos feature large screens that "float" in front of your dash
What other things should you consider in a car stereo?
Better sound controls
Precision sound controls like digital time correction and parametric equalization are available on higher-end receivers for those of you who really want to tweak the sound. But even lower-priced aftermarket stereos will offer more audio control than the typical factory radio.
Cool cosmetics
Aftermarket car stereos, with their high-tech displays and cutting-edge layouts, can enhance the appearance of your car's interior. Consider a multi-line display so that you can see song, album, and artist information without a lot of scrolling. They also make it easier to control and adjust the stereo.
Your options include full-color animated displays and customizable color schemes for a better match to your dash lighting. If you want to heighten the listening experience, look for a stereo with lighting that flashes to the beat!
The hot trend in car stereos today is a floating screen – a screen that doesn't fit in the dash, but "floats" in front of it, typically measuring 9 or 10 inches. These stereos bring even better "ease of use" functionality and definitely step up the stereo's "wow factor."

Alpine's no-frills display on the UTE-73BT digital media receiver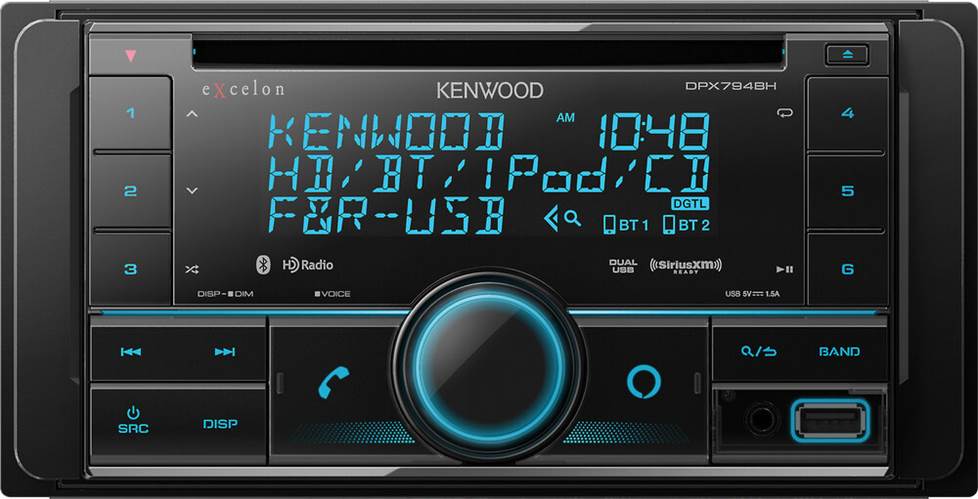 The Kenwood Excelon DPX794BH double-sized receiver has three lines of text
Expandability
Auxiliary inputs, USB connections, and audio/video outputs let you expand your system by connecting portable music players, rear seat video screens, external amplifiers, and powered subwoofers to your new stereo.
In particular, preamp outputs let you connect external amplifiers to power your speakers or a subwoofer. The number of outputs can vary, but you should have at least one set. Output volatage typically ranges from 2 to 5 volts. The higher that voltage rating, the cleaner the signal sent to your amp. If you know you will be adding a subwoofer, look for a model with a dedicated subwoofer output — this will allow you to adjust the subwoofer volume independently, rather than using the bass control.
DIY Installation Help
We have the installation parts, accessories, and tools needed to install a new stereo.
We include step-by-step instructions specific to your car, if available, for free. For most vehicles, we also carry the installation parts and accessories you'll need and you'll get them at a deep discount when you buy any receiver from us.
A panel removal tool will make the installation easier in most cars and help prevent scratching your dash.
The Posi-Products Car Stereo Connector Kit makes it easy to connect your car's wiring harness to your new car stereo.
Want to continue using your steering wheel audio controls with the new stereo? You'll need a special adapter. Once you tell us about your vehicle and choose a stereo, we'll tell you which adapter will work for you.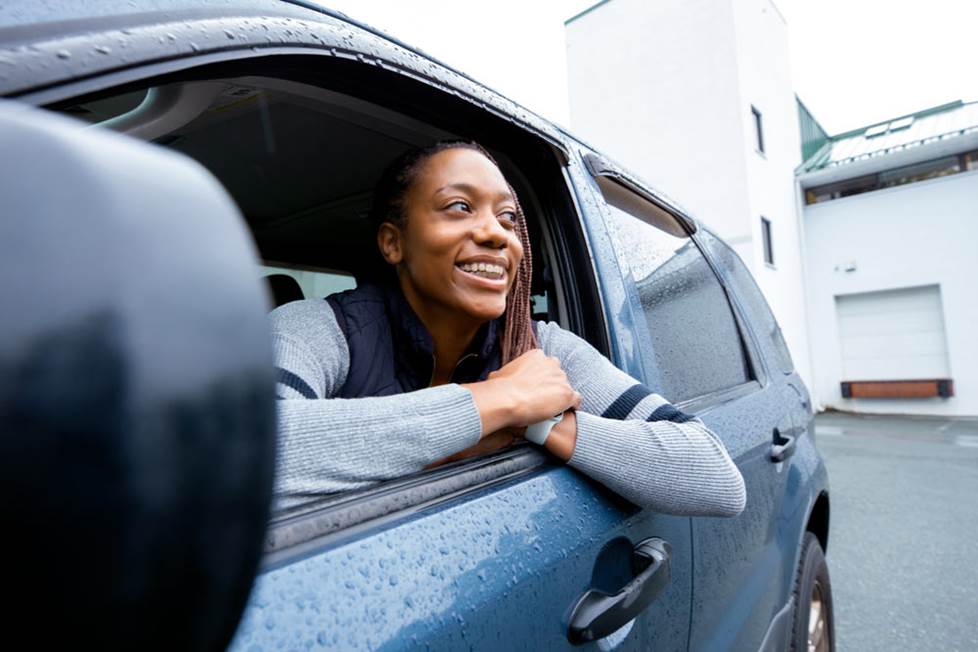 What's the next step?
Write down a list of the features you most want. Then, use our vehicle selector to create a list of stereos that fit your car. Narrow down the list by using the filters on our site to highlight the your favorite features. Or worry about that later and jump right into the in-dash receivers!
If you want to learn more before you start shopping, our expert guides can help:
And don't hesitate to contact us if you have any questions. Before you know it, our expert advisors (like Ivy, pictured above) will have you riding around with your perfect in-dash stereo.
Last updated 11/22/2021