Crutchfield's car stereo greatest hits
Popular products and exciting firsts from our catalog and website
rutchfield's been selling car audio gear since 1974, and we've always prided ourselves on bringing game-changers to the public. There have been more changes in how we're entertained in our cars in the past 15 years than in the many decades before that.
Cassettes, 8-tracks, and MiniDiscs have come and gone, and while CDs and DVDs are here for now, they're definitely on the wane. Digital files had their moment, but they're now being supplanted by streaming. You can have an entire audio and video library — plus GPS navigation — at your fingertips through your smartphone. This was unthinkable in the 1990s.
What makes a piece of car audio gear legendary?
We polled a few veterans around the company and delved into past catalogs to select the items in this article, but it's by no means a definitive list. Some of these products are simply the first in their particular category that Crutchfield carried. Others moved plenty of units by being slightly better (or cheaper) than their predecessors.
And if you're looking for a humorous complement to this list, be sure to check out our article about some of car audio's weird products over the years.
The 1970s: Big cars, burly engines, cassettes, 8-tracks, and leisure suits
The early days of car audio saw drivers deciding that the old AM/FM factory radio wasn't good enough. These were the days of underdash power boosters and two different types of tape decks.
Pioneer KP-500 under-dash cassette receiver (1977)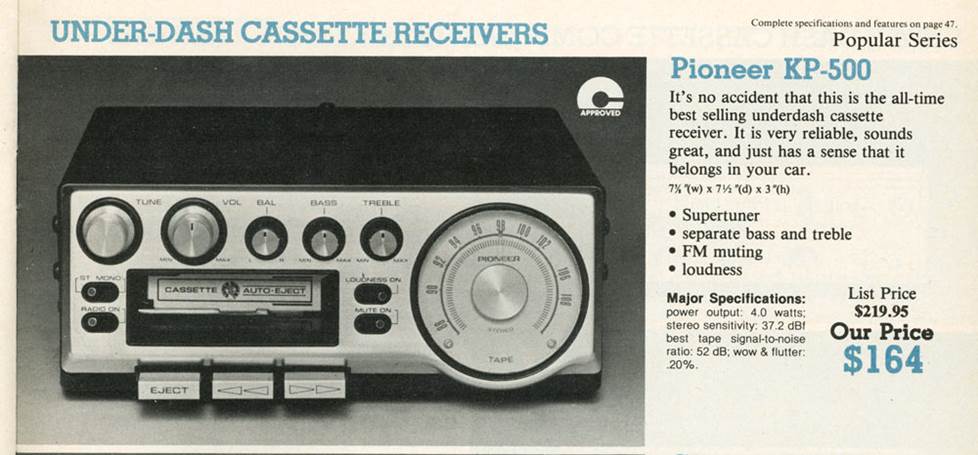 We said, "It's no accident that this is the all-time best selling underdash cassette receiver," and that must've been true because the Pioneer KP-500 cassette receiver debuted in our 1977 catalog and it was still listed in the 1981 catalog. Crutchfield Editor Jim Richardson recalls, "I don't know how many thousands of those things we sold. All you had to was connect a bracket to the bottom of your dash or console somehow."
What made the KP-500 so great? It would work in pretty much any vehicle because it didn't have to fit in a dash opening. More importantly, it boasted Pioneer's Supertuner technology, which at the time was the best way to pick up strong, clear FM radio signals. In our 1977 catalog we said, "The FM performance of this car stereo rivals virtually any of the highly sophisticated, expensive home stereos."
The 1980s: More audio power, booming bass, digital sound, and skinny ties
Like everything else in the 80s, car audio was all about trying to be bigger and better. More power meant better sounding music – and just in time for the CD.
MTX raw component drivers (Summer/Fall 1983)

Big bass wasn't a major concern in 1974 when Bill Crutchfield started the company, but within a few years we started getting calls from younger customers who wanted to enjoy the boom that they were hearing on tapes in the burgeoning hip-hop genre.
One of our earliest forays into selling component drivers was in the Summer/Fall 1983 catalog, where we noted that MTX polypropylene drivers — which were originally targeted to the home audio market as replacements for blown cabinet speakers — made a fine addition to high-powered car stereo systems. Because of its resistance to moisture and something called "low mass/high compliance," polypropylene would soon become the standard material for car subs for years to come.
We offered 6", 8", 10", and 12" MTX drivers with SPL measurements in the catalog to help our customers decide how low and loud they wanted to go. Before too long subwoofers became an integral part of our car audio business. Later on, we even had our own bass competition car!
Crutchfield amplifers (Winter/Spring 1985)
We began selling car amplifiers in 1976, but it wasn't until the bass craze of the 1980s that they started being taken seriously by the average do-it-yourselfer. They weren't just for bass, of course. Many of our customers took advantage of the freedom and creativity that additional power gave them to build great-sounding systems in their vehicles.
Eventually Bill Crutchfield saw an opening in the market and in 1985 we debuted our own line of amplifiers. Crutchfield amps were built by Precision Power in Arizona and came with a 2-year warranty. They were highly regarded in the market for several years before being discontinued in the mid-1990s. Senior Creative Director Mike Sokolowski tells us, "They were really good quality amplifiers. We still sometimes hear from customers who say they still have theirs."
We described these amps in the catalog as "nothing short of phenomenal," and our sales numbers and customer satisfaction backed up that claim. We even sold our own bridging module to help customers get the most power out of them.
Pioneer CDX-P1 in-dash CD player (Summer 1985)

The compact disc debuted commercially in the summer of 1982, so it was only a matter of time before it made its way into the dash. Our first in-dash CD receiver was the Pioneer CDX-P1, which we offered in the Summer 1985 catalog. It boasted "the complete absence of tape noise and virtually distortion-free sound," which at the time was a big deal. We also touted the conveniences of CD technology, including track search and random access. The CDX-P1 required a special kit to install in most cars, plus an external power amp, but that didn't stop people from being excited about this new development.
Sony CD-XR88 in-dash CD player (Summer 1987)

Sony was one of the two companies behind CD technology, so it figures that they'd also have an early entry into the in-dash market. Their first players, the CDX-5 and CDX-R7, debuted in the Winter/Spring 1986 catalog. The following summer we rolled out the Sony CD-XR88, which according to Sokolowski, "just sold like crazy." It boasted preamp inputs and outputs and a hideaway 13-watt amplifier/tuner chassis, so it didn't require a separate amp purchase.
Sony CD-XA10 DiscJockey CD changer system (Summer 1987)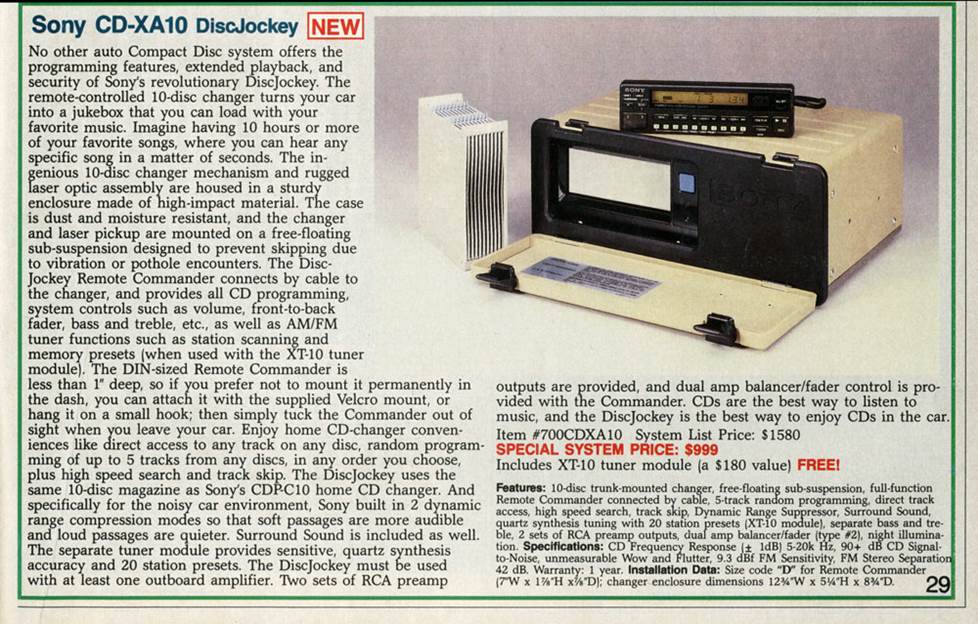 Sony's revolutionary DiscJockey was the precursor to the CD changer craze of the late '80s. It introduced the idea that one could listen to self-selected music for hours continuously without changing the source. It used a 10-disc magazine that you loaded into a large changer in the trunk. It featured a DIN-sized Remote Commander which could go into a dash opening or be mounted remotely on the dash, console, or out of sight. The DiscJockey also included a separate tuner for radio reception.
The CD changer concept proved so popular that aftermarket stereo manufacturers started incorporating changer controls in their stereos so that the outboard changer only needed to handle the disc playing. The stereo took care of power and control.
The 1990s: Innovation moves online
The 1990s didn't really see many seismic shifts in the world of car audio — things basically got a lot better, but they were mostly changes to existing technology. Sure, there was MiniDisc, but it was a somewhat niche product. 1995 saw the launch of crutchfield.com, which was definitely a watershed moment for our business — now customers could see everything we had to offer without waiting for a catalog in the mail.
Sanyo Excedio EXCD-1000 CD/cassette receiver (Holiday 1999)

The Sanyo Excedio EXCD-1000 was among the first single-DIN combination CD/cassette receivers that we carried. We sold "roughly the GDP of a small country" of these, according to Crutchfield Catalog Editor Matt Freeman, thanks to its detachable flip-down face and large, colorful display. It was our most popular combo model and also among the last of them we carried as things shifted entirely to the digital realm within a few short years. Big changes were just around the corner, including the advent of compressed audio files...
The 2000s: Digital audio conquers the car
The modern era has brought of lots of new ways to listen to music in the car. And suddenly, our car stereos can do more than simply play that music.
Aiwa CDC-MP3 CD receiver (Summer 2000)
The first MP3-friendly CD player that Crutchfield sold arrived in 2000, marking the beginning of the end of the store-bought CD hegemony. The Aiwa CDC-MP3 could play a CD-R loaded with up to 200 MP3s, allowing customers to create their own custom mixes (we call them "playlists" now). They could use files ripped from their own CDs or acquired through other means of varying legality online. Remember: the Apple iTunes® music store and first iPod® wouldn't be around for nearly a year after this debuted.
Pioneer XM Satellite Radio tuners (Fall 2001)

XM was the first satellite radio service to go online, broadcasting commercial-free programming that could be heard coast-to-coast beginning on September 25, 2001. We offered a handful of options for subscribers to add the service to their cars. Pioneer's entries included the GEX-FM903XM RF modulator that could work with most radios and the GEX-P900XM brand-specific adapter that only worked with select Pioneer CD receivers. You were also going to need to get an XM antenna in most cases.
Sony XM Satellite Radio tuners (Fall 2001)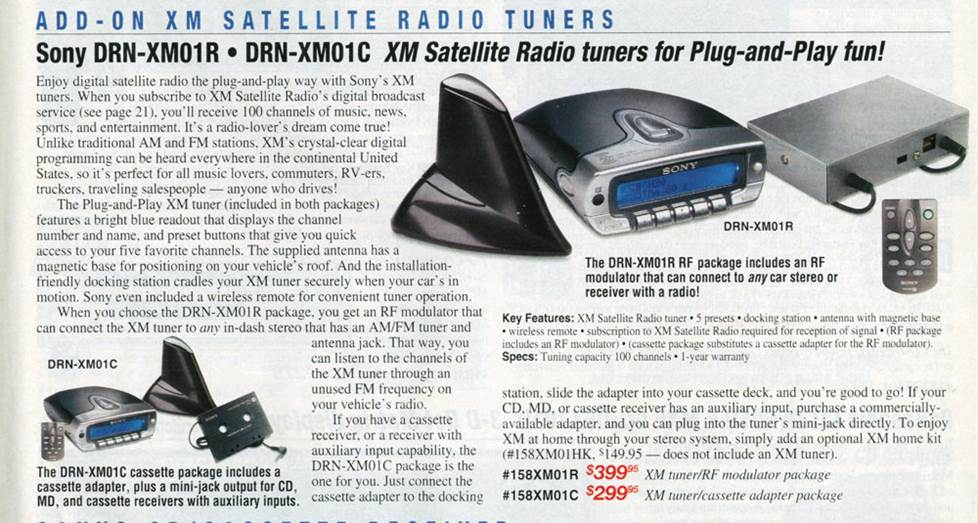 Sony came up with a pair of plug-and-play solutions, including the DRN-XM01R RF modulator with a fin-like XM antenna. They also crafted a DRN-XM01C package with a tape adapter, which would work with most cassette decks and stereos with an auxiliary input.
Panasonic CQ-CB9900U CD receiver (Winter/Spring 2004)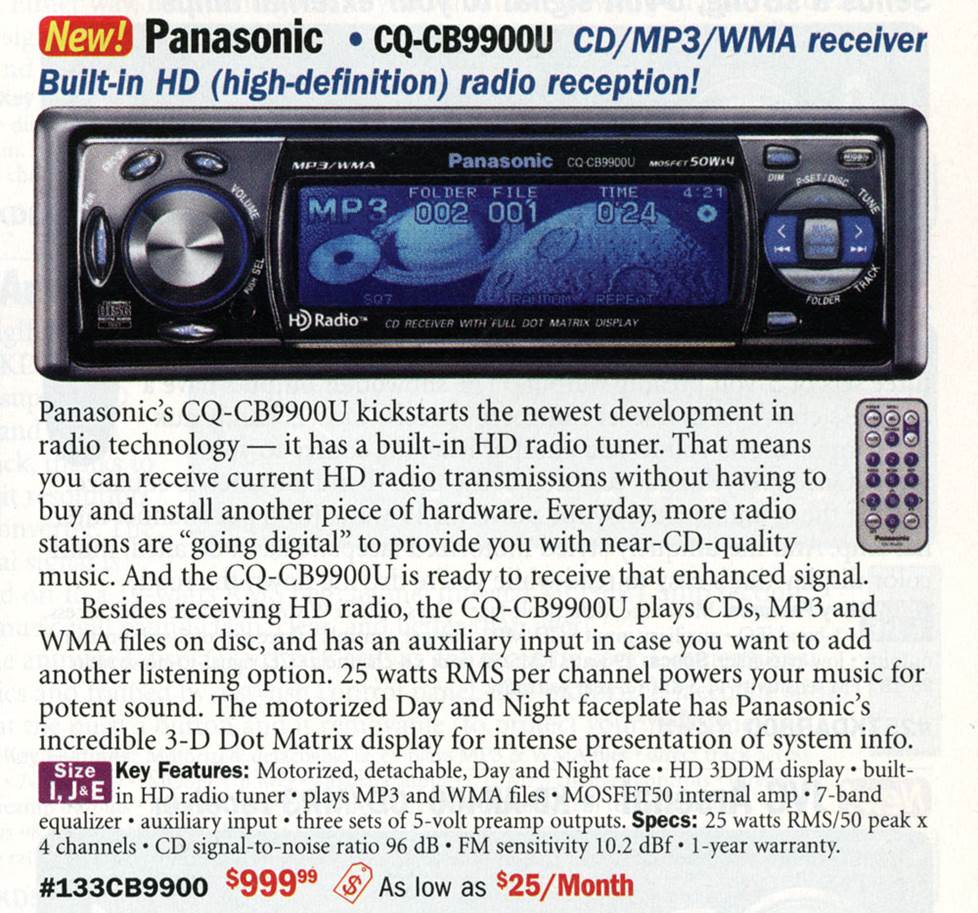 We weren't really sure what to think about HD Radio® when we first heard about it, but once we heard it, we were in. Near-CD-quality sound and no background static and hiss? Sign us up! And that's what our customers said when we introduced the first car receiver with a built-in HD Radio tuner, the Panasonic CQ-CB9900U. It cost a cool grand at first but eventually the price for getting this exciting technology came way down. The first wave of HD Radio broadcasts didn't include multicasting and album artwork, but now they're pretty much standard.
Pioneer AVIC-N1 navigation receiver (Summer 2004)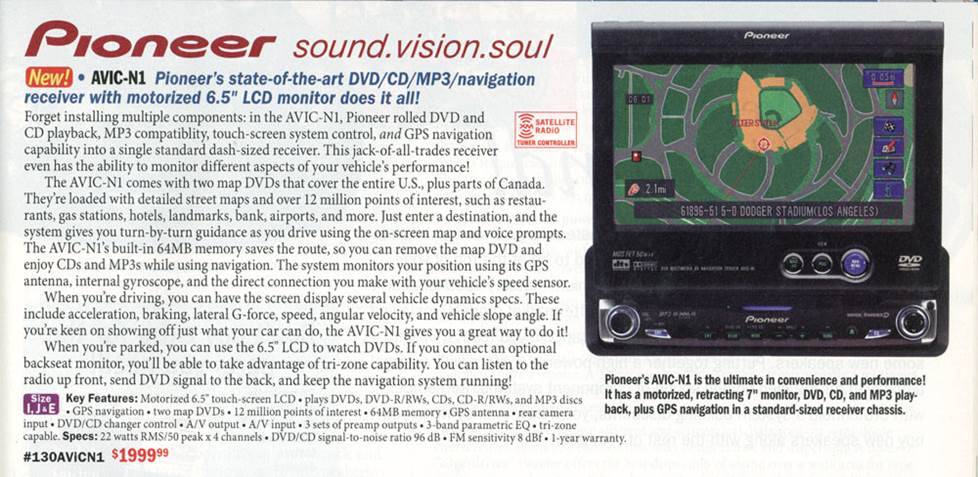 It's hard to believe, but there was a time before everyone carried a smartphone. And during that time, people had a tendency to get lost without maps. Car stereo manufacturers tried to combat the feeling of helplessness that accompanies a lack of directional acuity with GPS navigation.
We carried a handful of add-on mapping modules before the Pioneer AVIC-N1 navigation receiver came along, but this was among the first self-contained in-dash units on the market, and it was a big hit. It fit in single-DIN openings, offered a touchscreen, and used two DVDs for mapping. It also played videos, had satellite radio controls, and sounded great, so it worked well for media enthusiasts, too. Before long, navigation receivers were becoming common factory upgrades and the public embraced them wholeheartedly as well.
---
Did you have any of these items in your ride?
Sound off in the comments below or on our Facebook page with your memories of the best car audio gear you've purchased from Crutchfield over the past 45 years. We'd love to share your stories of how a new receiver, amplifier, speakers, subwoofer, or other piece of equipment made your drive more memorable or let your favorite music hit you in a whole new way.