Guide to TVs, speakers, and receivers with Chromecast built-in
Google lets you use your phone or voice as your remote control
t first, I only used my Polk Mag Mini sound bar for TV sound. When I finally set up the built-in Google Chromecast feature, the bar became my living room's entertainment centerpiece.
It just takes a few taps of my phone screen to fire up one of my favorite music playlists. And I can text or make phone calls without interrupting the tunes.
When I added a Google Nest (Home) device, life got even simpler. Now I can just say, "OK Google, play some Dylan in the Den."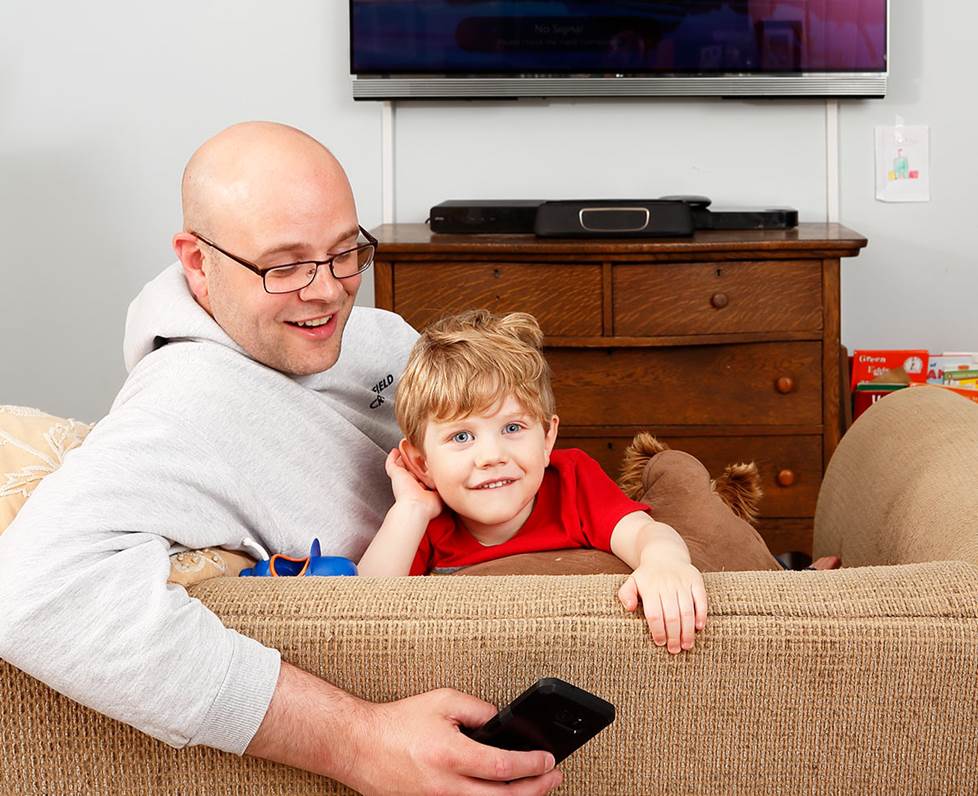 For better or worse, my two-year-old loves saying the phrase "Hey Google" to request songs on the sound bar.
What is Chromecast built-in?
You may be familiar with the Chromecast device that plugs into your TV or stereo. Gear with Chromecast built-in works exactly the same way — but you don't need a separate device.
You connect the gear to your Wi-Fi network and get access to many popular streaming video or audio apps. You control everything with your phone, laptop, tablet, or voice.
Two types of Google Chromecast: Video and Audio
Right now, TVs are the only products with Chromecast built-in for video. That includes the latest Sony 4K and OLED TVs. You can use the built-in Chromecast to watch Netflix, HBO Now, Hulu, YouTube, NBA League Pass and much more.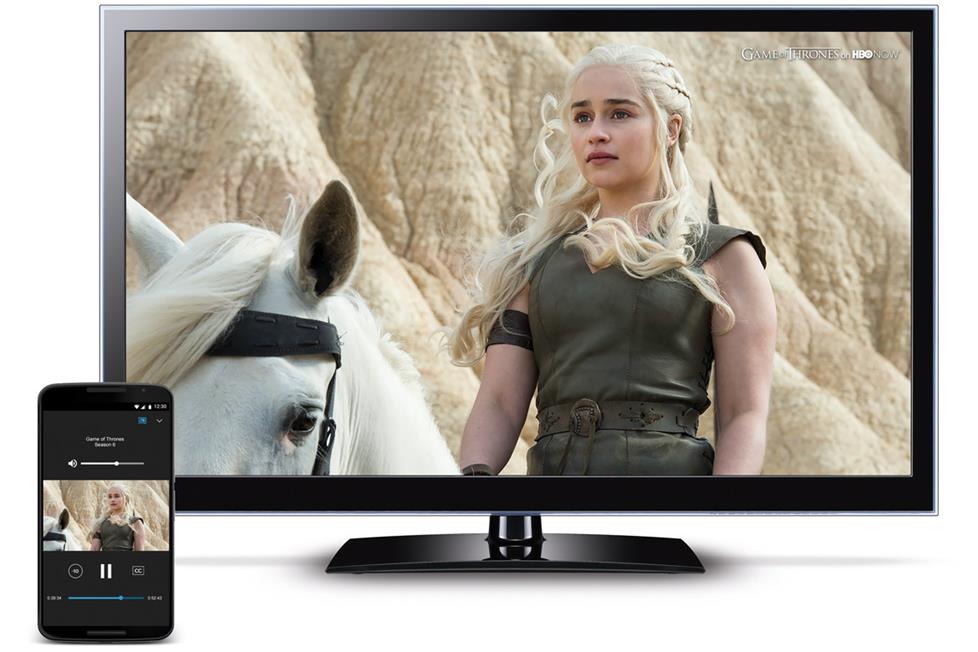 TVs with Chromecast built-in for video turn your phone into a sophisticated remote control.
There are many different products with Chromecast built-in for audio, so I'll be focusing on that. You'll find it in Home theater receivers, wireless home speakers, and sound bars. It allows you to play Spotify, Google Play Music, Pandora, and YouTube Music among others.

How does Chromecast work?
Before I answer, I should probably cover some of Google's terms here. "Chromecast built-in" used to be called "Google Cast." So if you see that phrase on a product, it will work the same as the gear we're discussing in this article.
"Cast" is also the verb they use to describe sending video or audio from one device (like your phone) to another (like your powered speakers).
Control with your phone
When you're in a compatible app, like Google Play, you'll see the Cast button at the top of the screen (shown in orange below).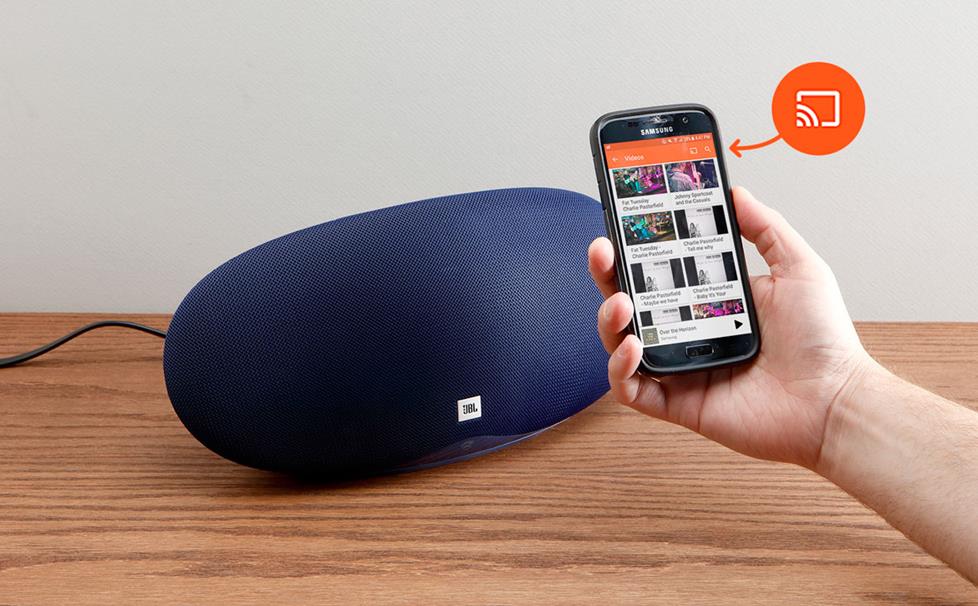 When you hit the Cast button, your music will play through the speaker. If your audio gear is turned off, pressing the button will fire it up for you. You have the full playback control of the music app you're using, plus you can turn the volume up and down.
How to set up Chromecast
Chromecast setup is pretty quick and easy when your phone is on the same Wi-Fi network as your Chromecast built-in gear.
First, download the free Google Home app to your Android™ or Apple® device. The app will walk you through setup and will recognize the speaker or TV on your home Wi-Fi® network.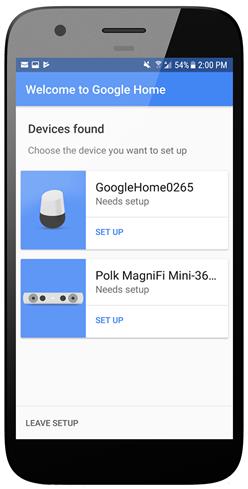 Next, you'll be asked to choose your preferred streaming services. I mainly use Spotify for music: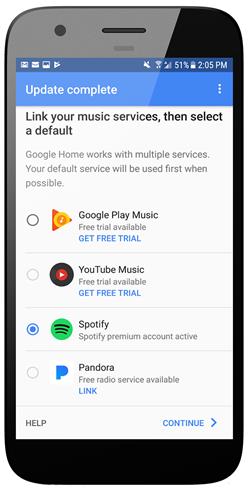 Once you're setup, you can send content by tapping the "Cast" button.
If you want to share video or audio from a service that's not compatible, you can "mirror" your phone or laptop's screen. You push a button in the Google Home app menu that says "Cast screen/audio.":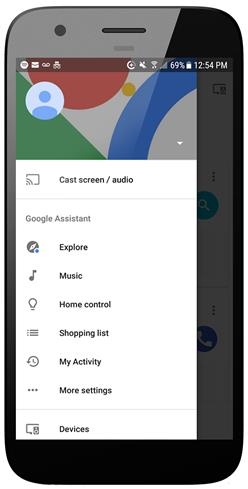 "Mirroring" will share whatever audio or video you have playing through your phone. That means your phone is making the connection to the content.
So video probably won't look as sharp as, say, a Netflix movie — where your TV is actually making a direct connection to the streaming service. Also, "mirroring" will drain your phone battery faster.
Still, this is how I'll listen to Podcasts that typically wouldn't be available through Casting.
Voice control with the Google Assistant
The coolest and easiest way to control Chromecast built-in gear? Your own voice! It's how I control my Polk Mag Mini sound bar.
During the setup process you can "name" each Chromecast speaker to make voice commands more natural. Pro tip: use one-syllable names, so your commands are quick and easy.
Now I can say, "OK Google, play the Black Crowes in the den," and "She Talks to Angels" — their most popular song on Spotify — will pump through the room.
You can use it with the Google Assistant on your phone or a separate Google Nest Audio or Google Nest Mini.
Here's how I set up Google Home to work with my Chromecast built-in speaker:
Advantages of Chromecast built-in for audio
Bluetooth is still the most common way to play music wirelessly — it's easy to use, easy to explain, and the quickest way to let guests play their own music. Plus it doesn't require a network connection, so it works well on the go.
But once I set up my Chromecast built-in, I was surprised at how seamless it was to use from there.
Here are some reasons I preferred Chromecast built-in over Bluetooth:
I don't have to grab my sound bar's remote to put it into "pair mode." I just hit play — or tell Google Assistant to play something — and the bar powers on and plays.
My phone deosn't have to stay within 30 feet of the sound bar. I can even move into another room — there's no audio dropout as long as I'm still within my home Wi-Fi signal.
When a text comes through, the chime doesn't blare through the speakers.
I can take phone calls without interrupting the tunes.
Multi-room music
The biggest advantage over Bluetooth? You can link Chromecast built-in speakers together and play the same song in different rooms.
It's called "group Casting," and it works with any Chromecast supported product – no matter the brand. So you could group your Sony sound bar with your JBL wireless speaker in another room.
This came in handy recently when we hosted my nephew's birthday party. I had my Chromecast built-in sound bar in the living room and a Google Home speaker in the kitchen. Our guests heard the same song as they moved from one room to the next.
Here's how that looks on the Google Home app: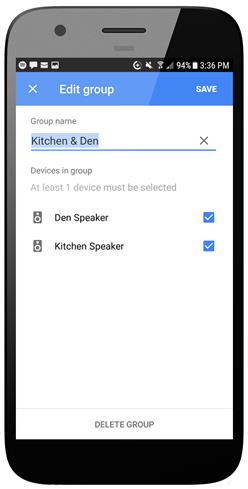 Conclusion
Products with Chromecast built-in are pretty handy and fun to use now. But there are some limitations – "casting" to play a podcast is an inconvenient work-around, and voice commands don't always work as well as I expect. But Google is putting a lot of resources into improving the experience.
For one, I notice the Google Assistant grows smarter and more conversational every day. It understands when I mumble, plus can recognize and find most of the obscure bands I request. So if your TV or audio gear already has Chromecast built-in, the controls and features should just keep getting better.
Have questions about Chromecast built-in?
Or questions about multi-room music, voice control, or anything else we've discussed? Just call us! You can reach our Advisors at 1-888-955-6000.