The crazy simple way to shop for electronics
Crutchfield Connect ID: High-tech help with a human touch
Heads up!
Welcome to this article from the Crutchfield archives. Have fun reading it, but be aware that the information may be outdated and links may be broken.
Technology is at its best when it enhances human connection — not when it replaces it. That's the idea behind Crutchfield Connect ID.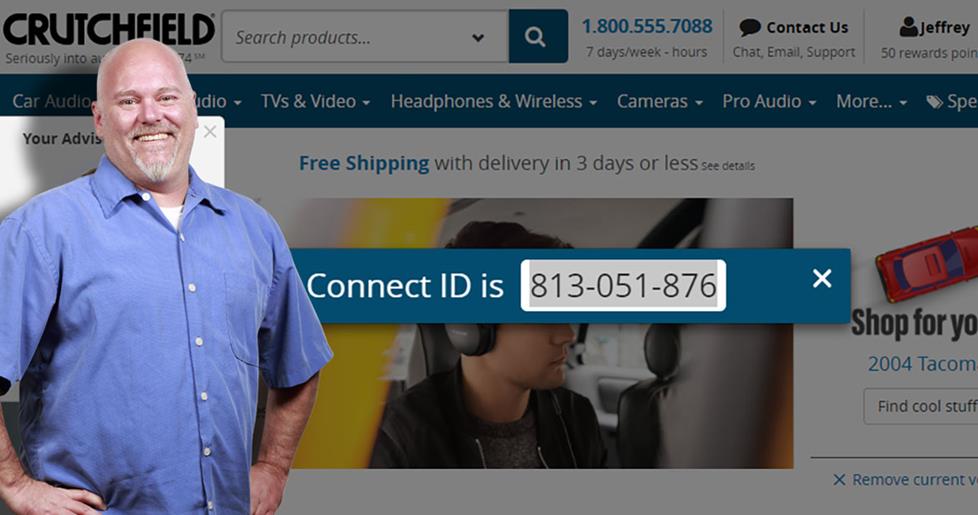 Connect ID can turn a Crutchfield electronics expert, like Ziggy, into your virtual shopping assistant who helps you navigate our site.
Remote controlled shopping experience
Connect ID puts you and your Crutchfield Advisor on the same page — literally. During a phone call or chat, we can follow along with you on our website. We see what you see.
"It is one of the best tools we have here at Crutchfield," says Ziggy, a longtime Advisor. "Customers tell me it's like magic."
Convenient and efficient shopping
Our Advisors can also use Connect ID to quickly and seamlessly send you product pages, articles, and images.
"This works much better than having to stop the conversation and email you a link," says Ziggy.
Our Advisors can also fill up a shopping cart and send it to you instantly — a major time saver.
Just how much searching and clicking can it save? I put together a shopping cart for a full Dolby Atmos home theater system to find out.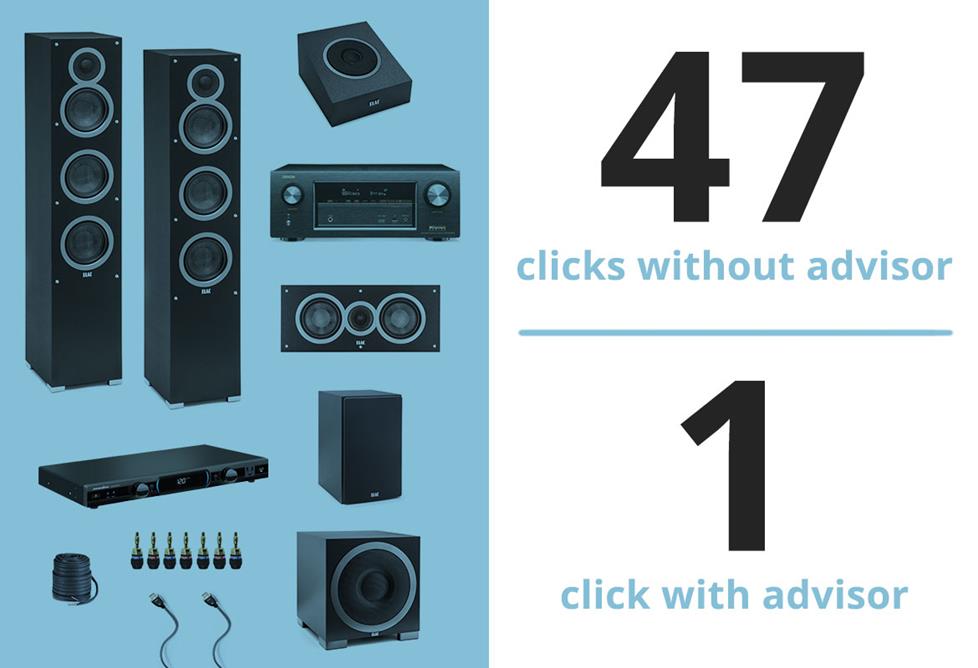 It took me 47 mouse clicks to fill up a shopping cart with all my home theater gear.
It took a lot of hunting and pecking to fill up my cart — 47 mouse clicks to be exact — and I had a pretty good idea of which products I wanted. When an Advisor sends you a full shopping cart, you're one click away from checkout.
How to connect
We should see your Connect ID number when you call us. It is associated with the phone number we provide you on our site. But If we don't sync up automatically, there are a couple of easy ways to get connected.
On a laptop or desktop, simply hit SHIFT+ENTER (or SHIFT+RETURN on a MAC), and your connect ID should pop up on-screen like this: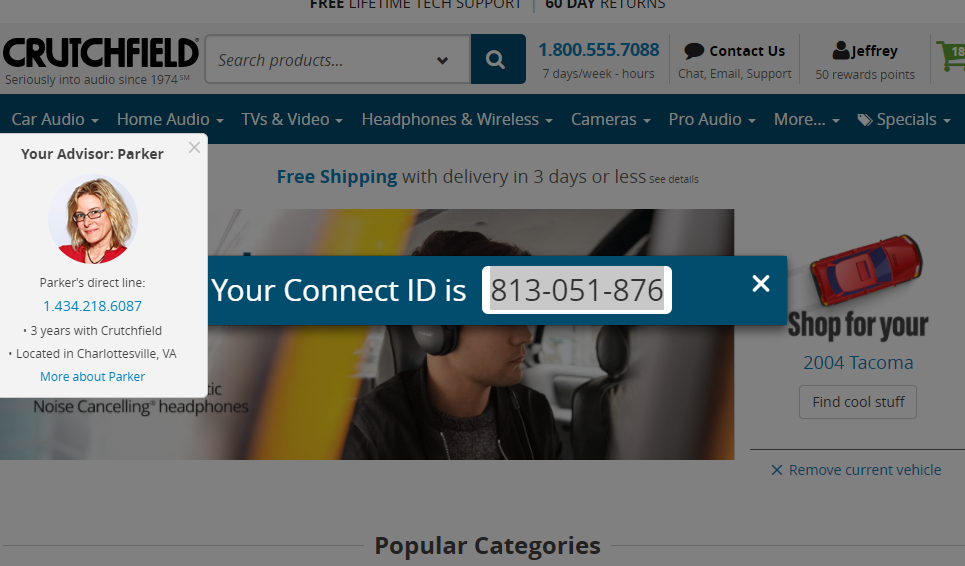 Desktop view.
On a phone or tablet, tap the "Contact" button on the main menu bar up top. You'll find your connect ID: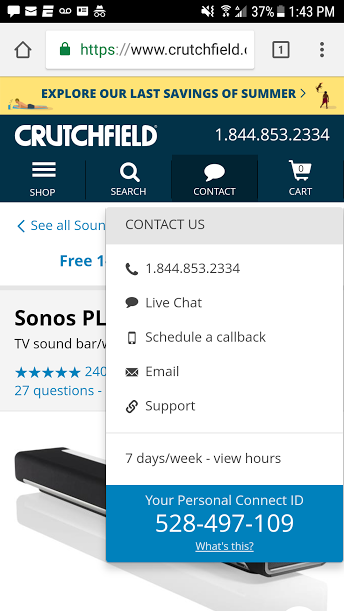 Smartphone screenshot.
Personalized shopping experience
When connected, the first thing you'll see is your Advisor's photo and bio.
"This gives it a personal touch," says Advisor team leader Parker, "you can hear our voice and see our face."
Here's how we can help you from there:
"Send" you to a page we think will help
Back before we had Connect ID, our Advisors would spend a lot of time directing customers to products and pages on our site. Let me tell you, spelling out a product name can really break up the flow of a conversation.
Now, we can use Connect ID to "push" you a certain page on our site — just hit the "Go there" button and you'll see the new page: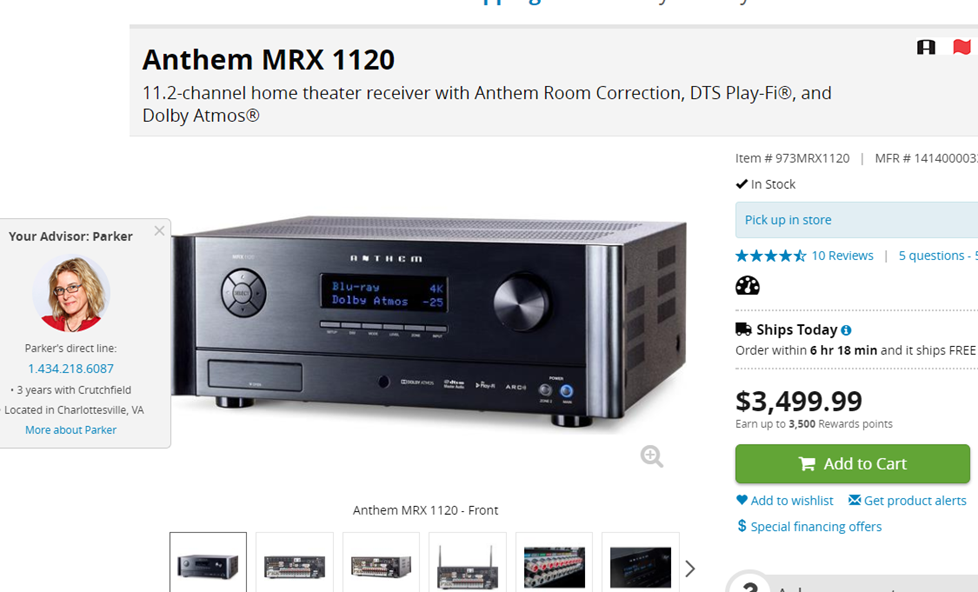 Go directly to the product page — no more spelling out the brand name and model number!
"We can start talking about the nuts-and-bolts of your project or other fun stuff." says Parker. "Get right to the point of your call instead of spending time getting to the right page."
Fill your shopping cart with the right stuff
Earlier I showed you how much time our Advisors can save by sending you a cart. They can also prevent major problems.
I had Ziggy review my home theater order. He was worried that I didn't have enough speaker wire. He told me I'll want some slack when running to the back of the room, and he reminded me that the Atmos upfiring speakers each needed wire.
I wouldn't want to find that out in the middle of my installation. It's those type of details that payoff later — no unpleasant surprises.
"We can even send images to you that instantly pop up on your screen," says Ziggy.
This can help you navigate your online account and other website features. And it's also an easy way for us to send photos or drawings of schematics.
"I've used it to show people pictures of what to look for on their dash near their factory stereo," says Ziggy. "So I can correctly identify their vehicle."
Contact us today
Connect ID is pretty helpful, but it's only one tool we have. Our experts can also use their knowledge, experience, and the endless supply of information at their fingertips. If you need help with anything, give us a call at 1-888-955-6000.