Introducing the Crutchfield Catalog App
Heads up!
Welcome to this article from the Crutchfield archives. Have fun reading it, but be aware that the information may be outdated and links may be broken.
Crutchfield has been sending free catalogs through the mail for 37 years — as long as we've been in business. With our new free app, we complete the move from paper to the Internet. Now you can download our latest catalog right to your iPhone®, iPod touch® or iPad® — for free. So you can browse through it on your device, even when you're offline.
But this is more than just an electronic version of our printed catalog. It's also an interactive experience that takes you beyond the page.
Ever flipped through a catalog looking for a particular product or brand? The Crutchfield app catalog is completely searchable. Just type in a term and you'll be instantly directed to the proper pages.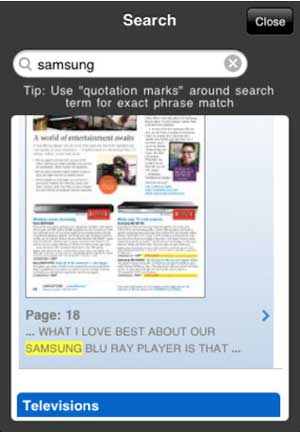 It's easy to find what you're looking for with search.
(iPhone screen pictured)
Many of the products that we carry have videos associated with them — either product demos or helpful information about the categories. You can easily access them through the app to see the gear in action or to learn how to get more out of it.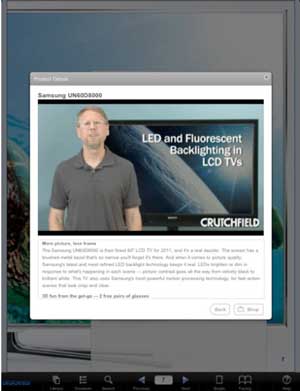 Get additional images and even videos for items in the catalog.
(iPad screen pictured)
Our paper catalog usually has room for only one photo per item. But the app catalog lets you view additional images we have for a product just by selecting "More Photos." And because those photos automatically download, you can view them at your convenience (or share with friends) either on or offline.
The Crutchfield Catalog app is available now through the iTunes® app store as a free download. It's a great way to enhance your shopping experience!