Crutchfield Labs: open for business
Part research facility, part playground
Heads up!
Welcome to this article from the Crutchfield archives. Have fun reading it, but be aware that the information may be outdated and links may be broken.
New tools to help us explore and explain audio/video gear
Researching the products we sell has been a big part of Crutchfield's mission from day one. Our Product Research team spends countless hours examining the audio/video gear we carry to ensure that the only surprises our customers have are happy ones. Whether our team is dismantling, measuring and photographing vehicles, or making sure a home theater receiver remote does everything it's supposed to, these folks get up close and personal with the products we sell.
Our new Labs facility allows us to dig deeper into the gear than ever before. We'll be doing more rigorous and thorough objective measurements, and we'll also be providing lots more subjective impressions and reviews. Until now, our research efforts have mostly focused on individual products. Now we can devote more time to experimenting with different component combinations. That's the best way to discover both compatibility issues as well as special gear combinations that work especially well together.
Take our video tour for a look at what we're up to in the Labs:
With the Labs, we've created an environment where our Sales and Tech Advisors, writers, and others are encouraged to play with the gear. Most importantly, it allows us to give our customers the most complete and accurate information possible. We've always been dedicated to giving our customers detailed info on electronics gear to make sure you're completely satisfied. The Labs lets us take this idea one step further.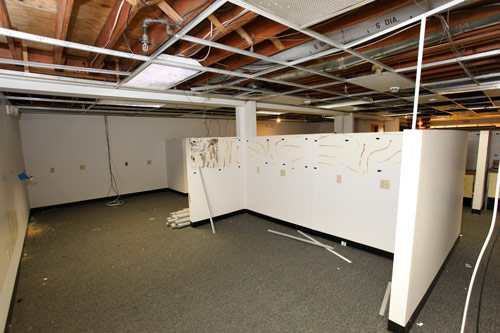 This is how the room looked before we started.
Labs overview
We converted the first floor of our original administrative building into the Labs space. It now contains two acoustically treated and sound-isolated listening rooms, one for home A/V gear and one for car gear. We also have two lab benches outfitted with test equipment. And there are several demo stations where our folks can get hands-on experience with products.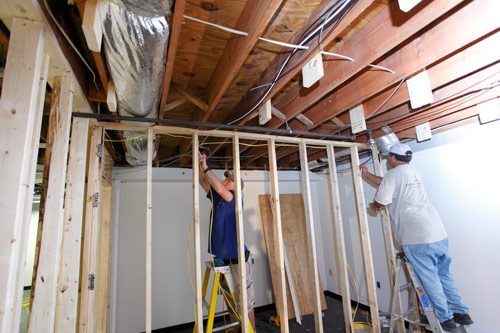 With new walls and full access to the ceiling joists, we had some great soundproofing options.
Rooms built for listening
One of our biggest challenges was building the two listening rooms: one for car A/V and one for home A/V. The hard part was figuring out the best way to soundproof the rooms — keeping sounds inside the room from leaking through the ceiling and walls. On the floor above the listening rooms are several offices for our executives. And we didn't want to have to worry about interrupting their meetings, so the conventional walls and drop ceiling had to go.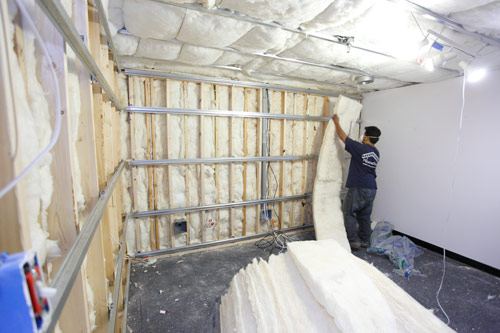 We went with "staggered stud" wall construction plus metal "hat channel" and spring clips to suspend the drywall on the walls and ceiling. Oh yeah, and lots and lots of fiberglass insulation.
A "staggering" effort to keep sounds inside the listening rooms
The thing about soundproofing is that there really aren't any shortcuts — it requires a brute force strategy. You have to create a barrier that stops as much of the sound — and physical vibration — as possible. Luckily, we have an acoustical engineer on staff who has been working with us for a few years on some other projects.
We had to build some new walls, and strip others down to the studs, so we chose some structural soundproofing solutions. We built "staggered stud" walls, which use 2x6s for the top and bottom plates instead of 2x4s. That allowed us to stagger the wall studs so that the drywall on each side is only attached to the studs on its side.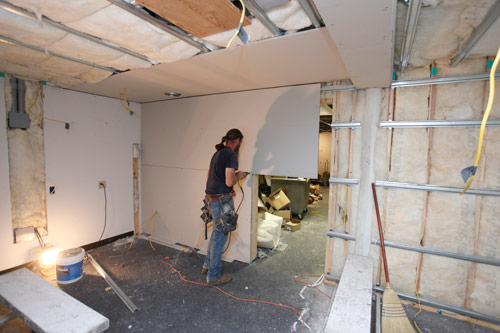 The sheets of drywall are isolated from the wall studs and ceiling joists by the metal channel and spring clips, which we installed on the studs and joists. It works very well.
Channeling sound waves into motion
For the ceiling and walls that needed soundproofing, we used a system of metal "hat channel" and spring clips. This metal channel is installed at a right angle to the wall studs and ceiling joists. The clips have springs in them, which are damped with resilient foam rubber. The clips attach with screws to the studs, the metal channel clamps into the clips, and the drywall gets screwed to the channel. The result is that sound hits the wall and is converted to motion. And vibration, which normally travels easily via wall studs, is also reduced.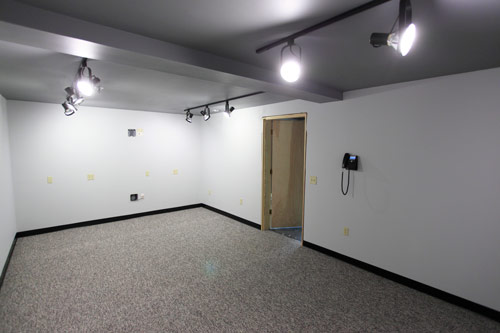 The finished home theater/listening room.
"That's amazing!"
We've all experienced ideas that looked good on paper but didn't hold up in the real world. Well... that's not what happened in this case. We'd carefully measured the level of test tones before and after soundproofing the space, and the numbers looked good. But the real test came when we cranked up some music in the new listening room and took a stroll upstairs. We could hear a faint murmur of sound — mainly bass beats — but that was it. In fact, when Bill Crutchfield followed us back downstairs and opened the listening room door to a blast of rock 'n' roll, he turned and said, "That's amazing!"
Our first Crutchfield Labs experiment was a success.
We're just getting started with the Labs. Be on the lookout for more info from and about the Labs in the future.