Marty C's custom party cooler
Tailgating will never be the same
A while back, we transformed a cooler into a rolling party by installing a Kicker audio system and a Wi-Fi® hotspot into it. It was a proud day that we'll never forget. But as history tells us time and time again — a challenger will always rise.
Enter Marty C. from Macon, GA, who spent almost a year and over a thousand dollars to make his version, which he describes as "triple overkill."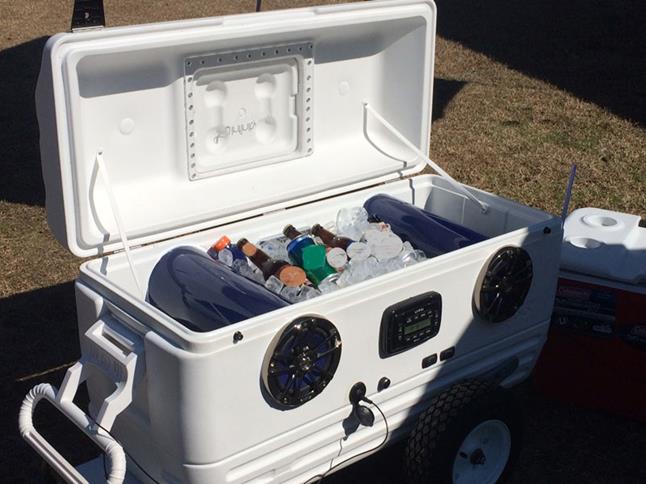 Marty: "We got more money in things that you'd never see. The goal was if we touched it, it was going to be functional."
Items used:
150-qt. Igloo All Terrain marine cooler
Igloo All Terrain wheel kit
Hinge, handle, wheel and axle upgrade
An additional pair of Infinity marine speakers
Two Marine batteries
Industrial-grade adhesives, plastic, and PVC piping
Jet parts
Planning was everything
Marty is a competitive fisherman, and by proxy, a cooler afficionado. So, while he admired our concept, he didn't love that our cooler used ice packs rather than actual ice. He brainstormed fixes with his best friend, Steve, and in the process, they came up with some additional requirements for their version. It would have to be bigger, more mobile, and they wanted a pair of speakers on either side. Marty explains, "We didn't want to have to spin the cooler around to hear it and have half the people hear it, and half the people not."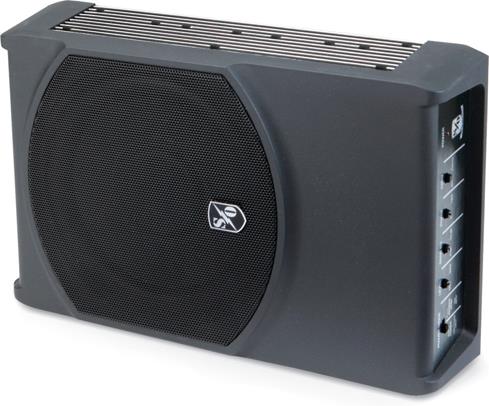 Marty satisfied his thirst for bass with this Sound Ordnance powered sub
When they called Crutchfield, the Kicker speakers that our article recommends were no longer available. So, Norm, their Crutchfield advisor, recommended the Infinity INF-MPK250 package which includes a multi-faceted marine-grade receiver and 6-1/2" speakers.
Marty had some reservations about having enough bass: "I got to thinking, if I'm going to spend all this time, money, and effort, it needs to have bass. So, Norm did some research and came up with the Sound Ordnance B-8PTD for several reasons. He said, 'You don't want it to show. You don't want it to take up limited surface space, and you are wanting this cooler to still be a cooler. So, I recommend this one. It's a powered sub, and it's an 8-inch, so it won't overpower the little Infinity 6-1/2" speakers.' And I took his advice on it."
Building the perfect chassis
The guys took every precaution to ensure that the electronics would never be in danger of getting wet. They divided the top half of the cooler from the bottom with a floor of ABS plastic. To house and protect the rear of each Infinity speaker, they connected opposing speaker openings with PVC pipes.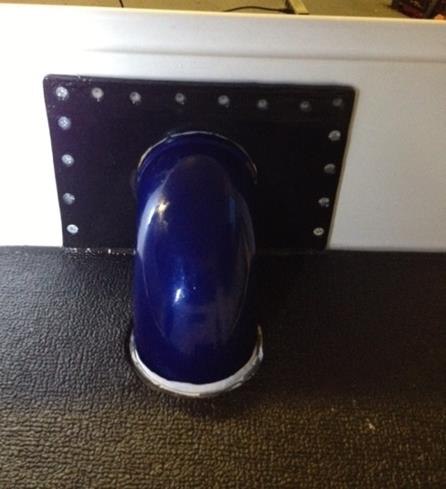 Marty protected the back of the Infinity receiver with a curved PVC pipe that leads down to the electronics level
Marty explains: "We knew the speakers couldn't share the same airspace, but we also wanted optimum space behind each speaker for great performance."
So, on a work table, they wired a speaker for sound, placed it in one end of a PVC pipe, stuffed the pipe with a towel, and just listened. They moved the towel forward or back to get the speaker's best sound, then drew a pencil line. They filled the middle of both tubes up to the pencil lines with expandable, spray-in foam, then installed the tubes like crossbeams. It's a nifty trick that gives the cooler a unique look.
Filling in the fun
Marty knew this system would require a lot of power. Our article recommends using one marine-grade battery, but Marty had other plans: "There's no way to make something be exactly what you want. Either you're short, or you come out extra on everything. So, we did two of them back to back."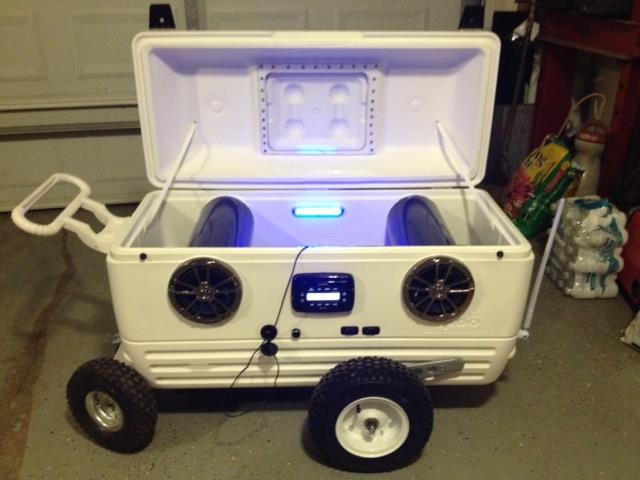 Marty: "With the electronics, and a case of beer, and ice, you've got a ton of weight. So, we extended the aircraft aluminum plate that reinforces the bottom and put wheels in the front."
The cooler boasts a 2-day charge.
Marty chuckles at the spec, saying: "Everything was overboard. I mean, we used epoxys and caulks and silicones. You could turn that cooler upside down or sideways and it won't leak."
In the end, after all the electronics were installed, not even Marty could have predicted how well it functions as a cooler: "No joke now. The cooler will hold exactly a case of canned drinks and ice on top."
But how does it sound?
This is where Marty gets quiet, as if he's telling a ghost story: "Anywhere in a 360-radius, you hear it. And the sound carries. A lot of times, something's loud, up close. And when you walk away, it fades, hard and quick. This sound is more solid. Like a laser. And if you say, 'Marty, tell me why,' I'll just white-flag give up, and say I don't know why."
A friend of Marty's puts it another way: "That cooler is the Rolls Royce of coolers. My sound system at home, which costs quadruple, doesn't even sound as good as this cooler."
But to call it a cooler sells it way too short, given everything Marty says it does: "This damn cooler plays radio, SiriusXM, MP3, iPod®, iPhone®, it'll play it direct plug-in, it'll play it via Bluetooth®. It plays everything but record player and 8-track."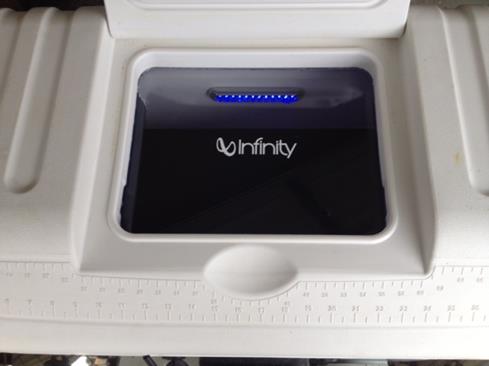 Marty installed an LED light inside the cooler for convenience at night, and made good use of the marine cooler's built-in fish door. "We put a plexiglass square (with the Infinity logo decal) there so you could see what's inside without letting the cold out."
If you build it, they will come
Marty and Steve debuted the cooler at Steve's 40th birthday party. They were thrilled by the response it got, and the novelty still hasn't worn off.
"Every time we take it somewhere, for kicks, we'll just put it on the truck and let it play, and it gets an audience. They've never seen anything like this. It doesn't matter who it is, or what the age, people are mesmerized by it."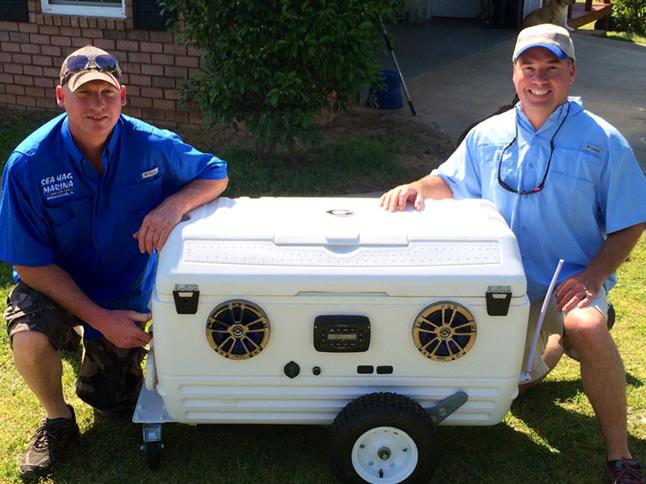 Steve, Marty, and the one-of-a-kind cooler. All it needs now is a name.