Nate Amos's 1995 Grand Prix
Nate Amos's 1995 Pontiac Grand Prix is definitely a sharp-looking ride. But Nate wasn't satisfied with a car that just looks cool — he wanted a slammin' sound system, too. He didn't see many GPs around his hometown hooked up with aftermarket stereo gear, but he knew that with some hard work and ingenuity, the results could be awesome. And they were — he ended up with a system that sounds every bit as as hot as his GP looks!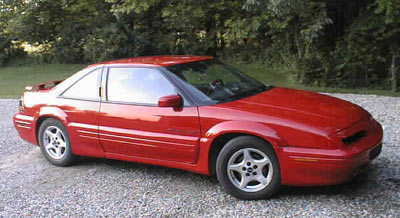 Nate Amos's red-hot Pontiac Grand Prix.
Nate started his audio renovation in the most obvious spot: the dash. In his words, the factory radio "just had to go". In its place, Nate installed the Sony Xplod CDX-L600X. This receiver pumps out over 23 watts RMS per channel, plays CD-Rs and CD-RWS, and displays CD Text on a bright, multi-color display. But its best feature, in Nate's opinion, is its built-in 7-band EQ. Sony calls this feature EQ7, and it helps the user customize the system's sound to match the car's interior. Very cool. To make the receiver "pop" in the dash, Nate did a custom, bright-red paint job on the trim bezel and dash vents.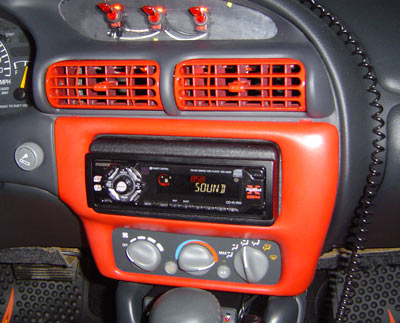 Custom paint on the dash and trim make the Sony receiver really stand out.
The factory speakers weren't hanging with the Sony's upgraded power output, so they were the next to hit the chopping block. In keeping with his Sony theme, Nate selected Xplod XS-W3521 3.5" speakers for the doors, and Xplod 6x9 3-ways for the rear deck. With the mids and highs under control, Nate turned his attention to the subwoofer. After all, you just can't have a full-on system until you add the bass!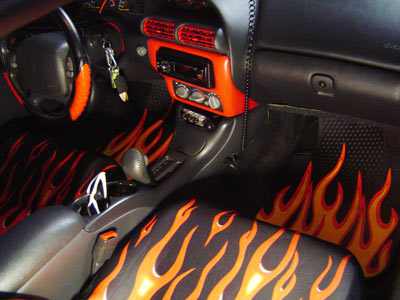 Custom mats, seat covers, and more — this GP is a feast for the ears and the eyes!
Nate scored a great deal on a Lanzar Vibe 230 amplifier. It's a two-channel amp, and in bridged mode it pours on some major power — 500 watts RMS, to be exact. With that much power to play with, Nate knew he could go all out on a subwoofer and get awesome results. He elected to go with a 15" Rockford Fosgate HX2 RDF2215, mounted in a pre-made Q-Logic box. To make sure this bass beast had all the fuel it needed, Nathan added a 0.5-farad Rockford Fosgate capacitor. It helps to eliminate headlight flicker, and to keep the lows thumping properly.


We think shoehorning a 15" sub into the GP's relatively small trunk is a feat unto itself!
With everything wired up using 4-gauge Rockford Fosgate power cable, this is one subwoofer setup that truly pounds! Nate capped things off with performance modifications (including Flowmaster Delta 40 series mufflers), Streetglow under-car neon lighting (in red, of course), custom interior paint and LEDs, and three custom lighted toggle switches mounted on the dash, so he can turn the amp and lighting effects on and off whenever he likes.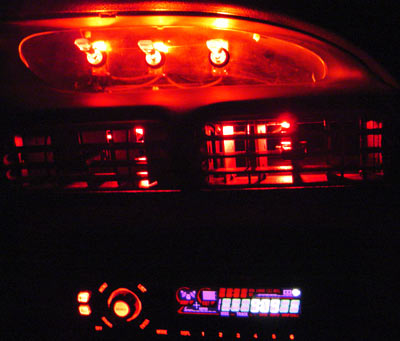 The three toggle switches on the dash let Nate switch his subwoofer, and interior and exterior accent lights on and off at will.
Nate, thanks for the opportunity to check out your first-rate installation. Your work should inspire other Grand Prix owners to get out there and make some noise!