Todd Cabell's 1996 Ford Ranger
Items installed:
Installation Description
Like most folks, the first component I installed was a new receiver. The old portable CD player playing through a cassette adapter in the stock tape deck just wasn't cutting it anymore. Installing the Alpine CDA-7894 was definitely the most challenging part of the entire installation. Because the CDA-7894 is one of Alpine's high-power V-Drive head units, it must draw power directly from the car battery. This meant finding a way to snake the 4-gauge power cable through the firewall, which I did by using an existing rubber grommet.
Fortunately, I was able to tackle much of the rest of the installation here at work. I worked with one of our photographers to document the
installation of the Blaupunkt component speakers
, for example. Likewise, the installation of the Delphi SKYFi unit is documented in our
satellite radio plug-and-play installation video
.
Installing the Alpine iPod adapter was a breeze. I love having 3000+ songs at my fingertips on the road, and the head unit's Bass Engine controls make the AAC files sound great.
But my favorite part of the system is actually the Clarion Camouflage sub. I'm a sound quality man, not an SPL dude, and I was interested in getting tight, punchy bass in the car, not setting a local sound pressure record. The 8" sub is powered by a relatively measly 40-watts RMS, but the custom-fit sealed enclosure fits right behind my driver's seat and delivers just the right amount of bump. Now I can't imagine not having a sub in my system.
Q&A Section
Why did you decide to upgrade your A/V system?
The Ranger's factory tape deck and paper speakers were horrible. My music was sounding like it was pulled off a 1970's 8-track tape.
What's the first thing you show people about your installation?
The XM satellite radio and the new Alpine iPod adapter.
Why did you choose these products?
These are all high-quality, affordable products. Of course, the employee discount helped too. :)
What was the most difficult part of the installation?
Running the power cable through the firewall to the car battery for the CDA-7894 and the powered sub.
What plans, if any, do you have for future upgrades?
I'm saving up for a new car right now, but I'd love to get a touch-screen NAV/DVD system like Pioneer's AVIC-N1 in there.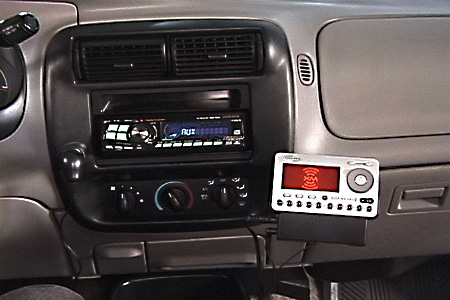 The Alpine CDA-7894 and Delphi SKYFi all lit up.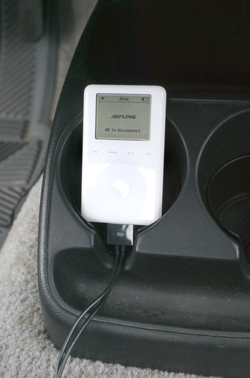 My 15-gig iPod connects to the head unit via the Alpine KCA-420i.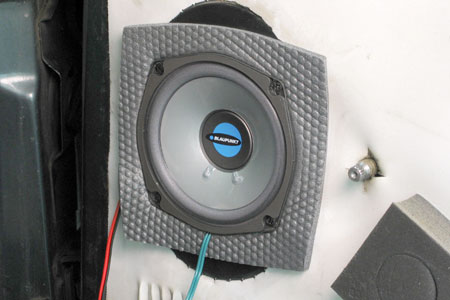 I used a free speaker bracket to fit the 5-1/4" Blaupunkt speaker in the Ranger's 6"x8" opening.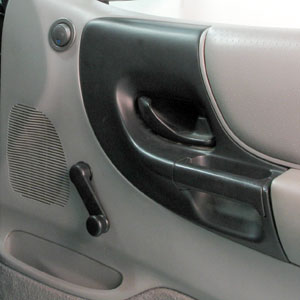 I angle-mounted the component tweeters to get the best imaging possible. The difference between the components and stock speakers is incredible.