Justin Shertzer's 1994 Ford Escort
Justin Shertzer has been into car stereo ever since he got his 1994 Ford Escort over three years ago. He started out small, with replacement door speakers, a low-end in-dash receiver, and a modest powered bass tube. But then the "upgrade" bug bit, and bit
hard
. The result is a system that integrates beautifully with the Escort's interior, and really delivers the goods when it comes to sound quality.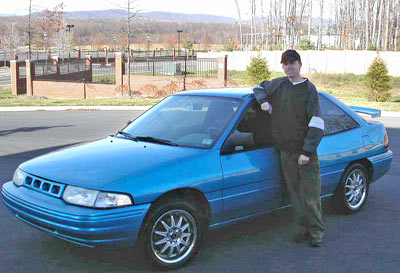 Justin Shertzer shows off his '94 Escort.
Like a lot of people, Justin had big plans for his sound system. But unlike a lot of people, he had a car stereo mentor who helped him make those dreams a reality. That mentor was Chris Laytham, a custom stereo installer from the Philadelphia area who also happened to be a personal friend of Justin's. Chris taught Justin some fiberglassing techniques, and the Escort's custom-built system was off and running.
To run the show from the dash, Justin selected the Kenwood Excelon KDC-X969 MP3/WMA receiver. This showpiece features Kenwood's 3D MASK 2-piece control and display system, with a motorized fold-out control panel and huge, high-res fluorescent display. System adjustments are easy — and the unit looks pretty righteous, too. Check out the photo below for a closer look. The 'X969 has SIRIUS Satellite Radio controls, and Justin is taking full advantage of those 100 streams of music and entertainment with Kenwood's KTC-SR901 SIRIUS tuner (mounted separately).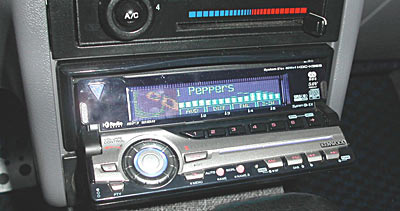 Kenwood's KDC-X969 receiver runs the show from the dash.
Two sets of Alpine Type-R SPR-176A 6-3/4" component speakers are positioned up front to create a concrete, three-dimensional soundstage. Justin crafted custom fiberglass door and kick panel pods, determining the angle and placement that would create the best tonal balance and imaging. (You may be surprised to hear that this Escort doesn't have speakers in the back. But foregoing rear speakers is a common approach in cars that are focused on sound quality — it can help to keep the soundstage solidly in front of the listener, spread out across the hood and dash of the car.)


Two sets of Alpine component speakers create a rock-solid soundstage (and plenty of volume) up front.
To round out the sound, Justin went in search of subs that could hold their own when matched with the
two
sets of Alpine component speakers. He found what he was looking for in the MTX Thunder6000 T6124 12" subwoofer — when he installed a pair of these pounders in a custom-made box, the Alpines had met their match! Justin reports SPL readings of between 125 and 130 dB, which he says is just right for his needs: "My system sounds amazing, not only in decibel levels but for sound quality as well ... I suppose if I tuned it accordingly I could probably go for some SPL competitions, but right now the subs are pushing plenty of low end for the Alpine speakers to work with."

Two views of Justin's subwoofer enclosure/amp rack.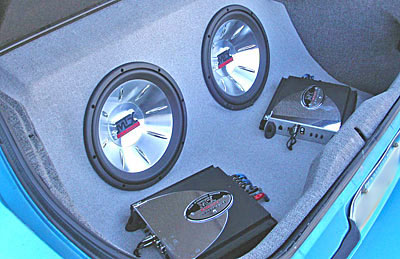 Justin stuck with MTX on the power side of things, too. The four-channel Thunder4244 drives the component speakers up front, and the mono Thunder6500D, running at two ohms, pumps out a blistering 500 watts to the Thunder6000 subs. Justin cleverly integrated the amplifiers into the subwoofer enclosure, tucking the cables out of sight for a clean look in the trunk.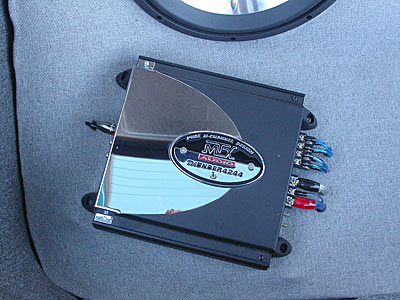 The MTX Thunder4244 powers Justin's front speakers with 45 watts x 4 channels.
On the roads around Justin's hometown, the backside of his Escort is a pretty common sight! Just to prove to the world that an Escort
can
be fast, Justin hooked it up with performance mods including a Weapon*R air intake, Hotshot headers, Nology HotWires, Accel coil pack, and full 2.25" exhaust with Ravin muffler.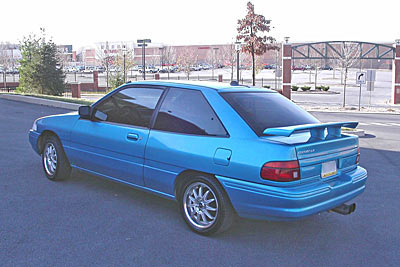 Justin hooked up his Escort with performance modifications as well as a killer audio system.
What does the future hold for the Escort? "When I get the rest of the tweed in the interior done," Justin says, "I do plan on taking it to shows and trying for trophies for presentation and for sound quality." Justin, we think your ride is already a winner. Thanks for letting us take a look inside.