Marko Cruz' 1999 Toyota Corolla
FM-modulated XM Satellite Radio system
Heads up!
Welcome to this article from the Crutchfield archives. Have fun reading it, but be aware that the information may be outdated and links may be broken.
Items installed:
Why did you decide to put satellite radio in your car?
I wanted to try a satellite radio to see if I like it.
Why did you choose these products?
One of the first available satellite radio products.
What was the most difficult part of the installation?
Trying to find a good location for the XM controller.
What plans, if any, do you have for future upgrades?
Change the antenna from a glass-mount to a roof-mount micro antenna. Change the Pioneer and use my MyFi instead.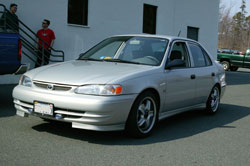 1999 Toyota Corolla
Stealth mount of the Pioneer display/control.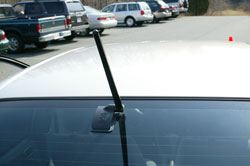 Glass-mount antenna.