Tristan B's 2001 Chevrolet S-10
Items installed:
Pioneer DEH-P6600 Source Unit
Pioneer CD-IB100II iPod Adapter
Kicker I460 Dash Speakers
Kicker I650 Door Speakers
Kicker Impulse 652xi Amplifier for Subwoofer
Kicker Impulse 12i 12" Subwoofer
Installation Description
I worked as a professional installer for many years, so car stereo installation has become second nature -- in fact, the more unique and the more challenging the installation, the better I like it. A standard cab truck with a high-Q woofer is one of the toughest. Besides, this truck is for racing, not car audio competitions, so I've done my best to keep the equipment lightweight and to a minimum, but without compromising the sound. The current stereo has been in place since I bought the truck new. Only 42,000 original miles later, it's still loud and clear.
Q&A Section
Why did you decide to upgrade your A/V system?
Stock systems sound terrible. And are unimpressive at car shows.
What's the first thing you show people about your installation?
All of it -- and how clean it looks and sounds.
Why did you choose these products?
I have had outstanding experience with both Pioneer and Kicker from my competition days.
What was the most difficult part of the installation?
Designing a box that would fit behind the seat of a standard cab S-10, but produce tight and low bass.
What plans, if any, do you have for future upgrades?
None, unless something blows up. If anything, a good 3-way (tweeter, 4" & 6") to replace the coax speakers.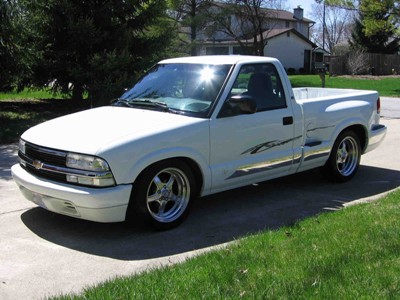 My toy -- 350 hp V6 5-speed

My toy next to my daily driver.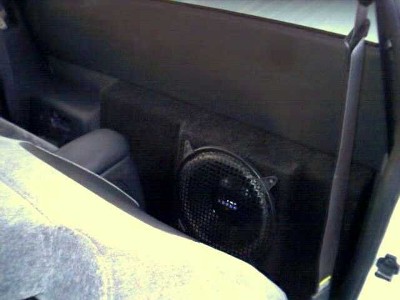 Custom sub enclosure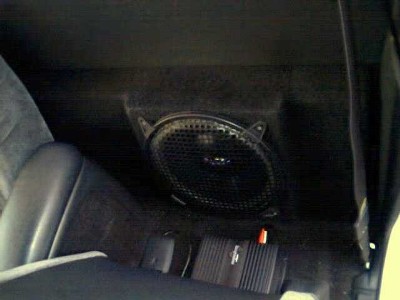 Amp and sub crammed into a standard cab (no leg room lost!)