Brian N's 2007 Hyundai Santa Fe SE
Items installed:
Clarion DUZ385SAT CD receiver
SIRIUS Starmate 4 satellite radio with car accessories
Infinity Kappa 60.7cs 6-1/2" component speaker system
Infinity Kappa 63.7i 6-1/2" 3-way car speakers
Rockford Fosgate Punch P450.4 4-channel car amplifier
Rockford Fosgate Punch P6001bd mono subwoofer amplifier
Infinity Perfect 12.1 VQ 12" subwoofer
Lightning Audio Strike Series 1.0 farad digital capacitor
KnuKonceptz inline waterproof ANL fuse holder
KnuKonceptz Kolossus Fleks Kable 4 guage power wire
KnuKonceptz Kolossus Fleks Kable 4 guage ground wire
KnuKonceptz Kolossus Fleks Kable 8 guage power wire
KnuKonceptz KonFUSED 2-way digital distribution system
KnuKonceptz PB-1448 power/ground distribution block
KnuKonceptz Karma SS 4 channel RCA cable
KnuKonceptz Karma SS 2 channel RCA cable
KnuKonceptz Karma SS 12 guage speaker wire
KnuKonceptz Klear Kable Blue 12 guage speaker wire
Scosche SE 12 Subwoofer enclosure
Installation Description
I wanted a versatile head unit for reasonable price; enter Crutchfield and the Clarion DUZ385SAT. Taking apart the dash and removing the factory radio was a little difficult. Next the Sirius Starmate 4 was installed and wires were run to the FM adapter and to the magnetic antenna. Power wire and remote wire for the amps were run down the left side of the vehicle, RCA cables were run down the right side of the vehicle, under the plastic trim pieces.
The rear cargo area has a separate plastic storage bin which was an ideal location to mount the amps, cap and hardware. Holes were drilled into the storage bin and wires were pushed through. A factory screw provided the grounding point. Area was sanded for bare metal and 4guage wire used for ground. Once everything was hooked up, the last piece was the subwoofer. The 12" Infinity was mounted in the Scosche enclosure, speaker wire connected, and L brackets used to secure the enclosure.
Q&A Section
Why did you decide to upgrade your A/V system?
The factory system sounded horribe, almost monotone.
What's the first thing you show people about your installation?
The Clarion head unit with USB input.
Why did you choose these products?
Clarion head units offer features+value, Infinity speakers have excellent clarity and accuracy, Rockford Fosgate Amps are top of the line, and KnuKonceptz is the best cable for the money.
What was the most difficult part of the installation?
Taking apart the dash, followed by running the 4 guage power wire.
What plans, if any, do you have for future upgrades?
possibly adding 1 more Infinity Kappa Perfect 12.1 VQ subwoofer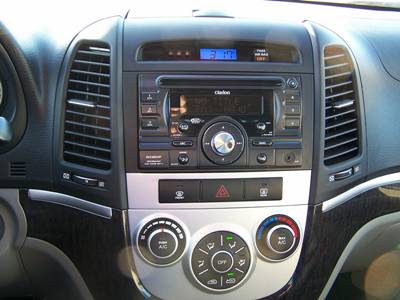 Clarion unit with Crutchfield Kit (flawless fit)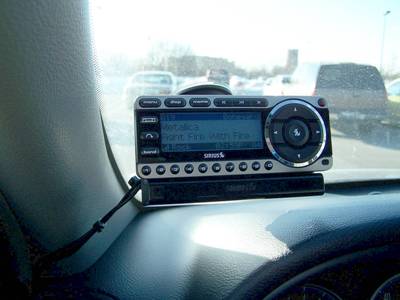 Sirius ROCKS!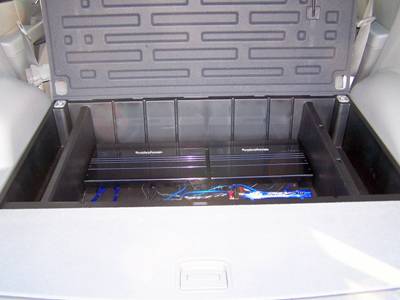 Rockford amps, cap, hardware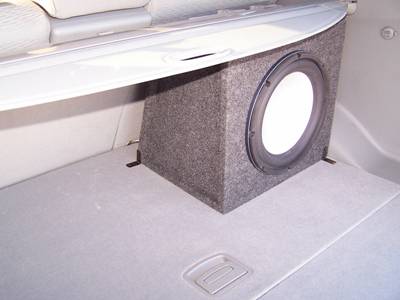 Scosche enclosure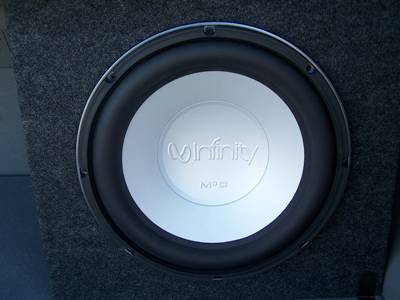 Infinity 12.1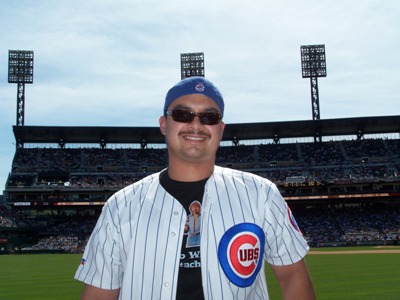 ME