Robert F's 2008 Winnebago Sightseer 35J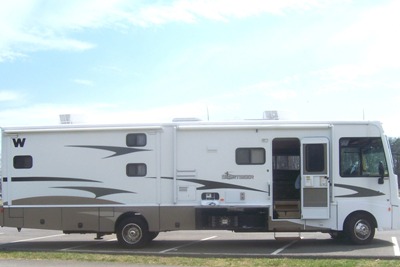 Items installed:
Installation Description
I've been doing audio and video installs in cars (and even one boat) for 14 years, but this is my first motorhome. Last June I bought this 2008 Winnebago. It has an outside compartment that has a "magnadyne" CD receiver and 4x6 speakers. It sounded okay, but not good enough for me. Using some extra car audio equipment I had left over from other installs, and by adding a few more items from Crutchfield, I was able to quickly put together a solution for our outside audio system. We (my brother was here from NC to help with the install - also a shadetree audio installer) pulled the old head unit and 4x6's out. I drilled a 1/2" hole in the compartment to allow the install of a switch to turn the amp/sub on and off, and to allow for "quiet hours" at the campgrounds. They are wired in-line from the head unit amp turn-on lead to the amp remote line input. The Infinity 4x6 plates fit PERFECTLY in the existing holes. The Clarion head unit fit just right in the radio slot. We the ran the RCA's and amp turn-on lead down to where the amp and sub were going. I was lucky that there were already holes between the two compartments for cable TV and 120v electric. Then all we had to do was run the power and ground to the amp and capacitor - piece of cake. I don't think I'll have any problems with juice either with my three dry cell battery power bank already in the coach.
Q&A Section
Why did you decide to upgrade your A/V system?
Motorhome needed bass; hopefully I won't get kicked out of any campgrounds!
What's the first thing you show people about your installation?
The outside audio compartment built in to the rig.
Why did you choose these products?
Quality - you get what you pay for.
What was the most difficult part of the installation?
Finding a suitable ground, the chassis on this rig are WAY too thick to drill through.
What plans, if any, do you have for future upgrades?
I'm only using the rear two channels of the 400.4 amp to power the sub. I will be adding 6x9's in boxes to the front two channels.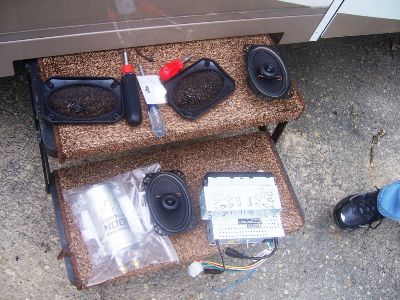 All the new gear ready to go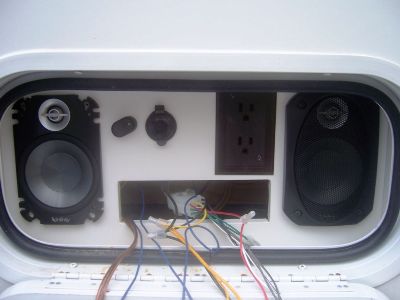 The before picture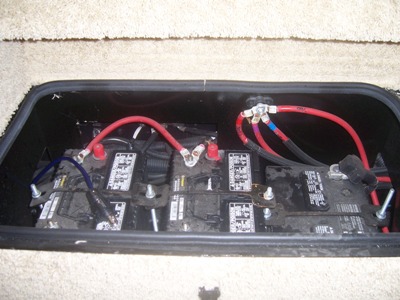 Plenty of power here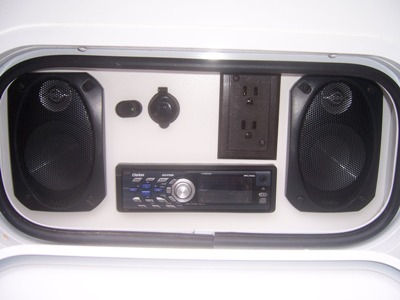 Clarion and Infinities installed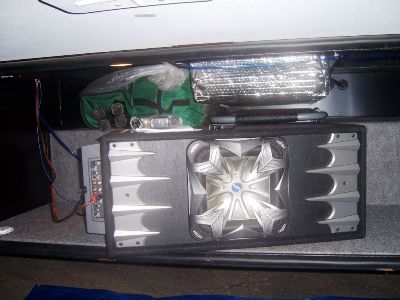 Subwoofer tucked away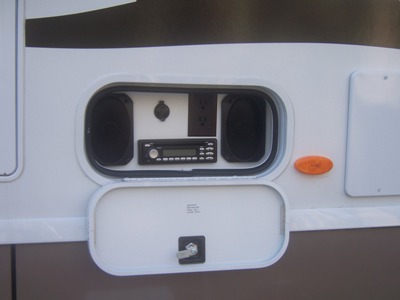 Convenient and protected at the same time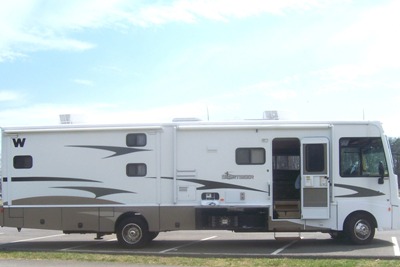 Home away from home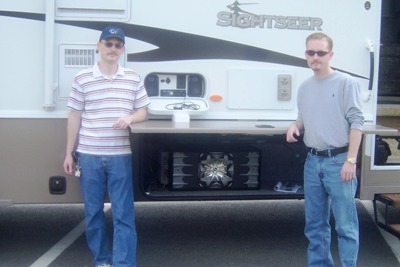 Me and my brother