John B's 2004 Chevrolet Malibu
Installation Description
I have a (1) Kinetik KHC1800 power cell as my main battery, 15' of 0 gauge wire running to (2) Kinetik KHC2400 power cell batteries, (3) PSC201D - 1 farad digital power caps flowing (NO DIM LIGHTS FOR ME) to my amps which are (3) Kenwood Excelon KDC-X889 1000 watt amps, and (1) Kenwood Excelon KDC-7015 4 channel amp. My subs are (3) Diamond Audio D610-10" dual voice coil subwoofers in a custom box. For sound I have Memphis M class coaxial speakers (6x9 120 watt RMS) in the rear and same style in the front in a 4x6. My head unit is a Kenwood Excelon 8120 with the cable that attaches all the amps to the deck.
Q&A Section
Why did you decide to upgrade your A/V system?
I am always upgrading or buying new systems. I change all my stuff out every 2-3 years and start over.
What's the first thing you show people about your installation?
How that I have all my stuff hidden when I want and I have a full available trunk when I am not showing it off. In the photo I'm showing it off!
Why did you choose these products?
I like to stick to one brand and normaly the best of what is in the brand is what I go with. For example there is standard Kenwood and there is the an upgraded line (Kenwood Excelon).
What was the most difficult part of the installation?
Trying to fit it all in my wheel wells and the spare tire room and still be able to hide it all and have a useable trunk. I made it happen.
What plans, if any, do you have for future upgrades?
I would like to have better sound in my ear so I am upgrading to components where the sound is no longer at my feet but up were you can hear it better.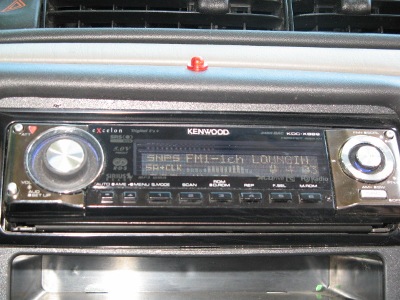 Kenwood receiver.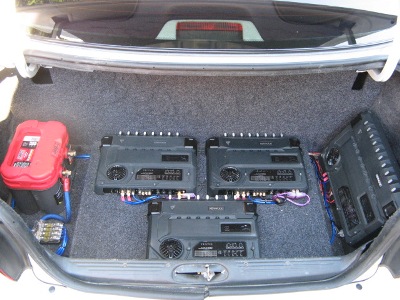 Battery and amp rack.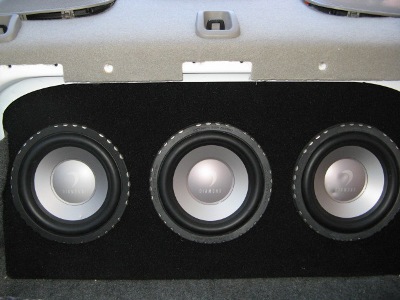 Diamond Audio 10" subwoofers.