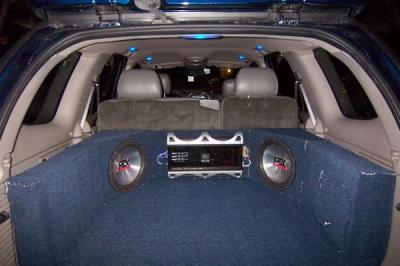 Items installed:
Jensen VM9312 DVD receiver
JBL GTO755.6 II 6-channel car amplifier
Rockford Fosgate T162C 6.5" speakers in all 4 doors
12" MTX Thunder 4500 single voice coil 4-ohm (x2)
12" blue neon under dash both sides
7-color LED underbody kit
Tsunami 4-gauge wiring kit
Blue LED in the dome lamps
12" blue LED under the amp
30GB Video iPod in glove box, connected to headunit
PS2 under passenger seat (sometimes, it removes easy)
Power inverter
Installation Description
It took a while to build the custom box in the back, but I wanted the bass plus storage space, so I really wanted it done. I have done all of the installations myself, which makes it that much better (and cheaper). The box took about 22 hours total: speakers about 2 total, neons about 2 total, and the headunit was about 1. I think it came out really nice because I have all of my storage space in the back, and great sound quality.
Q&A Section
Why did you decide to upgrade your A/V system?
I wanted a better sounding system from stock...and louder.
What's the first thing you show people about your installation?
The custom box in the back because it is extremely unique.
Why did you choose these products?
I really like the quality and clarity of Rockford Fosgate speakers. The bass from the MTX subs compliment it nicely. The Jensen headunit is one of the best (in my opinion) without being a double-DIN, and the JBL amplifier has a lot of power and doesn't draw too much from the battery.
What was the most difficult part of the installation?
The building of the custom box, hands down!
What plans, if any, do you have for future upgrades?
Tint (25% all around), Trailblazer SS wheels, Street Scene valances, lambo doors, Ground Force lowering kit (2" drop) or Belltech 2/3 lowering kit.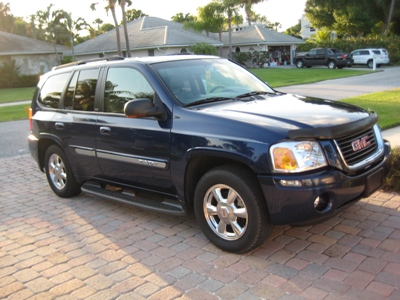 2002 GMC Envoy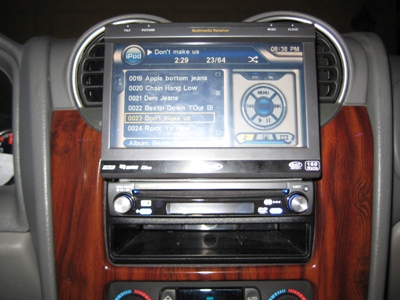 Fold-out receiver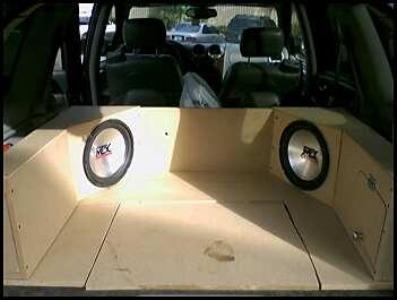 Well under construction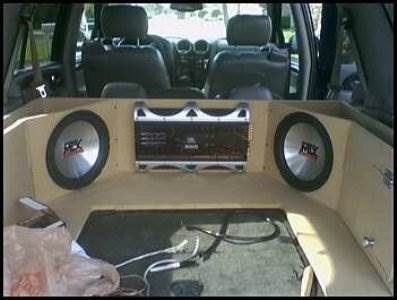 Almost done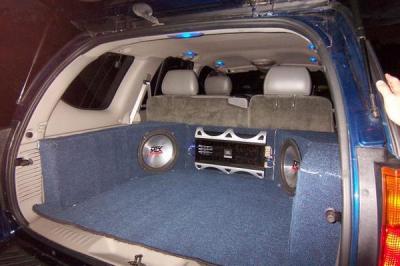 Finally done!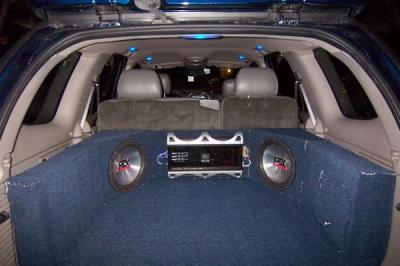 Still retained cargo space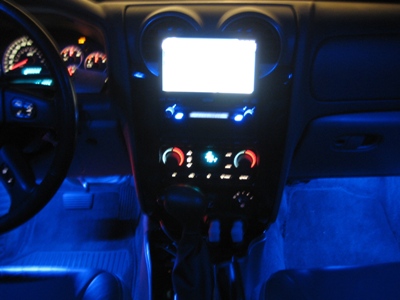 Neons at night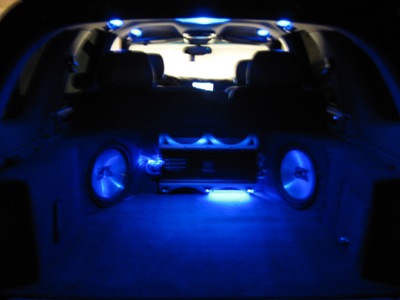 Subs all lit up