Nathan B's 1995 Pontiac Trans Sport
Vehicles in the Customer Car Showroom are submitted by customers and fans, and edited by Crutchfield writing staff. You can find more of these articles on the Showroom main page.
Items installed:
Pioneer DEH-P7700MP CD receiver with OEL animated display
Polk Audio db1240 12" 4-ohm Component Subwoofer Single Voice Coil
(3) JL Audio XA-BLKPW8-6 black 8 Gauge Power Wires - 6ft
(2) EFX 17-ft. Stereo RCA Patch Cables
(20 Ft) StreetWires 8 ga. Translucent Red Power Cable
Polk Audio db461p 4"x6" plate 2-way car speakers - Front Dash
Pioneer TS-A1702C A-Series 6-1/2 Component Speaker System - Rear Lift Gate
Dual XPA2500 2-channel car amplifier - 50 watts RMS x 2 Powering the Rear Speakers
Sony 2/1-Channel Xplod XM-GTX1852 400 watts x 1 RMS at 4 ohms Powering the Subwoofer
Sony XM-235I 35 watts x 2 RMS Powering the Front Speakers
Pioneer Premier DEH-P7700MP in-Dash CD receiver with OEL display
Scosche 6 gauge single amplifier wiring kit
Power distribution block
Installation Description
I've always wanted to do a system in my vehicle. I had the head unit and 2 amplifiers already. My older brother had a sub box, head unit and amp installed at a shop and got charged WAY too much (my own opinion) and thought "I can do that myself better and cheaper." Maybe it's just the sibling rivalry thing.
So I got on your website ordered some parts and off I went. Built the sealed sub box myself per your instructions, fabricated a mounting board using the leftover MDF and some 2x4's and carpeted it all. For some reason one of my old amps didn't work so I had to run out and get me a new one. I wasn't going for massive boom, I just wanted to get clear accurate controlled sound, and boy did I get it! I'm more of a computer guy, so it took me a bit to do all the actual laborious stuff, but I'm VERY pleased with the finished job and have the pride that I did it myself (with some help from you guys) lol! Thank you!
Q&A Section
Why did you decide to upgrade your A/V system?
To compete with my older brother's system lol
What's the first thing you show people about your installation?
The use of space. I have the system where the rearseats were. So I have room for tools and groceries if needed
Why did you choose these products?
I have always LOVED the sound that Polk Audio produces, nice accurate and tight
What was the most difficult part of the installation?
Running the wires. My van has ALOT of trim and panels. Trying to work around, over and under all that was a real pain
What plans, if any, do you have for future upgrades?
Maybe upgrade the rear speakers to Polk's 6-3/4" components, just to keep all the speakers the same. Possibly different head unit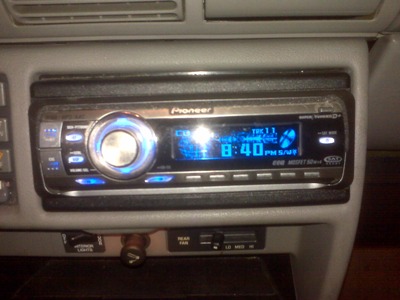 My Pioneer DEH-P7700MP at night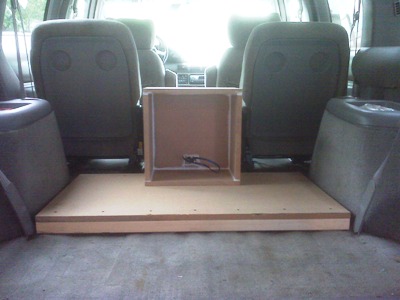 Test fitting the box and mounting board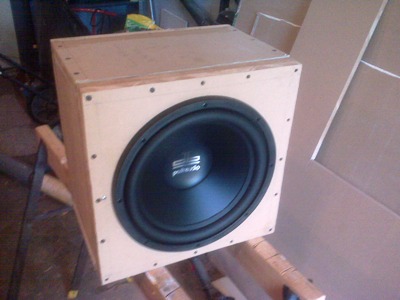 Polk Audio subwoofer loaded in the box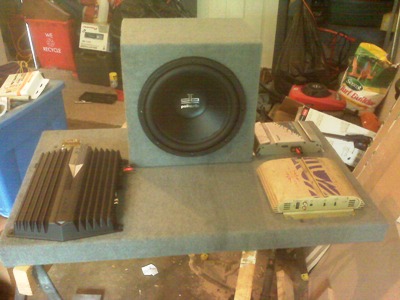 The finished mounting board and subwoofer box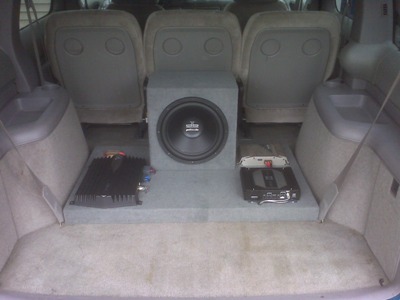 Subwoofer and amps in the van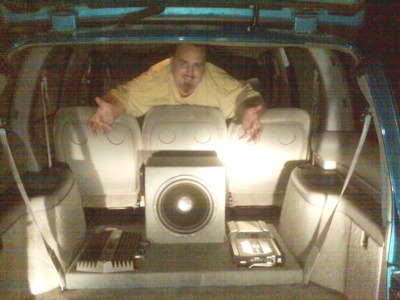 Me in the van (it was at night, so I had to brighten the pic)
Editor's note: Nathan's planning and attention to detail yielded an installation that looks incredible, and still leaves him with the cargo space he wants in a van. Nice job Nathan.
Return to the Customer Car Showroom.