Rick S's 2004 BMW 330i
Stereo upgrade using a JBL MS-8 processor
Heads up!
Welcome to this article from the Crutchfield archives. Have fun reading it, but be aware that the information may be outdated and links may be broken.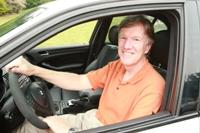 Rick in his car
Items installed:
Upgrading the sound without changing the look
Would you believe the car pictured below had its sound system completely overhauled, yet kept its factory stereo? These days, you can add high-performance upgrades and get luxurious sound without having to tear your dash apart. Rick, one of our vice presidents, put this concept to the test by adding a JBL MS-8 system integration processor to his 2004 BMW 330i, then replacing his factory speakers and adding a JBL amp and an Infinity sub. The result is one happy VP. After hearing about it, I had to take a few minutes to talk to him about his new system.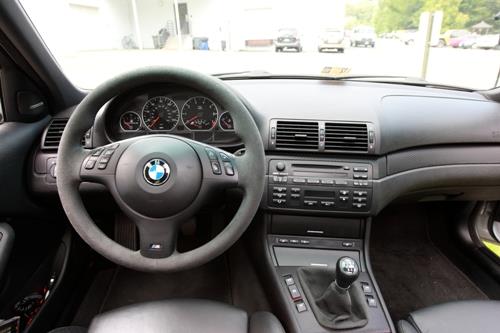 The dash of Rick's BMW is unchanged after the audio upgrade
Even "premium" factory systems can stand improvement
Buck: Why did you decide to upgrade your A/V system?
Rick: I didn't want to touch the dash of my car. I like the look of it and I don't want anything messy hanging off it. So, nothing's changed as far as the factory radio is concerned — all the controls are exactly the same. What has changed is the sound — the experience of listening to music is new and exciting again.
Buck: Why did you decide to upgrade your A/V system?
Rick: My car came with a Harman Kardon premium system from the factory. It sounded okay, but not as good as I wanted.
Buck: Why did you choose these products?
Rick: What's in there now are higher-quality aftermarket products made by the same company. Harman International also owns JBL and Infinity, and the results are like night and day. I knew going into it that just adding the processor would improve my sound. But upgrading the other parts of the system at the same time made it sound really super.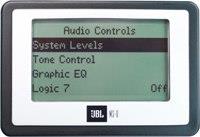 The MS-8 processor's display
Buck: Did the installation accomplish what you wanted?
Rick: Absolutely. The new Infinity Kappa component speakers sound brighter, and the stereo imaging is so much better than it used to be. The subwoofer and that powerful little amp add a complete bottom end to all my music that I just didn't have before. The MS-8 has this little display we used for the automatic calibration process. If I wanted, I could mount it on the dash and adjust the 31-band EQ manually as I listen.
Buck: How difficult was the installation of the processor?
Rick: It's not that hard to integrate. You plug the MS-8 into the end of the system, after the factory stereo, or in my case the factory amp.
Buck: How about the amp? Anything special?
Rick: It's small, so it's easy to find a place to install it. You should see my car. It's really slick. The amp's in there to power the sub. The MS-8 contains a smaller amplifier that takes care of and improves the sound of the other speakers.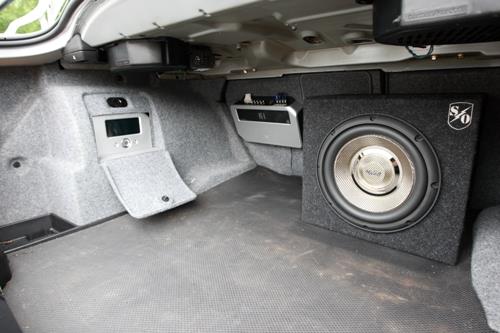 Thanks to the compact designs of the amp and processor, and this neat installation, Rick still has plenty of room in his trunk for luggage.
A closer look at the products
It's clear that Rick is in love with the way his new audio system sounds. Below is a more in-depth run down of the products he's using.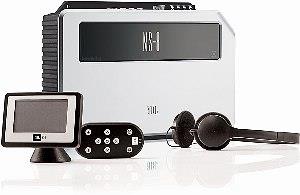 JBL MS-8
The JBL MS-8 System Integration Digital Processor is one of the best ways to improve your sound quality dramatically, especially if you want to keep your factory stereo, or have a system with more than four speakers. The MS-8 automatically equalizes and time-corrects your audio so you'll hear the entire spectrum of your music's notes evenly, with no distorting peaks or echoes, exquisitely balanced and tuned for every seat in your car. The MS-8 can drive up to eight speakers with its built-in amp, and includes individual preamp output control, a 31-band graphic equalizer, and a wireless remote for fine-tuning while you cruise.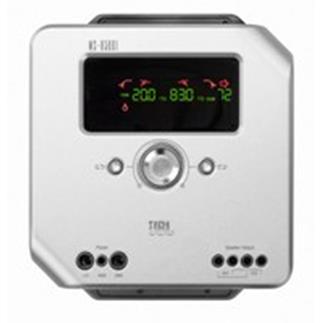 JBL MS-A5001 amplifier
JBL's stylish 7" by 7" Class-D MS Series amps (Rick used the single-channel MS-A5001 amplifier) can tuck into virtually any hiding place that has adequate ventilation. A bright digital display shows the filter slopes, crossover points, and gain settings for each channel. These amps come with a set-up CD and have built-in indicator lights that help you set the input gain perfectly. They also feature preamp and speaker-level inputs so you can hook them up to almost any system.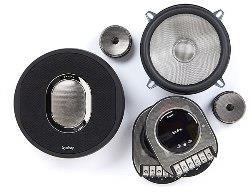 Infinity component speakers
The Kappa component speaker system features woofers with responsive woven glass-fiber cones that won't flex during a hard workout. The soft dome tweeters handle an impressively wide range of frequencies which help define the intricate details in your music. Rick's car used a set of 5-1/4" Kappa components in the front doors.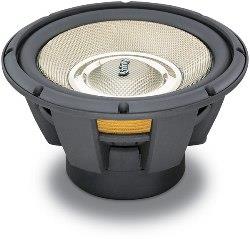 Infinity Kappa subwoofer
Each 10" Infinity Kappa subwoofer features the Selectable Smart Impedance design, which lets you build exactly the system you want, high-power or multi-sub, for the kick you like. The Sound Ordnance sealed enclosure focuses the subwoofer's output to create tight, well-defined bass.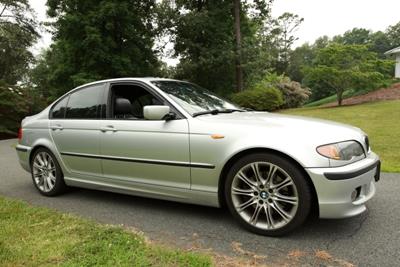 Rick's BMW 330i — a rolling concert hall
Most vehicles in the Customer Car Showroom are submitted by customers and fans, and edited by Crutchfield writing staff. You can find more of these articles on the Showroom main page.