Rob T's 2007 Honda Civic EX
Heads up!
Welcome to this article from the Crutchfield archives. Have fun reading it, but be aware that the information may be outdated and links may be broken.
Rob, a trainer in Crutchfield's Customer Service department, wanted to listen to his iPod® in the car and decided that the best way to do that was to get a new stereo. Now, iPod control is just one of the benefits he enjoys with the Sony CDX-GT640UI in his dash.
Rob can stash his iPod in a convenient spot, and control it with his new stereo.
Items installed:
Q&A Section
What model of iPod do you have?
iPod nano® 8GB
Does your Sony stereo require an adapter for iPod control?
No, I can just use the USB cable that came with my iPod.
How easy is it to navigate files on your iPod using the stereo's controls?
Simple. I just plug in, and I can select music by Artist, Album, Genre, and song title with the press of a button. The controls are intuitive. I had no problems setting the clock, adjusting the equalizer, getting rid of the demo display, changing the illumination, etc. I liked how easy it was to use the iPod through the stereo. I just plugged it in and my music was playing. Awesome.
Prior to installing this stereo, how did you play your iPod in the car?
I didn't. In fact, I used to have an alternative MP3 player which died after 2+ years of honorable service. Before that I just listened to CDs in the car.
Notice any difference in the sound with this new stereo?
Absolutely — the highs and lows are much more defined. And I can tweak the sound a lot better than before.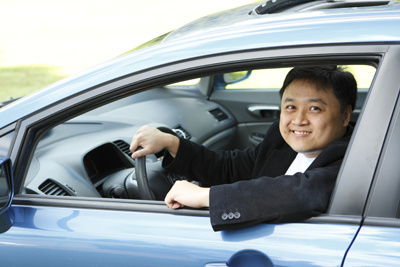 Rob's all smiles thanks to his new car stereo.
Vehicles in the Customer Car Showroom are submitted by customers and fans, and edited by Crutchfield writing staff. You can find more of these articles on the Showroom main page.