Items installed:
4 Audiobahn ABC5002Q 5-1/4" carbon component speaker systems — front doors
2 AW800Q 8" subwoofer — midbass, kick panels
4 AW1805Q 18" subwoofers
AEQ6Q in-dash equalizer/pre-amp
Panasonic CY-VMD9000U DVD receiver
2 Audiobahn AVM264 6.4" TFT-LCD monitors
4 A18001DQ mono subwoofer amps (600 watts RMS x 1 at 4 ohms)
3 A2801Q 2-channel amplifiers (200 watts RMS x 2)
Sound is king in the world of Audiobahn — one look inside their 1955 Chevy show car proves it. When these guys talk about dominating competitions and the car show scene, they mean business! Audiobahn's Doug Parks and his team have stacked this cruiser with 10 separate component speakers, 4 immense 18-inch subs, and over 6,000 watts RMS of raging power!
The Chevy's back seat and cargo area hosts a gigantic custom enclosure, constructed from fiberglass and medium density particleboard. This trunk o' funk houses four AW1805Q Ultra Excursion 18" dual voice coil subwoofers — these monsters feature 4-layer 4" voice coils and massive 250-ounce (that's almost 16 pounds, folks) magnet structures.
The brawn behind the bass comes from four A18001DQ Class-D mono subwoofer amplifiers stacked in two recessed tiers on the front of the sub enclosure. Each amp cranks out a crushing 1200 watts RMS at 2 ohms to a single 18" DVC sub (with its dual voice coils wired in parallel). These sleek, chrome-plated beasts provide a striking image from the rear view mirror, with their cobalt blue digital readouts displaying the current voltage.
One mammoth A2801Q 2-channel Class A/B amp (280 watts RMS x 2 at 2 ohms) commands the middle of the enclosure, while two more A2801Qs are hidden beneath steel grilles on top of the enclosure. The first A2801Q amp drives the 8" AW800Q dual voice coil woofers located in the kick panels and keeps the front seat pulsing with plenty of midbass. The second A2801Q powers the four ABC5002Q 5-1/4" carbon honeycomb cone woofers, two in each door (wired in parallel). The third A2801Q amp keeps the four ABC5002Q 1" silk dome tweeters mounted in the doors focused on broadcasting crisp, clear highs.
In keeping with the over-the-top spirit of this install, Audiobahn took no chances with the head unit. Panasonic's CY-VMD9000U in-dash DVD receiver features a motorized 7" TFT active matrix monitor coupled with a high-quality DVD/CD player. Two additional Audiobahn AVM254 6.4" monitors were added so the crowds at the auto shows can get in on the video action. One monitor is located in the dashboard facing the front passenger seat; the other is sunk into the rear of the enclosure and is visible when the rear gate is lowered. Audiobahn's AEQ6Q in-dash equalizer/pre-amp fine tunes the audio output with 5-bands of stereo equalization and active pre-amp gain control.
Audiobahn knows better than most the importance of looking as good as you sound — after they'd stocked the Chevy full of some of the most sophisticated car audio electronics on the market, they went to work on showing it all off. A bright, multicolored dragster paint finish gleams with the signature Audiobahn flames racing down the sides of the car. Superbad Colorado Custom chrome-plated wheels and a spectacular honeycomb-flame steering wheel top it all off. Louis Chevrolet would be proud!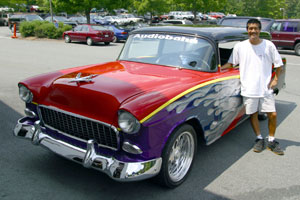 It's a tough job, but somebody's gotta do it! Jorge Takamoto shows off Audiobahn's 1955 Chevrolet all over the US and Canada.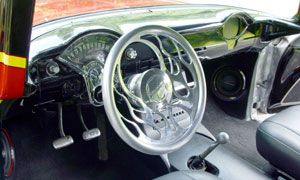 You can see the AW800Q 8" subwoofers mounted in the Chevy's kickpanels, providing awesome midbass punch. And check out that flame steering wheel!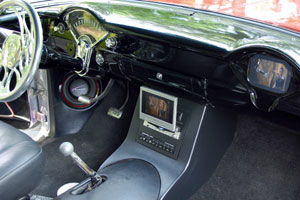 Panasonic's CY-VMD9000U DVD receiver reigns supreme in the front custom housing, providing CD and DVD entertainment for the system. An Audiobahn AVM264 6.4" monitor is mounted in the glove compartment.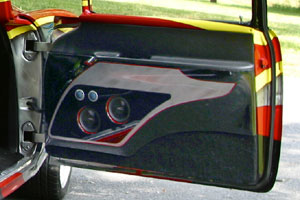 Each front door houses two 5-1/4" carbon honeycomb woofers and two 1" silk dome tweeters — each component receives 140 watts RMS, courtesy of a pair of A2801Q 2-channel amplifiers.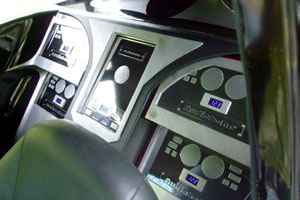 The amp array is mounted at the front of the subwoofer enclosure, delivering over 6,000 watts of power. Digital readouts display the voltage level.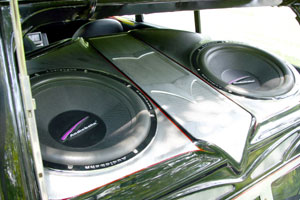 Armed and dangerous: four AW1805Q 18" subwoofers mounted in a custom enclosure receive 1200 watts apiece for brain-warping bass.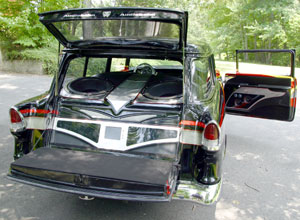 At car shows, Jorge drops the tail gate down so the crowd can check out DVDs on the third AVM264 monitor.