Items installed:
Kenwood eXcelon KDC-PS909 in-dash CD receiver
MTX Blue Thunder Pro504 and Alpine V12 MRV1000 amps
two Boston Acoustics 6-1/2" midrange speakers
two Polk dB Series 3000 tweeters, two Boston Acoustics CX3 3-1/2" coaxial speakers
Rockford Fosgate Punch Series 10" Dual Voice Coil (DVC) subwoofer
Q-Logic wedge-style subwoofer enclosure
Kenwood Dual Amplifier Connection Kit
StreetWires Zero Noise 2.0 Dual Jacket Interconnects
The system in Blake's modified, 325 horsepower MR2 starts with the Kenwood eXcelon KDC-PS909 in-dash CD receiver, featuring a CD signal-to-noise ratio of 105 dB and MASK rotating face security.
Ken uses two channels of the MTX Blue Thunder Pro504, tested at 80 watts over four channels, to power his 6-1/2" Boston Acoustics midranges (crossed over at 100 Hz), and his Polk dB 3000 tweeters with inline crossovers set to 5,000 Hz. The other two channels boost his rear-fill speakers, the 3.5-inch Boston Acoustics CX3 coaxials.
His second amp, the Alpine V12 MRV1000, rated at 150 watts over 2 channels and crossed over at 80 Hz, drives the 10" Rockford Fosgate Punch DVC sub, mounted in a wedge-style truck box behind the passenger seat.
To eliminate noise, Ken used Kenwood's heavily insulated Dual Amplifier Connection Kit, as well as StreetWires Zero Noise 2.0 dual-jacket interconnects. He also installed two layers of Dynamat Super in each door, and a single layer on his floor and firewall. Finally, he solved a feedback problem caused by an electrical power steering pump by covering it with two layers of aluminum foil.
Ken's future plans include adding a Kenwood CD or MiniDisc changer, using another two-channel amplifier specifically for the tweeters, getting a custom sub enclosure to take advantage of the MR2's original sub housing behind the passenger seat, and integrating a head unit remote control in the steering wheel's original cruise control location.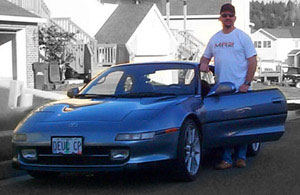 Ken Blake with his customized MR2, nicknamed the "Deuce Coupe."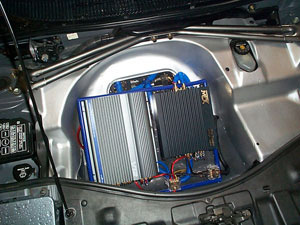 Ken's amps are mounted securely in the MR2's spare tire well, thanks to a custom-fit, molded plexiglass amp rack.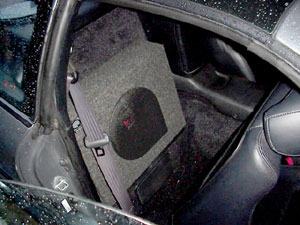 A Rockford Fosgate 10-inch sub fits neatly behind the passenger seat in a wedge-style truck box.