Jaime Bravo's 1999 Chevrolet Silverado
Items installed:
Installation Description
The major modification part of my installation doesn't really sound major at all. In the rear part of my truck there is room for two 4x6 speakers. My amplifier can run at 2 OHMs. So I cut out an extra hole on each door panel to add in another set of 4x6 speakers to make a total of four 4x6 speakers in the back with a 2OHM load applied to the amp. The result was beautiful. The vocals are soooo clear, it sounds like you're at a concert.
Q&A Section
Why did you decide to upgrade your A/V system?
I'm a musician and cannot stand the sound of a stock stereo.
What's the first thing you show people about your installation?
The Kenwood KDC-X879 headunit.
Why did you choose these products?
They sound great, and I knew that together I'd have the clearest sounding audio, and it would be loud as hell, too.
What was the most difficult part of the installation?
Uninstalling and reinstalling the backseat and upholstry to install Dynamat and the amplifier.
What plans, if any, do you have for future upgrades?
I've purchased some kickpanels to install a second set of Infinity Kappa 60.5cs speakers. All I have to do now is actually purchase the speakers. I've also purchased two Orion 900.2 amplifiers for my two Boston Acoustic Pro 12.5 LF subwoofers.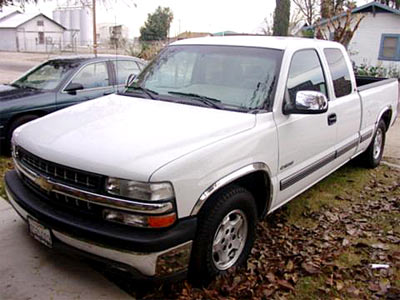 Jaime Bravo's 1999 Silverado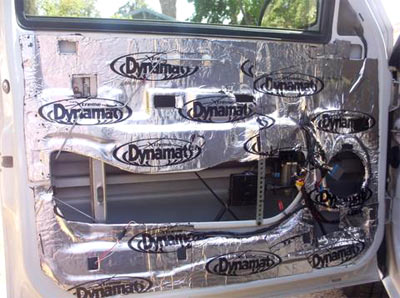 Driver side door after dynamat