Brian D's 1992 Ford Explorer
Items installed:
Sony CDX-GT720 CD receiver
Kicker 08S15L74 Solo-Baric L7 Series 15" subwoofer
Hifonics Brutus Amp
High-Power Kinetik Battery
Sony 5x7 2 Way Front Door Speakers
2 Roadmaster Tweeters (Front Door)
4 Gauge Wiring
Gold Battery Terminals
TomTom One 130 GPS
Installation Description
Basically I started off small, with 2 12's and a Sony CDX-F5000, then got some money and found some people and traded stuff, and my system is amazing now, everyone who gets in my Explorer could just about crap theirselves. When you scream you can't even hear yourself, it's like a back massage sitting in the drivers seat, my leg hair moves like crazy!
Q&A Section
Why did you decide to upgrade your A/V system?
When I bought the Explorer, the radio SUCKED! I already had plans to upgrade it like crazy though!
What's the first thing you show people about your installation?
The subs, I pop the back hatch open and their jaws drop.
Why did you choose these products?
Well prices are really good, performance is AMAZING, and it looks great in my truck.
What was the most difficult part of the installation?
Running all the wires, getting the +12v through the firewall.
What plans, if any, do you have for future upgrades?
I still need about 2 sets of really good tweeters, (there's 2 speaker holes in the back doors) so I'm gonna get 2 realy good sets of rear speakers, and maybe mount 6x9's in the rear hatch, and to power it all, a nice at least 800w 4 channel amp.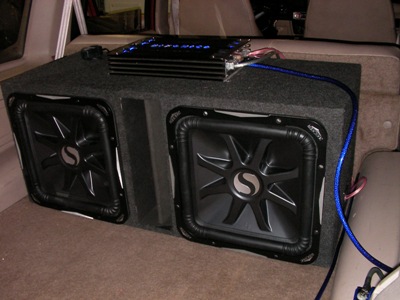 Hifonics Amp on top, 2 15" L7's, 4 Gauge Wiring, Kinetik Batt.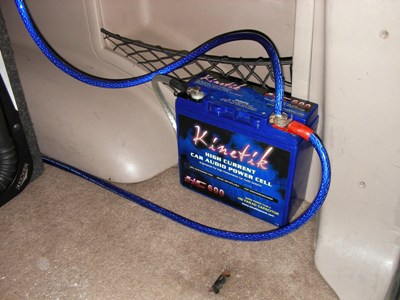 Kinetik Battery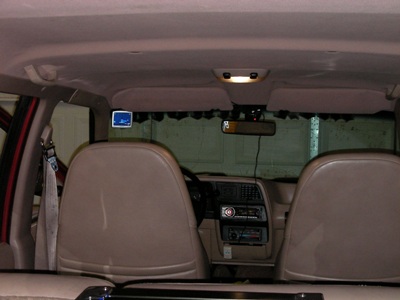 GPS, and old Sony CDX-F5000, I just ordered the CDX-GT720 about 2 days ago lol
Wiring for 2 more amps (Thinking ahead) :) lol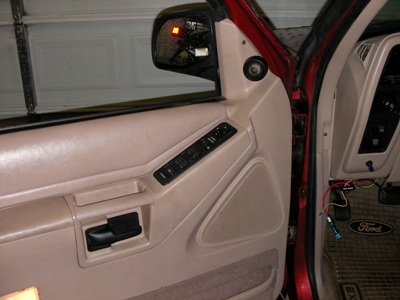 Front Door w/ Tweeter, and 5x7 Sony's