Chad Burchett's Jeep Cherokee
Items installed:
Kenwood KDCX911 CD receiver
three 1000 watt Crossfire Class D amplifiers
eight Digital Design 12" carbon fiber cone subwoofers
streetglow neon and strobes
Chad has been active in the car audio competition circuit, participating in USAC (United States Autosound Competition), IASCA (International Auto Sound Challenge Association), and NSPL (National Sound Pressure League) events primarily in the Southeast. At age 16, he set a SPL world record in his class with the Jeep, clocking in at 160 decibels (approximately 8 times louder than a jet engine).
As a student at Virginia Tech, Chad has worked extensively in the Vibration and Acoustics Laboratory attempting to increase the performance of his car audio system and, in doing so, has gained experience and knowledge that will be extremely valuable to him after graduation. Computer modeling programs that assist him in fine tuning the sound in his car's interior also allow him to do research in improving automobile and building acoustics. In fact, Chad's explorations into controlling the interior noise level of a vehicle forms the basis for his senior thesis; Volvo of North America has even donated a truck in the hope that his research will help them find new ways to lower the noise level in their sleeper cabs. Chad plans on working as an engineer for an automobile or speaker manufacturer after graduation.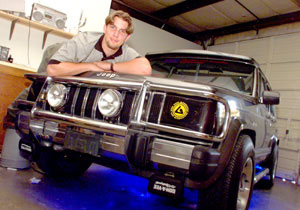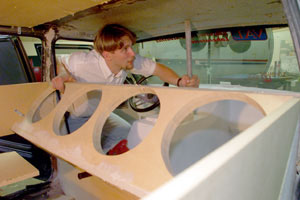 Chad Burchett designed custom enclosures for his Jeep's award-winning system.