Austin Butler's 1996 Chevrolet S-10
Items installed:
40GB 4G iPod
iPod Painted "Wet" by colorwarepc.com
XtremeMac Xtremity iPod case
XtremeMac car power adapter
iTrip FM Modulator
Infinity Reference 4x6 plate (dash)
Infinity Reference 6.5" coaxial (door)
Infinity Reference single-coil 4-ohm 10" subwoofer
Alpine 150W mono subwoofer amplifier
Installation Description
I first installed the dash and door speakers, which improved the sound quite a bit, but were too "boomy" for my liking. Next, I built a subwoofer box and installed it in my truck and installed capacitors (high-pass crossovers) on my dash and door speakers to get rid of the boomy bass. Finally, a few years later, I purchased the iPod and accessories to allow me to access my entire music collection whenever I wanted.
Q&A Section
Why did you decide to upgrade your A/V system?
I desired higher-fidelity sound than the stock speakers afforded.
What's the first thing you show people about your installation?
The subwoofer box.
Why did you choose these products?
I listened to and researched many products, and these provided the cleanest sound availible.
What was the most difficult part of the installation?
Building the subwoofer box.
What plans, if any, do you have for future upgrades?
Maybe a new head with an auxiliary input so that I don't have to use the FM modulator.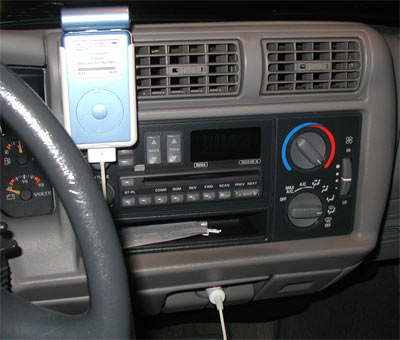 iPod mounted to dash via XtremeMac Xtremity Case