Chris Chausse's 2001 Ford Ranger
Items installed:
Sony CDX-L550X CD receiver
JBL GTO7520 5"x7"/6"x8" 2-way speakers — front doors and rear cab corners
Jensen XA2100 2-channel amplifier (50 watts RMS x 2)
MTX Blue Thunder BL104 10" subwoofer
Custom-made 10" sealed enclosure
XTC 5"x7"/6"x8" foam speaker baffles
PAC 300 Hz Bass Blockers
Phoenix Gold RCA patch cables
StreetWires power cables and fuse holder
Stinger 14-gauge speaker wire
Poly-Fill box stuffing
For the budget-minded enthusiast, half the fun of car audio is buying various sale items and assembling them into a coherent system. Chris Chausse wanted to put big sound in his 2001 Ranger without spending a lot of bucks, so he took his time, found some bargains, and put together a rockin' audio setup.
The Sony CDX-L550X CD receiver fit Chris's needs perfectly, with a high-power built-in amp (23.2 watts RMS/52 peak x 4) to drive his speakers, a fold-down detachable face for security, and a set of preamp outputs for connection to an external amp. A self-confessed equalization freak, Chris digs the tonal flexibility offered by the receiver's 7 EQ presets and 7-band equalizer.
Chris installed JBL's GTO-7520 5"x7"/6"x8" speakers in the Ranger's speaker locations in the front doors and rear cab corners. Their titanium dome tweeters and Rigitex woofers pump out clean, full sound, and their high efficiency means maximum performance from the Sony receiver's built-in power. PAC Bass Blockers (300 Hz) remove low bass from all the JBL speakers so they'll play louder without distortion. XTC foam speaker baffles protect the JBLs from moisture and dust, while reinforcing low-frequency response.
The space behind the Ranger's seats is limited, so Chris had to use a little ingenuity to get the low-end impact he wanted. He built an enclosure out of 3/4" medium density fiberboard (MDF) that fits perfectly against the Ranger's back wall, housing an MTX Blue Thunder Legend 10" subwoofer. He was surprised to discover some annoying resonances when he tested his home-made enclosure at high volume. He disassembled the box, put silicone on every seam, filled the box with Poly-Fill, and added MDF braces on the top and sides — problem solved!
Jensen's XA2100 2-channel amplifier (50 watts RMS x 2) is tucked under the passenger seat, pushing out 150 watts in bridged mode through Stinger 14-gauge speaker wire to the sub. Chris slides the passenger seat forward a little for easy access to the amp's top-mounted controls. Phoenix Gold patch cables carry the audio signal from the Sony CDX-L550X receiver to the Jensen amp, while StreetWires 10-gauge power cables supply the juice.
Chris built a system that rocks his truck with plenty of clean volume and tons of bass — and the total cost was less than a top-of-the-line receiver. Once again, intelligent system planning and smart shopping win the day. Thanks for the rendezvous with your Ranger, Chris!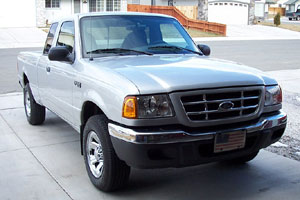 Chris Chausse's ultra-clean 2001 Ford Ranger.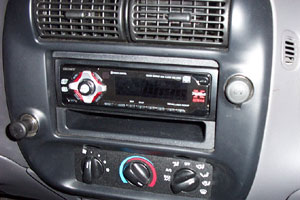 With EQ7's 7 EQ presets and 7-band equalizer, Sony's CDX-L550X CD receiver offers big time tone control — a real plus in the Ranger's small cabin.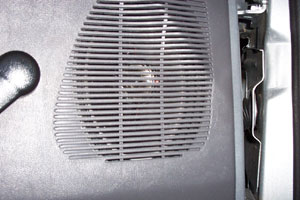 The titanium tweeter on JBL GTO7520 5"x7"/6"x8" speaker delivers sizzling highs from behind the Ranger's door grille.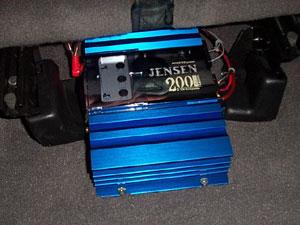 Jensen's feisty little XA2100 amp pumps out 150 watts in bridged mode to the MTX sub — all bass boost and variable crossover controls are top-mounted for convenience.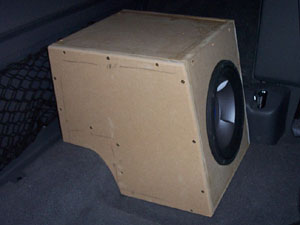 Chris built the subwoofer enclosure (from 3/4" MDF) to house MTX's potent Blue Thunder Legend 10" subwoofer.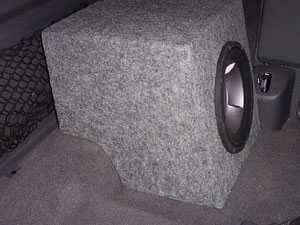 Outfitted with carpet, the enclosure looks at home on the hump behind the Ranger's driver seat — and its compact size allows Chris to put the seat all the way back.