Katie Chearney's 1997 Chevrolet S-10
Items installed:
Audiobahn ABF14Q 4x10 speakers in rear pillars
Stinger SWK4D 4 guage multi-amp wiring kit
Stinger bullet series RCA interconnects
Installation Description
When I got my truck in 2002, it still had the stock speakers and cassette player. As cool as it was to be 19 and rocking a cassette radio with a whopping 4 preset stations, I felt I needed more out of my sound system. I started by picking out my Alpine CDA-9825 receiver. It had all the features I needed without a lot of extra stuff I didn't want. I knew I was going to run external amps, so it was more important that the receiver had 3 strong sets of pre-amp outputs rather than a powerful built-in amp. The setup is pretty straightforward. An Alpine 4-channel amp drives a pair of 4x6 polk speakers and a pair of 4x10 Audiobahn speakers. An Alpine mono amp powers an Alpine 12" DVC sub. There's not a lot of room in the truck cab, so I stuck with the 4x6 and 4x10 speakers and installed them in the factory locations. Also, the rear jump seats were removed and the 2 amps were mounted in their openings. The Q-logic box takes up most of the room behind the front seats. I added FMOD signal blockers to the 2 pairs of RCA cables running to the 4-channel amp. The FMOD's improved the sound quality unbelievably! Now I can turn up my music without worrying about distortion and damaging my speakers. The turn on lead for my sub amp isn't wired to the receiver. I have it wired to an illuminated rocker switch right next to the steering wheel. It's convenient for when you're driving through neighborhoods at night or sitting at stoplights and you don't want all that deep bass. You can just flip it on and off quickly without having to mess with any of the settings on the receiver.
Q&A Section
Why did you decide to upgrade your A/V system?
The stock sound system had a lot of distortion and it wasn't powerful enough.
Why did you choose these products?
I've always been pleased with Alpine's products. When I decided to install a new sound system, I wanted all my major components to be Alpine. They are durable and have good sound quality.
What was the most difficult part of the installation?
Removing the interior to install the sound dampening material was a pain. It was worth it though, since there are no annoying rattles and almost no road noise
What plans, if any, do you have for future upgrades?
I'm going to be moving to an area of northern Pennsylvania where the radio stations are weak so I will definitely be getting satellite radio. Also, I'm tired of fumbling around with CD's so I'd like to add a disc changer, or even better an adaptor to hook up an ipod to my receiver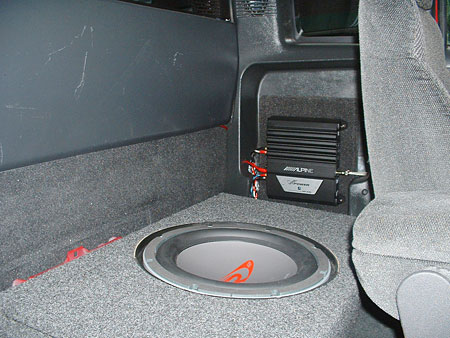 Just a shot showing what the rear of the cab currently looks like.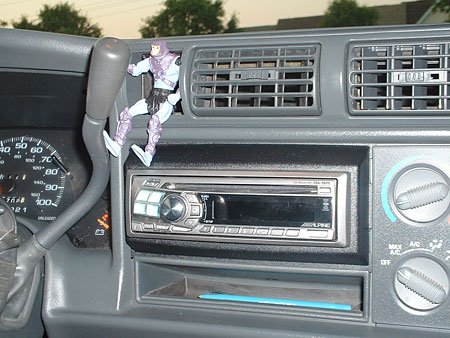 This has been one of the best receivers I have had.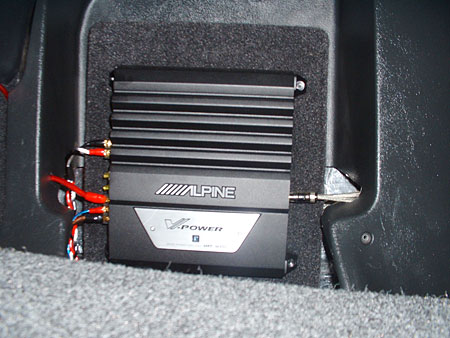 A close up showing how the amps are mounted in the jump seat openings.

One Alpine 12" sub produces more than enough bass to fill the cab of the truck.