Kevin Dozier's 1994 Acura Integra LS
Heads up!
Welcome to this article from the Crutchfield archives. Have fun reading it, but be aware that the information may be outdated and links may be broken.
Items installed:
Audiovox DVD Player
JVC 6 1/2" speakers in the doors
JVC 6X9 SPEAKERS IN THE REAR DASH
NOS 75 SHOT NITROUS KIT
JT AUTO STYLE ALTEZZA R33 FRONT END CONVERSION BODY KIT
MATRIX RACING SEATS
TEAM NOBLE HARNESS/ NITROUS BAR
TENZO BIG BRAKES ROTOR KIT
AC AUTOTECHNIC S7 GAUGES
ACAUTO TECHNIC PILAR S7 GAUGES, AIR FUEL, BOOST, VOLTS
Carbon Fiber Tail Lights
Autotechnic 4 in 1 Tachometer
Carbon Fiber Shift Knob
Carbon Fiber Emergency Brake
Start Push Button
Bride Steering Wheel
Mugen 4 Point Harness
Carbon Fiber Intake
Port & Polished Intake Header
Painted Valve Cover
Airmass 4-2-1 Exhaust Header
Clutch Master Stage One Clutch
JDM LS 5 Speed Transmission conversion
2.5" CATBACK EXHAUST
High Flow Cat
R1 Coil Overs
KYB Struts & Shocks
NOS Purge Kit
Strut Tower Bar Front
Sony 6 Disc Changer mdx-69
Playstation 2
1-Farad Capacitor
19" ADR Fuel Rims
Installation Description
The audio/video install starts at the Sony head unit and then proceeds down to the Audiovox DVD player. The amps were placed in the upper back seat for optimum cooling and to be unique. The 2 MTX 10" subs were place in the floor for optimized space and for future trunk upgrades.
Q&A Section
Why did you decide to upgrade your A/V system?
Because I wanted to get a better sound quality from my car.
What's the first thing you show people about your installation?
How everything flows within easy reach of the operator.
Why did you choose these products?
I am a big supporter of Alpine and Sony.
What was the most difficult part of the installation?
Deciding how to make it come together.
What plans, if any, do you have for future upgrades?
Turbo, Lambo doors, and an LS vtec.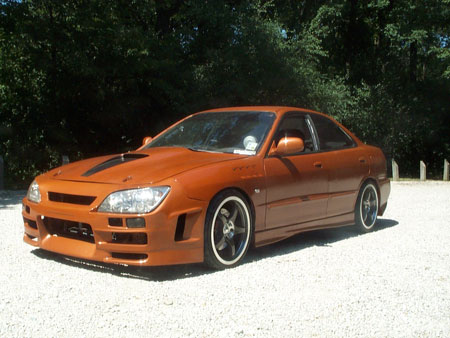 Kevin's Integra sports a completely custom front end.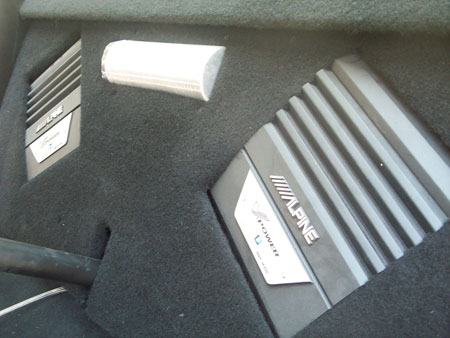 The Alpine amps are custom mounted to look and perform their best.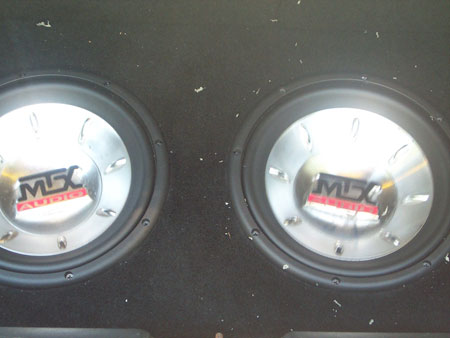 The twin MTX subs make the Integra a treat for the eyes and the ears.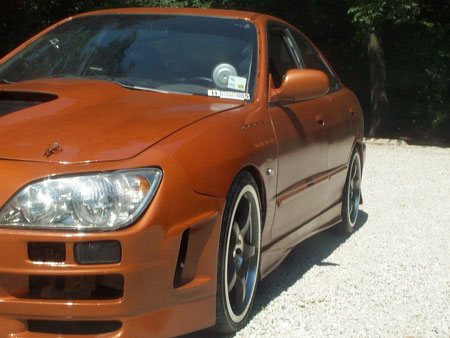 An aftermarket body kit and paint make this Integra one-of-a-kind.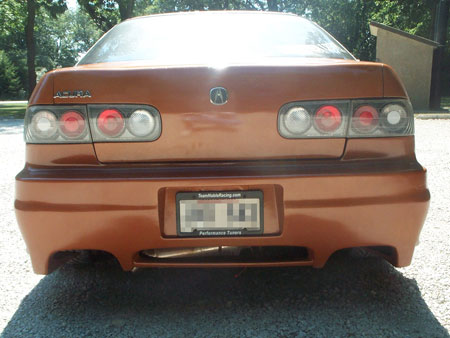 Kevin plans on adding a turbo LS vtec motor to make this car really scream.