Matthew Gallagher's Dodge Dakota
Items installed:
Blaupunkt Austin CD receiver with CD changer controls
Blaupunkt auxiliary input adapter
Kenwood KFC-1387 3-way 5-1/4" speakers — doors
Infinity Reference 652i 2-way 6-1/2" speakers — rear side panels
2 MTX Thunder6000 T6104A 10" subwoofers
MTX Thunderform DDXP201U custom-fit sub enclosure
Profile Clarus CL600M mono subwoofer amp (300 watts RMS x 1 at 4 ohms)
Monster 4-gauge power and ground cable
PAC 600 Hz Bass Blockers
Matthew Gallagher wanted a stealth system in his 2002 Dodge Dakota Club Cab pickup — a low-profile audio setup that wouldn't take up a lot of space in his truck. With a little work and some advice from his Dakota-owning buddies, he put together a kickin' system with high power, great clarity, and minimal visibility.
Blaupunkt's Austin CD receiver was the perfect choice to head up this system. Its built-in amp (25 watts RMS/50 peak x 4) has plenty of power to drive the front and rear speakers, and the X-Bass feature (4 levels of bass boost at 72 Hz) excels at fine tuning the lows. Three sets of preamp outputs and CD changer controls offer plenty of options for future expansion. Matt used a Blaupunkt AUXIN adapter to convert the Austin's CD changer port to an auxiliary input so he could hook up his portable MP3 player.
To get the mids and highs in order, Matt removed the factory speakers from the Dakota. He installed Kenwood's KFC-1387 5-1/4" 3-way speakers in the factory locations low in the door panels. A set of PAC 600 Hz Bass Blockers removes low frequencies from the Kenwood speakers so the Austin can drive them a little harder without distortion. The Dakota's rear side panels house a pair of Infinity Reference 652i 6-1/2" speakers, running full-range.
Big bass was next in the works. The MTX DDXP201U Thunderform custom-fit sub enclosure replaced the factory tool tray under the Dakota's rear jump seat, offering a storage spot for the truck's jack and room for two MTX Thunder6000 10" woofers. Profile's Clarus CL600M mono subwoofer amplifier, mounted under the passenger seat, pounds the two subs with a total of 450 watts RMS (at 2 ohms) and a built-in bass boost (up to 18 dB at 45 Hz). Power is supplied by Monster 4-gauge power wire, fused at the battery.
The rear jump seat hides the sub enclosure, the passenger seat conceals the amp, and the Blaupunkt receiver's face detaches, so there's nothing to alert onlookers to the presence of a powerful car audio system — and that's the way Matt likes it! Cool truck, nice installation — thanks for the look at this dazzling Dakota.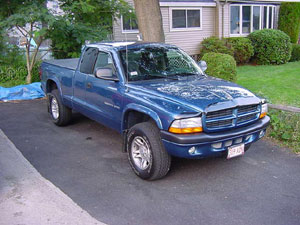 Matt Gallagher's 2002 Dodge Dakota 4x4.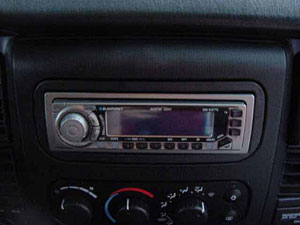 The sharp-looking Blaupunkt Austin CD receiver serves up plenty of power (25 watts RMS x 4 channels) to the front and rear speakers — its optional auxiliary input accommodates Matt's MP3 portable.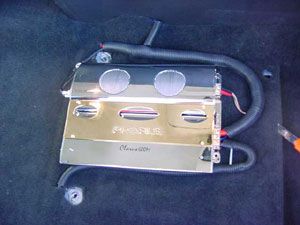 The Profile Clarus CL600M mono subwoofer amplifier fits perfectly under the passenger seat, cranking out 450 watt RMS to the two MTX Thunder6000 subs.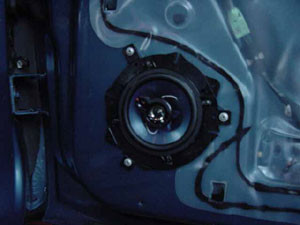 Matt installed Kenwood's KFC-1387 3-way 5-1/4" speakers in the door panels — Bass Blockers remove low bass duties from the relatively small cones, for cleaner sound and more usable headroom.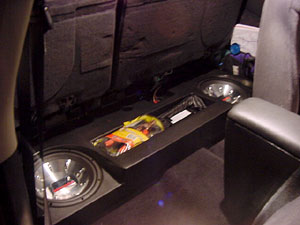 The MTX Dodge Dakota ThunderForm, loaded with two Thunder6000 10" subs, broadcasts huge bass from its spot under the rear jump seat.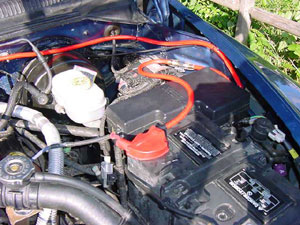 Monster 4-gauge cable carries plenty of juice from the Dakota's battery back to the Profile amp. The fuse protects the truck against any damage caused by a power cable short circuit.