Marc Gloyd's 1995 Honda Civic DX
Items installed:
Pioneer TS-W256C 10" subwoofer (800w Max, 4-ohm, SVC)
Pioneer TS-163P 6 1/2" dual-cone front speakers
Pioneer 1" silk dome tweeters
Pioneer GM-5000T amplifier (760w Max, 350w RMS, at 4-ohms bridged)
Extra 12V power outlet
Whistler 1745 radar detector
Model T OOGGAAA horn
SubZone HT10SS single 10" sealed enclosure
Monster Cable 12-ga XLN subwoofer wire
JDM Vision amber corner lights
Mondial roofrack system
Installation Description
Install was pretty easy and fairly quick. For the amp, power and remote wires were run along the driver's side of the car, RCA's on the passenger side. The amp is screwed to the custom-built trunk floor, and the subwoofer cable runs under the floor to the enclosure. The subwoofer is mounted slightly odd, facing the passenger side of the trunk to prevent any cone damage from cargo. Front door speakers were directly installed in the factory locations, with aid from Metra speaker wire harnesses. Tweeters currently sit on the back deck, running off the rear speaker lines, but will eventually be moved up front when component speakers are installed. The head unit is in the factory location, and I used Metra's wiring harness to connect to the OEM wiring. The satellite radio is mounted where the ashtray once sat, by means of the modified windshield mount provided in the kit. The satellite radio antenna wire was run along side the factory antenna wire and is placed on the roof. The SIRIUS unit is connected to the headuint via an IP-Bus converter to maximize sound quality.
I installed all the equipment myself. I am not a professional or even close to one, I did however utilize resources online such as CrutchfieldAdvisor.com, the12volt.com, clubcivic.com, and the manufacturer's websites for product information, along with many hours of owner reviews of these products.
Q&A Section
Why did you decide to upgrade your A/V system?
I am a mild audiophile and I drive a lot and wanted to be able to better enjoy my music in my car. Time was taken to produce the music accurately and clearly, so I feel it should be reproduced and enjoyed accurately and clearly.
What's the first thing you show people about your installation?
Usually I show-off my newest addition to my setup, which is currently the SIRIUS satellite radio unit and its installation.
Why did you choose these products?
I chose to use mostly Pioneer products because for the cost, there are few components that sound and look as good. I am a full time college student, so budget was a big factor. Pioneer has a great product lineup, with prices that can't be beat for the sound quality and craftsmanship.
What was the most difficult part of the installation?
Finding time to do the multi-part installation. I have been piecing the setup together for close to 2 years now and it has seen many revisions and improvements over time.
What plans, if any, do you have for future upgrades?
I'm constantly looking to upgrade my current setup. The first upgrade will most likely be front component speakers and an amplifier to drive them, along with rear deck speakers for rear fill. I eventually plan on re-doing the entire car (or another vehicle) with higher end components for better sound quality.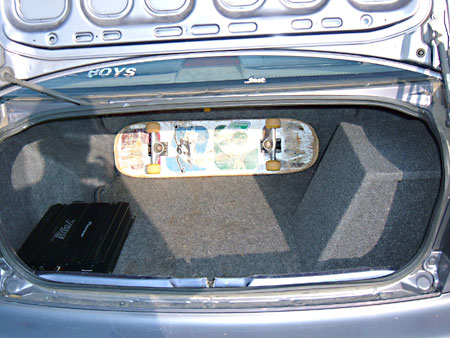 Pretty simple trunk install, not the best, but hey it works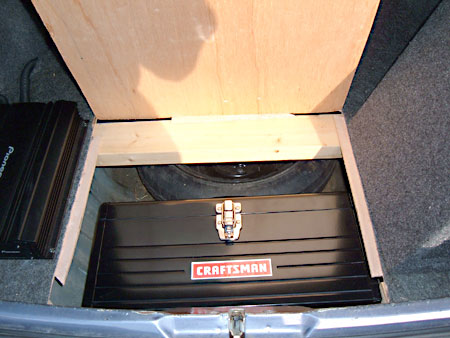 Tool box under a custom built hatch in the trunk floor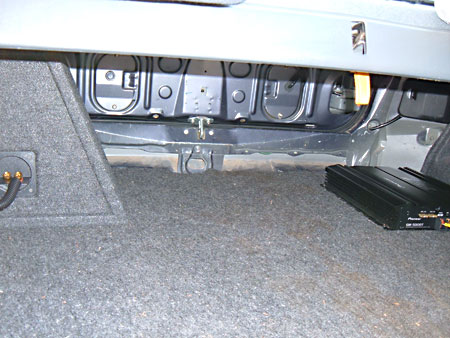 Veiw from the back seats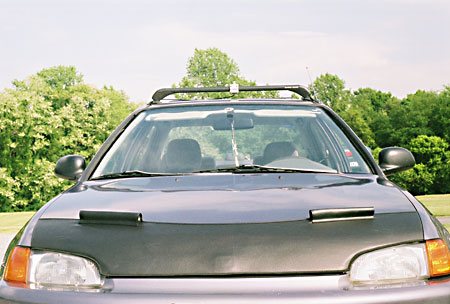 The beast in which everything resides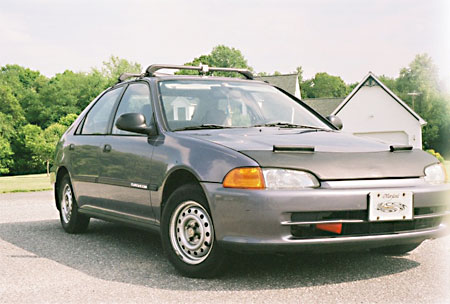 Another exterior shot, note the amber front corner lights, roofrack, and www.clubcivic.com decals