Rob Green's 2003 Mitsubishi Diamante VR-X
Items installed:
2-10" Infinity 1032W Subwoofers
Tsunami 1.2 Farad Power Capacitor
Tsunami 4 & 8 Gauge Power and Speaker Wiring Kit
Tsunami Digital LCD Volt Meter,Fuse Block, and Ground Block
Custom Built Black Suede and Brushed Aluminum Trunk Enclosure
Installation Description
Factory head unit and speakers were all upgraded. After bypassing the factory amp, I installed Sony's CDX-M8805X CD/MP3 Head Unit and an Infinity 610a Mono-Channel Sub-Amplifier. The two were wired with Tsunami's 4-gauge power wire and 8-Gauge speaker wire. The power connection made at the battery was topped off with a Tsunami digital LCD volt meter. The door speakers were upgraded to an Infinity Kappa Perfect 6.1 6.5" component system. The rear speakers were also swapped for Infinity 693.5i Kappa 3-way 6x9's. Two brand new Infinity Kappa 100.3 SE 10" subwoofers in a Q-Logic sealed enclosure were stuffed in the trunk and all topped off by a Tsunami 1.2 Farad power capacitor. I recently completed a custom trunk enclosure made with 3/4" MDF Fiber Board all padded and covered with black suede and brushed aluminum hardware. The false floor for the amp and power cap was a last minute addition but completed the installation quite nicely. Overall, the system completely blew me away after seeing and hearing it for the very first time.
Q&A Section
Why did you decide to upgrade your A/V system?
The factory system was okay for stock, but my car was begging for some serious power.
What's the first thing you show people about your installation?
The custom trunk enclosure I made myself.
Why did you choose these products?
My car came with an Infinity system from the factory. If a stock system could sound that good, I knew right away what brand to upgrade to.
What was the most difficult part of the installation?
The factory amplifier gave me the most trouble when I tried to bypass it.
What plans, if any, do you have for future upgrades?
My next system upgrades will be another Infinity amp and Tsunami Power cap. I think a 3-channel amp for the interior speakers to give some much needed power to the components.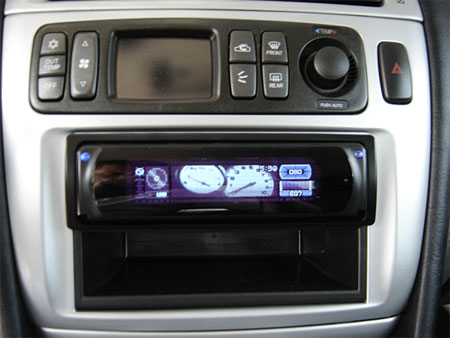 This unit without button or knobs disappears when turned off.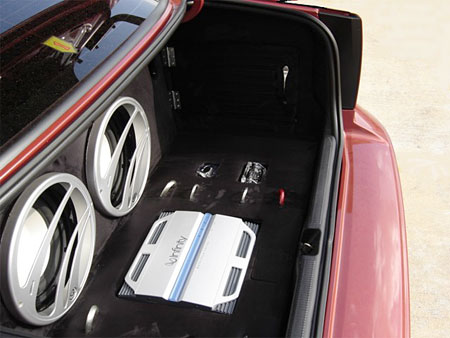 I amazed myself at how the whole thing turned out.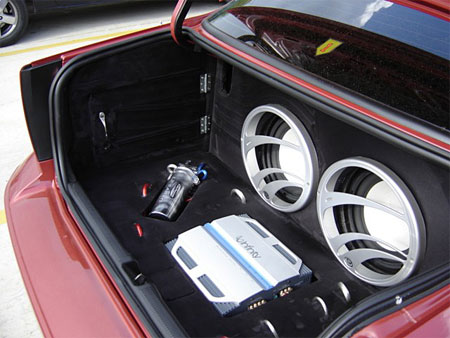 Not to bad for my first time.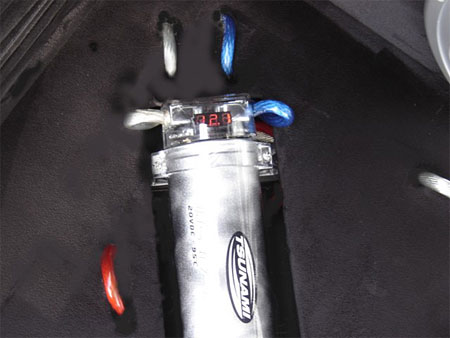 Tsunami's power cap lights up relly good at night.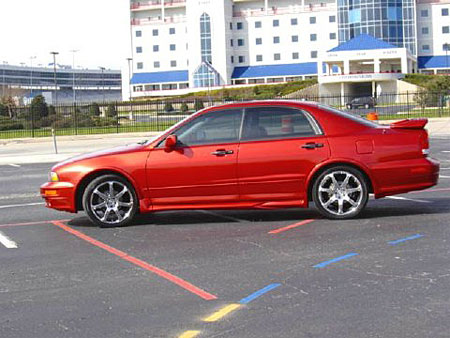 My baby at Texas Motor Speedway.