Brett Johnson's Chevy Tahoe
Completely custom: From parking lights to tail lights, and everything in between!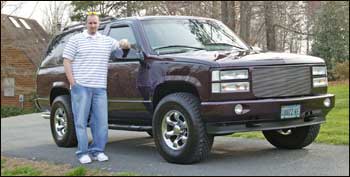 Crutchfield Sales Advisor Brett Johnson shows off his pride and joy.
Who:
Brett Johnson, Crutchfield Sales Advisor.
What:
A completely customized 1997 Chevrolet Tahoe.
Where
: Charlottesville, VA.
How:
With a lot of time, effort, and installation expertise.
Brett Johnson takes his job seriously. As a Crutchfield Sales Advisor, he needs to keep up to speed on the latest techonology (like in-dash DVD) and the coolest custom car accessories (like Euro Tails and clear corners). If that passion for doing a great job results in a super-cool ride he can show off around town, well, that's just icing on the cake. Take a look at everything Brett's done in the photos below, and take some inspiration for your own SUV!
Brett says: "Ever since I got my first car, I have always tried to take pride in it and take care of it. I think your vehicle can sometimes reflect who you are, and a good-looking vehicle makes you look better also. I used to think that the more bass the better. Through the years as I've gotten older, though, I've realized it's not quantity, it's quality." Brett, we couldn't have said it better ourselves. Thanks for the inside look at your Tahoe!
Audio/Video upgrades:
Clarion VRX935VD in-dash DVD player/monitor
Kicker R25 tweeters (front doors)
Rockford Fosgate Fanatic P Component 6.5" woofers (front doors)
Kicker K65 6.75" speakers (rear doors)
Kenwood KFC-415C 4x10" speakers (rear roof)
Custom-built subwoofer box
Three Infinity Perfect 10.1 10" subwoofers
USAcoustics USB-4085
Streetwires wiring kit
Performance/cosmetic upgrades:
Ractive Sport Pedals
Ractive shoulder harness pads
Super Plasma headlight bulbs (hi and low beams)
APC Clear Corner parking lights
APC Clear Corner lenses
APC Carbon Fiber Euro Tails
Billet antenna
Custom billet grille for GMC Yukon
Complete GMC front end with painted front bumper and integrated fog lights
Air Force One intake
Flowmaster Catback exhaust
Aftermarket paint ("Dark Cherry")
Eagle 16x10 wheels
1-inch suspension lift
Smittybuilt Nerfbars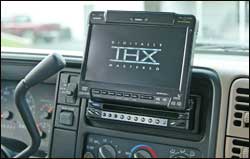 The Clarion VRX935VD does double duty in the dash: it spins Brett's CDs for on-the-road listening, and displays DVD movies when he's parked.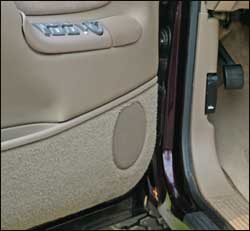 The front door's factory speaker grilles look innocent enough, but some real beasts lurk behind them: a set of Rockford Fosgate Fanatic P woofers, and Kicker's R25 component tweeters.

The Kicker K65 full-range speakers round out the sound for any rear-seat passengers.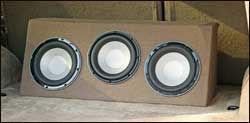 Brett hand-built this sub box specifically to hold a trio of Infinity Perfect 10.1 subwoofers.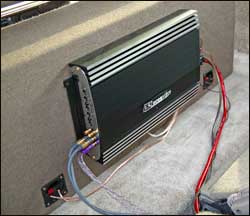 Mounted behind the Tahoe's rear seat, two channels of the the USAcoustics USB4085 amp are bridged to power one of the Infinity subs; the other two channels are running in stereo to power the remaining two subs. With the seat folded up, the amp is completely invisible. Brett hadn't finished hiding the wires when this photo was taken, but we'll have updated photos for you soon!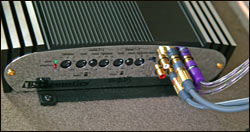 Streetwires and Monster RCA cables feed the USAcoustics amp. Brett has since replaced all the cables with Streetwires ZeroNoise models.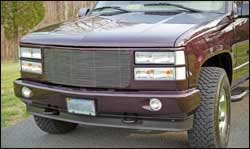 Nope, you're not imagining things: the front end of this Tahoe isn't original. Brett installed a Yukon front end, just because he preferred the cleaner look! Now that's dedication. Also of note: a set of APC clear parking light lenses.