Tim Jones's Tangerine Ford T-Bird
Items installed:
Kenwood KDC-4007 CD receiver
Coustic Power Logic 360 (150 watts RMS x 2), Clarion APA2103 (50 watts x 2), and Carver M240 (120 watts x 2) amplifiers
Boston Acoustics CX3 3-1/2" speakers — dash
Kenwood KFC-P502 5-1/4" component speaker system — door, sail panel
Boston Acoustics CX8 5"x7"/6"x8" speakers — rear deck
Kenwood BP-210 bandpass box (with 2 10" woofers)
Coustic XM-3 electronic crossover
AudioControl Epicenter signal processor (digital bass maximizer)
Stinger and Tsunami wiring
Tangerine paint
The system in Tim Jones' 1987 Ford Thunderbird begins with the Kenwood KDC-4007 CD receiver. The signal then travels to the AudioControl Epicenter — a digital bass maximizer designed to get the most out of your amp/woofer/enclosure combination. The Epicenter's remote control is mounted in the center console next to the power seat controls. Next, the frequency range is divided by the Coustic XM-3 crossover.
The low frequencies (below 80 Hz) are routed to the Coustic Power Logic 360 amp which powers a Kenwood BP210 bandpass box (with two 10" woofers). Tim installed Boston Acoustics CX3 3-1/2" speakers in the dash and CX8 5"x7" speakers on the rear deck. He mounted the woofers from the Kenwood KFC-P502 component system in the doors — the Kenwood tweeters were custom-installed in the sail panels (mirror covers) on the doors. The Clarion 2103G amplifier (with high-pass crossover set around 400 Hz) powers the tweeters and the CX3s, while a Carver M240 amp pushes everything above 180 Hz to the CX8s and the Kenwood 5-1/4" woofers.
Tim and his uncle did all the body work on the T-Bird. All handles, locks, and emblems have been removed (with the exception of the bird on the nose) — the doors are unlocked and opened by remote control. They conceived and executed the stunning, tangerine-colored paint job.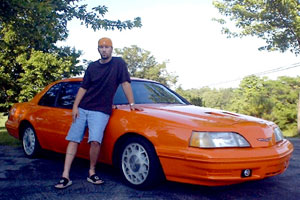 Tim Jones with his Tangerine T-Bird.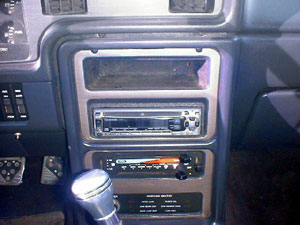 The Kenwood KDC-4007 runs the show from the dash.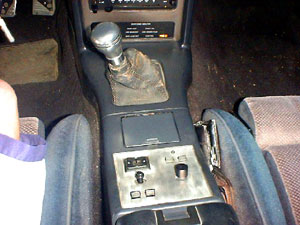 The AudioControl Epicenter's wired remote installed on the center console for fingertip bass control.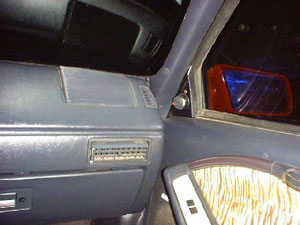 Kenwood tweeters are custom-mounted in sail panels for optimum imaging.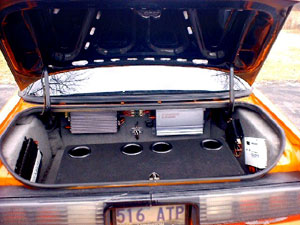 Amplifiers, processors and the Kenwood bandpass box fit neatly in the trunk.