Items installed:
Kenwood Excelon KDC-X811 in-dash CD receiver with CD changer controls
Kenwood KMD-D400 MiniDisc changer
Infinity Reference 510cs 5-1/4" component speaker system
Infinity Reference 612i 6-1/2" coaxial speakers
US acoustics USX-4085 4-channel amplifier (85 watts RMS x 4)
Kicker SoloBaric S10C4 10" 4-ohm subwoofer
Monster Cable 4-channel interconnects
Monster Cable XP speaker wire
StreetWires 8-gauge amplifier installation kit
When Mike contacted us with the story of his Peugeot installation, we were interested to see how aftermarket car audio components integrated with the French styling of this unique vehicle. "I love having a car that is different than everybody else's," Mike Kirkman says about his 1989 Peugeot 405 DL. "It's unique and has lots of little quirks, from the crazy beeping sounds it makes when you turn it on, to the French velvet upholstery. I wanted to put in a sound system that matched the uniqueness of the car."
Mike chose Kenwood's Excelon KDC-X811 CD receiver for the stand-out Excelon styling and solid 22 watts RMS per channel power. The System E's+ Advanced Crossover allows him to control the crossover points right from the dash.The KDC-X811 controls Kenwood's KMD-D400 in-dash MiniDisc changer, which offers 3+1 MD playback, a full-size graphic EQ, and MD text display.
Luckily for Mike, the French made it relatively easy for him to install both the CD receiver and MD changer. The Peugeot's dash has openings for two decks, and the DIN sleeves slid in perfectly for a tight fit. The only thing Mike had to fabricate was a trim ring for the MiniDisc unit, which he accomplished by using the pre-existing pocket as a template.
Theft protection was also a concern of Mike's — the KDC-X811's MASK face folds down to hide the unit, and the KMD-D400's faceplate detaches to leave a blank, black panel. He mounted the Infinity Reference 6-1/2" speakers in rear-deck custom pods that can be removed when he locks up. Crossed-over at 80 Hz, they provide plenty of rear fill with 22 watts RMS of power from the KDC-X811.
Mike utilized the Peugeot's built-in tweeter mounts for the Infinity Reference component system's smooth-sounding silk dome tweeters, and put the 5-1/4" woofers in the doors. Two channels of the US acoustics USX-4085 amplifier drive the forward components in stereo with an ample 85 watts apiece.
For precise, musical bass, Mike installed a Kicker SoloBaric S10C4 10" subwoofer in a Q-Logic sealed box, powered by 240 watts from the rear channels of the USX-4085 (bridged to mono). "I could get a lot more out of this sub with a bigger amp, but my goal was to have good sound reproduction at an affordable price, not wake-up-the-neighbors bass," he explains.
Mike used high-quality, four-channel Monster Cable patch cords and XP speaker wire for the installation. A StreetWires 8-gauge amp kit feeds power to the US Acoustics amp. Mike Kirkman has installed an audio system that truly complements the Peugeot's unique character. Thanks for letting us have a look at this sweet-sounding system — ooh, la la!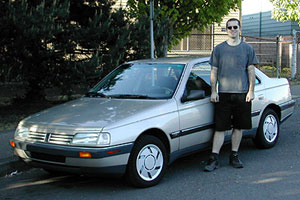 Mike Kirkman and his very hip-looking Peugeot 405 DL.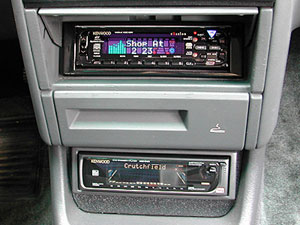 The Kenwood Excelon KDC-X811 CD receiver and KMD-D400 MiniDisc changer provide 3-source entertainment from the dual dash openings in the Peugeot.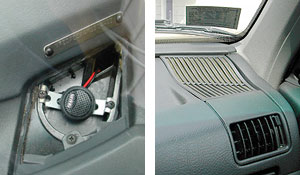 Left: The Infinity Reference tweeter sits pretty in the Peugeot's factory tweeter location.
Right: The tweeter broadcasts high-frequency details from behind the factory grille.



The Infinity Reference 5-1/4" woofers, along with the matching Reference tweeters (shown above), are powered by the front two channels of the US acoustics USX-4085 amplifier.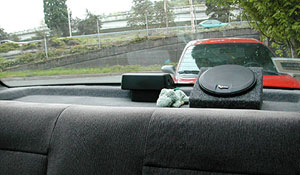 The removable pods on the rear deck house two Infinity Reference 612i 6-1/2" 2-way speakers for an effective rear fill.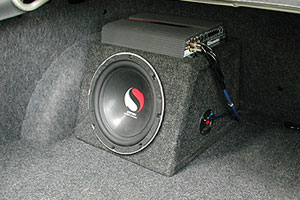 Bass-o-matic! The rear two channels of the US acoustics USX-4085 amplifier are bridged to mono operation to send 240 watts to a Kicker Solo-Baric 10" woofer in its Q-Logic sealed box.