Jesse Magana's 2005 Toyota Tacoma
Items installed:
JVC KDDV5100 receiver
Pair of MB Quart RCE216 6-1/2" components in rear doors
Pair of MB Quart RCE269 6"X9" components in rear doors
2 MB Quart RAA 2400 amps
Rockford Fosgate T112D2 12" subwoofer
Stinger 4 AGU power and ground wire, also Stinger Twisted Pair speaker wire
Stinger 3-way distribution block
Kicker KX3 electronic crossover
Stinger 4 AGU firewall grommet
Dynamat Extreme on all doors and back cab
iPod Bluetooth
Stinger Bullet Series Twisted Pair patch cables (3 pairs)
Installation Description
I wanted to upgrade my system with all MB Quart. Crutchfield was offering a package deal on MB Quart, so I decided to buy. I bought two of the MB Quart RAA2400 amps along with a PWE302 subwoofer.
I decided that I was going to build my own box. It was the hardest part of the install because there is no room behind the seat in a 2005 Tacoma. I had to improvise by moving the seat forward just a little. I made the box out of MDF and fiberglass to achieve a factory look. I had to remove the factory panels that are located behind the seats. I wanted to make sure that my box looked like a panel instead of just a box.
I also decided to replace the factory radio. I went with the JVC KDDV5100. I replaced all of the factory speakers with MB Quart, with 6x9 components in the front and 6 1/2" components in the rear. Because the head unit only has a pair of RCAs in the rear, I added a Kicker crossover to make the install easier and it makes a huge difference in sound. To help prevent any unwanted engine noise, I went with all Stinger wiring including power, ground, twisted pair patch cables, and twisted speaker wire. I did not use any of the factory wiring, except the power to the head unit. I ran all new wire to all the speakers.
After installing all the components, it was finally time for the test. Bad luck struck me again! The sub sounded blown. I first thought it was my box being too skinny, but after troubleshooting I found that one of the coils was no good. I called Crutchfield and spoke with Gabrielle. She took care of my problem. Thanks, Gabrielle! Even though MB Quart didn't have a replacement for the PWE302, Crutchfield sent me a T112D2. Sounds great. Glad I bought from Crutchfield.
Q&A Section
Why did you decide to upgrade your A/V system?
Once you experience the difference between stock and a custom sound system, you never want to go back to stock. It's like living in the dark and discovering that there is light.
What's the first thing you show people about your installation?
My custom subwoofer box.
Why did you choose these products?
Everyone bragged about MB Quart so I wanted to give them a try. Sounds great.
What was the most difficult part of the installation?
Building the subwoofer box and making it fit behind the seat with a 12" sub. Especially the T112D2. That thing is huge!
What plans, if any, do you have for future upgrades?
I want to get a couple of 7" monitors for my headrest so that I can take advantage of my DVD Player. I also need to get a capacitor. My amps draw a lot of current and it dims my lights.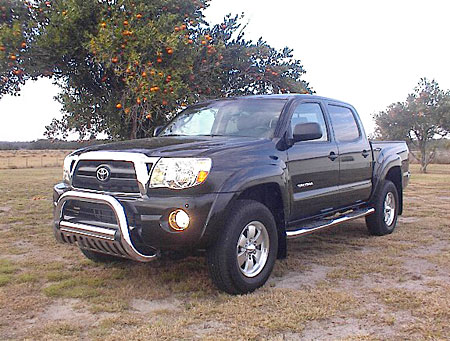 This is my 2005 Toyota Tacoma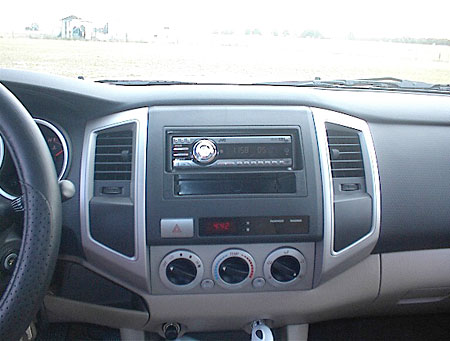 My JVC head unit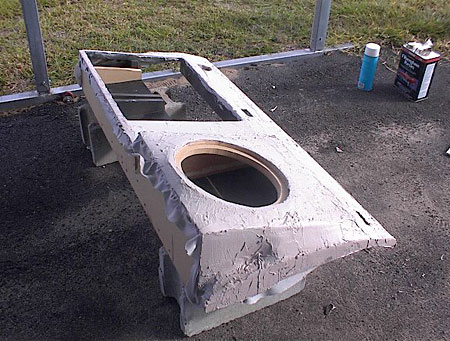 Box in progress. This is with the bondo prior to sanding.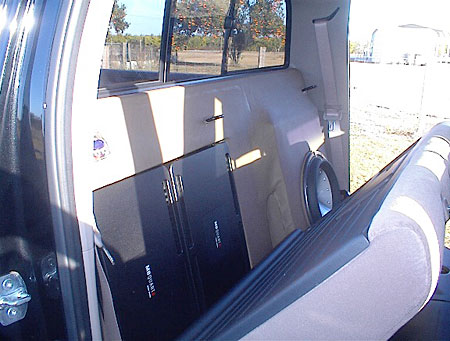 Here is what the final product looks like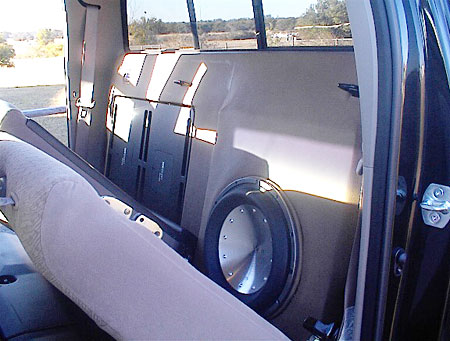 another view