William Payne's 2003 Chevrolet TrailBlazer
Items installed:
Focal Polyglass 165 V1 6.5" component speakers in front doors
Focal Polyglass 165 CV1 6.5" coaxial speakers in rear doors
Memphis Audio 15" single voice coil 4-ohm subwoofer in a sealed box that slams at 137db
Installation Description
The Jensen in-dash DVD player fit perfect in the factory opening along with my bass processor. The front component speakers were nearly a perfect fit with just minor trimming of the door mounted speaker baskets. The rear door speakers were an almost exact fit with minor trimming. The amps are mounted on the back of the rear seats wich laydown for easy tuning and wiring. The subwoofer is mounted in a pre-made sealed box and the Tsunami 2-Farad capacitor is mounted on the side of the box. Installation of each component went very well.
Q&A Section
Why did you decide to upgrade your A/V system?
I wasn't satisfied with the quiet factory components.
What's the first thing you show people about your installation?
The DVD player and the bass processor in the factory opening.
Why did you choose these products?
The Focal Speakers rock!! I recommend them over any other mid-range speaker by FAR!! The rest, just preference.
What was the most difficult part of the installation?
The amps. They always seem to take a while, especially if you want a good, professional, clean look.
What plans, if any, do you have for future upgrades?
I will add some headrest monitors, an overhead monitor, and upgrade to an Alpine amp and 2 better subs.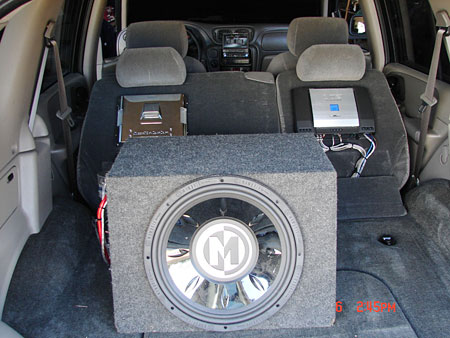 Overview of the entire system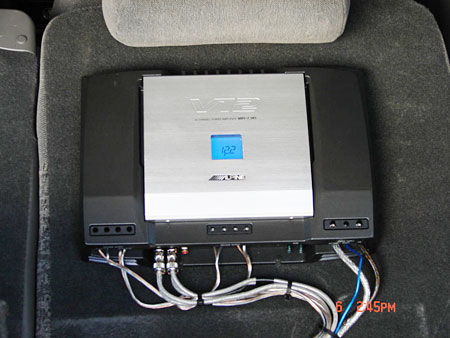 Alpine amp for the door speakers
Audiobahn amp for the Memphis sub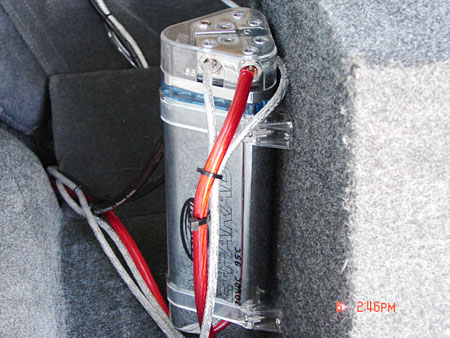 Tsunami capacitor to keep power flowing