Michael Pugh's 1994 GMC Sierra
Items installed:
Installation Description
I constructed the sub enclosure of MDF and plexiglass, and I painted it to match the outside color of the truck. The Punch 800a4 is hidden under the top plate of the subwoofer enclosure. The sealed box itself is actually inside of the box you see in the picture, and is divided into 4 chambers for each of the subs. At night the subs are lit by 2 neon lights which are behind the window panel of the enclosure.
Q&A Section
Why did you decide to upgrade your A/V system?
To show everyone around how a real stereo should sound. Also for my listening pleasure.
What's the first thing you show people about your installation?
The cleanliness, and the advantages of a good enclosure.
Why did you choose these products?
The quality of them speaks for themselves, and I had noticed that over the years.
What was the most difficult part of the installation?
Getting the enclosure into the vehicle.
What plans, if any, do you have for future upgrades?
Plan to replace everything with brand new shiny products, for the 2005-06 show seasons, with the addition of a fiberglass molded enclosure which I will construct and paint to match the truck's new paint scheme.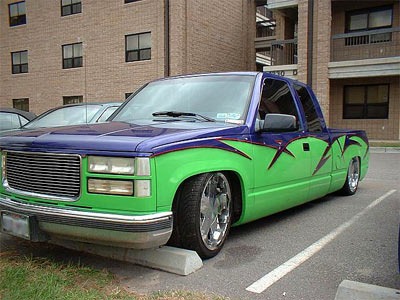 Truck Front


Truck Side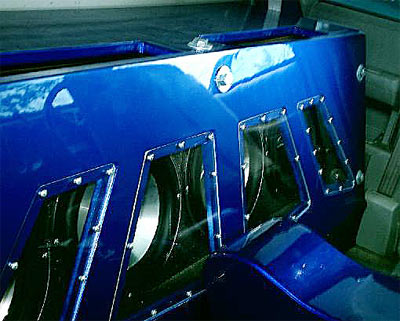 Enclosure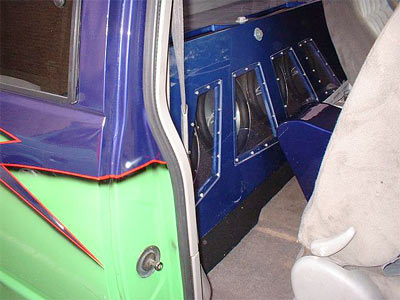 Side View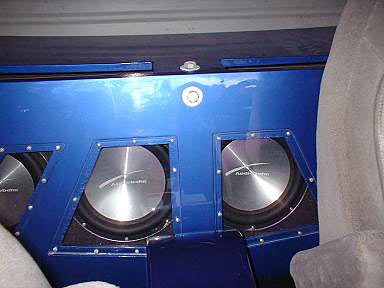 Front View