Conrad R's 2003 Chevrolet Impala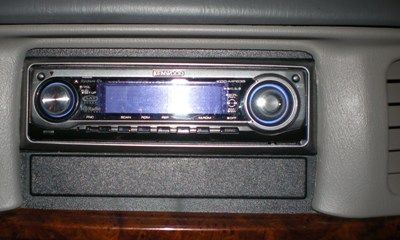 Items installed:
Kenwood MP635 Receiver
MTX Jackhammer 12's (x2)
Infinity Reference 6x9's in the back
Rockford 5x7'S in the front door
JBL 4 channel amp for the speakers
Rockford mono amp for the subs
Tsunami distributon block, fuses, and terminals
Rockford 2 farad cap
All Monster cabling
MTX Bass Slammer sub box
Metra factory chime integrator
Installation Description
Basically, I pieced everything together one by one. I started with the headunit and went from there. I love the installation look, everything is hidden even though there's like 10 lbs of wire running around! The hardest part was finding a spot to run my 0 gauge wire through the firewall. Then there was just enough to get to the trunk and the distribution block and cap. Since everything had to be screwed to the box before I started it was tricky linking everything up since I had no room! I also ran new wire to each speaker through the doors and in the process had my whole dash on the ground! The cap really helps, especially at night when the lights are on. It's embarassing when people know what your bumping when they see your lights flickering! I love it though and im proud to show it off!
Q&A Section
Why did you decide to upgrade your A/V system?
Cause I like to hear the whole spectrum of my music. And, well, I like it loud!
What's the first thing you show people about your installation?
Just the clarity and intensity of the music!
Why did you choose these products?
Quality, I dont skimp on that. Everything works well together. I just wish that I could have found a better brand of fuse holder and distribution block. I'm not big on Tsunami.
What was the most difficult part of the installation?
Running the wires and not seeing them. There is seriously a lot of wire in this beast! I must say that I did a pretty good job of making them all inconspicuous though.
What plans, if any, do you have for future upgrades?
COMPONENTS. IN DASH DVD PLAYER. EXHAUST. AND HEADREST MONITORS. AND MAYBE (IF THE GIRL LETS ME!) SOME LEATHER SEATS!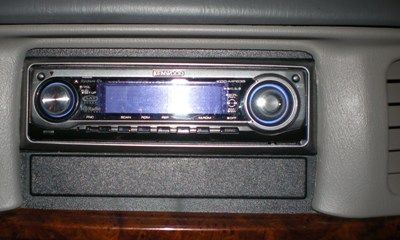 New head unit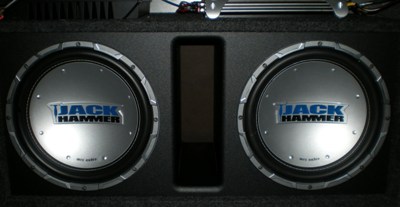 Jack Hammer subwoofers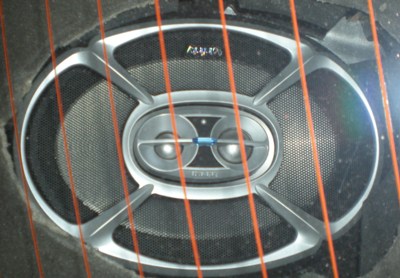 Great mid-range sound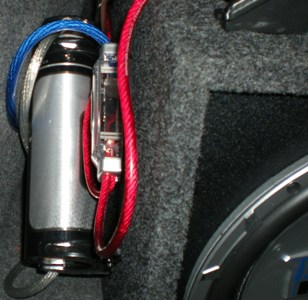 Rockford capacitor