Matt Schaeffer's 1999 Mitsubishi Eclipse GSX
Items installed:
Two Audiobahn Excursion 12" Subwoofers
Rockford Fosgate Competition 14g Speaker Wire
Stinger Platinum Power and Ground Battery Terminals
Rockford Fosgate Battery
Rockford Fosgate Competition 1 Farad Capacitor
Rockford Fosgate Competition 6x9 Speakers
Rockford Fosgate Competition 6 1/2" Speakers
Kenwood Excelon 250 Watt Amp
Stinger Platinum Distributer
Two Alpine 6.5" Sunvisor Screens
Custom Fiberglass Enclosure located in Rear Hatch
Installation Description
With the system, I first decided to make a fiberglass enclosure for the two subs and the amp. I made my fiberglass enclosure then installed the two subs and made the amp recessed in the box and made a cover for the amp which has the Mitsubishi symbol that lights up with 4 blue StreetGlow neons. The enclosure is painted pearl white with blue pearl to match the exterior of the car. I purchased the two Alpine sunvisor screens from Crutchfield and fiberglassed them into my sunvisors. I then upholstered them with some blue carbon fiber vinyl that I purchased. Everything else was a direct installation hook up.
Q&A Section
Why did you decide to upgrade your A/V system?
I wanted somehting show-worthy.
What's the first thing you show people about your installation?
The rear fiberglass enclosure that houses the two subs, amp, gauges and capacitor.
Why did you choose these products?
Because they are the best performers and also visually attractive.
What was the most difficult part of the installation?
The fiberglass enclosure.
What plans, if any, do you have for future upgrades?
More monitors and better subs.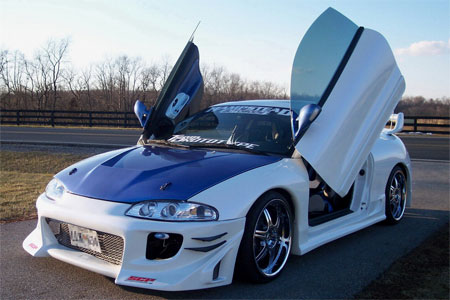 The gull-wing doors pop open to reveal a competition-level sound system.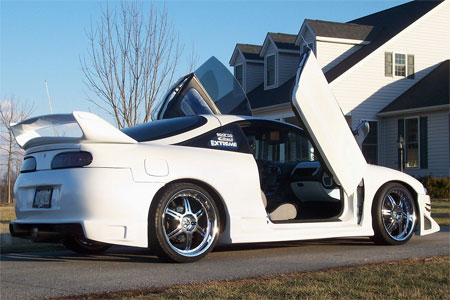 Supra tail lights were molded in for a full custom look.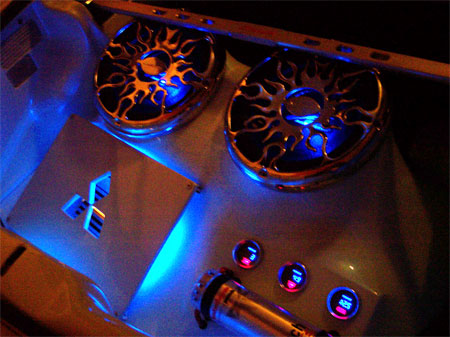 Blue neon casts a glow on the Audiobahn subs.