Matt Schilz's 1994 Chevrolet Camaro
Heads up!
Welcome to this article from the Crutchfield archives. Have fun reading it, but be aware that the information may be outdated and links may be broken.
Items installed:
Aiwa CDC-MP3 CD receiver
Pioneer TS-A1795 6-3/4" 2-way speakers — front door, rear seat side panels
Two Pioneer TS-W253C 10" subwoofers
Q-Logic dual 10" custom enclosure for Camaro
Pioneer GM-X544 amplifier (50 watts RMS x 4)
Pioneer GM-X944 amplifier (75 watts RMS x 4, 250 watts x 2 in bridged mode)
Stinger power cable, speaker wire, Hyper Series patch cables, and distribution block
Customizing Camaros is as American as apple pie — and a new sound system was number one on the agenda when Matt Schilz acquired his 1994 Chevrolet Camaro hatchback. Matt designed and built the system himself, completing the installation in four days.
A confirmed Web surfer, he chose the Aiwa CDC-MP3 CD receiver for its ability to play recordable CDs loaded with MP3 files. With over 10 hours of music files fitting onto one disc, the Aiwa gives him access to an awesome number of near-CD quality tunes. The CDC-MP3 also features auxiliary inputs (for hooking up a cassette or MiniDisc portable), a detachable fold-down face, and two sets of 2.2-volt preamp outputs.
Aiming for a full, well-balanced sound, Matt installed the Pioneer TS-A1795 speakers in the Camaro's front and rear speaker locations. These 6-3/4" 2-way speakers feature a rotatable horn tweeter (with a 5/8" aluminum dome driver) for extra flexibility in setting up a focused soundstage. Matt removed the felt from the factory speaker grilles to make sure that high frequencies cut through bright and clear. The Pioneer GM-X544 makes all four speakers happy with its four channels of 50 watts RMS power — its built-in high-pass crossovers are set at 120 Hz.
Matt loaded two Pioneer TS-W253C 10" woofers into a Q-logic dual sub Camaro custom enclosure for a color-matched factory look in the rear hatchback area. The Pioneer GM-X944, bridged to two-channel operation with its low-pass crossovers set at 120 Hz, sends a healthy 250 watts RMS to each one of the woofers for some profound bass. The Pioneer amps get their juice courtesy of Stinger 4-gauge power cable run from the battery.
To guard against noise problems, all speaker wire was run on the driver's side, and all power cable on the passenger side. Matt eliminated the possibility of a ground loop by running power to the Aiwa deck from the Stinger distribution block on the amp board. Great sound is in the details, and, as you can see in these photos, the fine points have not been neglected in this ride. Killin' Camaro, Matt!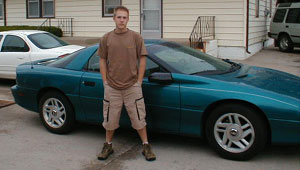 Matt Schilz and his 1994 Chevrolet Camaro.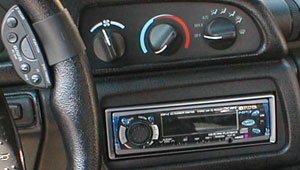 The future is now! The Aiwa CDC-MP3 with its steering wheel remote control will play recordable CDs loaded with up to ten hours of MP3 files.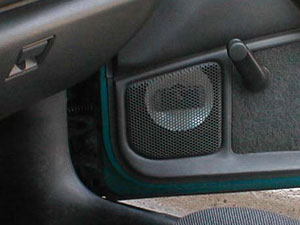 The Pioneer TS-A1795 6-3/4" speaker in the front door broadcasts exceptionally detailed mids and highs, thanks to its rotatable horn tweeter.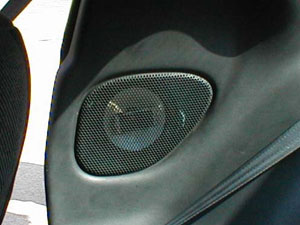 Matt removed the felt material from all the factory speaker grilles — the Pioneer TS-A1795's IMPP Rigilite woofer and horn tweeter let it all hang out in the rear seat side panel location.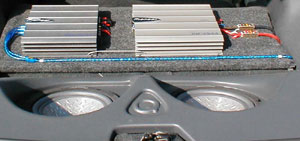 Pioneer Central: Pioneer amplifiers and subwoofers create an eye-catching array in the Camaro's hatch area.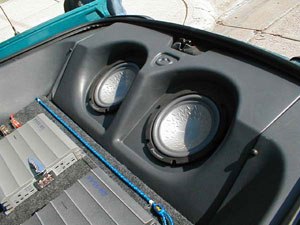 The Q-Logic Camaro hatchback enclosure combines perfect fit and color-matched appearance for a factory-installed look!