Jared S's 2004 Chevrolet Cavalier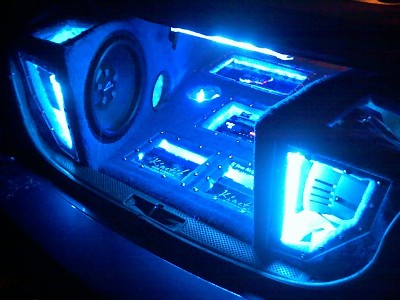 You can view Jared's previous installation in his Cavalier here
Current Items installed:
Pyle Dryver 3600 watt mono block
Pyle Dryver 2000 watt 4 channel
2 Kinetik HC800 car audio batteries
Pyle Dryver 50 farad hybrid capacitor
2X Power Acoustik FX series subs 12" with kevlar cones. Dual 4ohm
2X Pyle plg69.8, 8 way speakers in rear
4X Volfenhag (ZX-846R) 350 watt speakers, 2 in front and 2 in trunk
Custom enclosure made of fiberglass and 3/4 MDF. Built in clear acrylic plates and finished with Neon blue carpet.
100 blue led's and 6 blue neon tubes for lighting
16 ga to door speakers and 12 ga to each subwoofer coil.
Installation Description
The installation started with a month of planning. The design needed to support all of the components and still leave room to put luggage into the trunk if needed. The final design still leaves access to the spare tire. The actual building took 45 days and started with the fiberglass. The fiberglass is on the sides of the trunk to maximize the volume of the enclosures, and is then connected to 3/4 MDF for the flat exterior of the enclosure. The next part was the center - each component has it's own box and is surrounded with blue LED light. The amps are in the front, the capacitor is in the middle, and the batteries are in the back. I also included 2 120mm fans to keep the amps cool in their confined environment. I ran everything together with 0Ga wire for power/ground and used 14 and 16 gauge for the door speakers. The head unit is stock for now but I plan on adding a carputer of my own design.Final cost of all components and materials was under 1000. This is not a show stopper and was not intended for that. This is just a driving car that has a nice trunk for parties.
Q&A Section
Why did you decide to upgrade your A/V system?
To have something to use for music at the parties out in the middle of nowhere.
What's the first thing you show people about your installation?
First I give them a taste of the sound. Then I lift the trunk and show them the goods.
Why did you choose these products?
They had adequate output for the price.
What was the most difficult part of the installation?
Getting everything to fit. On the first try the trunk lid did not close. Overall, the installation required lots of tweaking.
What plans, if any, do you have for future upgrades?
Carputer and replacing the head unit.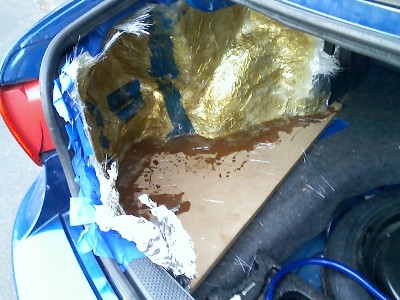 fiberglass molded to the inside of the trunk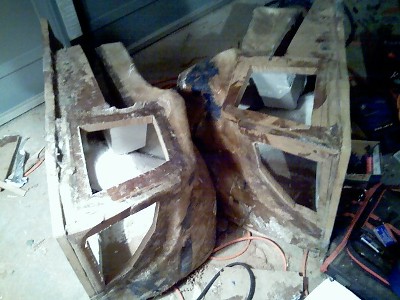 Placement of the windows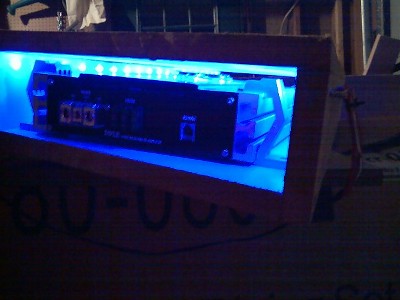 side view of one of the boxes with lights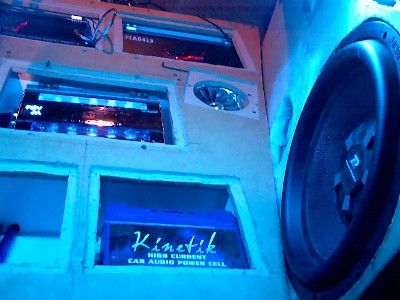 fitting the parts and testing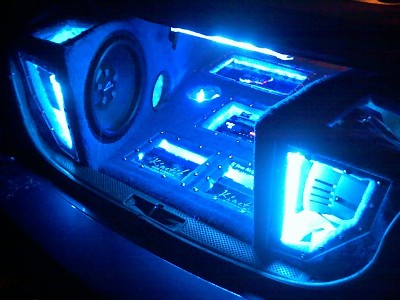 Final result :)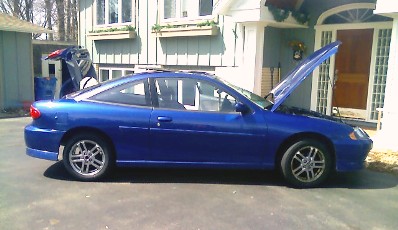 Baby Blue