Mark Shelton's Jeep Wrangler
Items installed:
Crime Guard 745i2 car alarm
Sony MDX-C8970 in-dash MiniDisc receiver
Sony CDX-727 10-disc CD changer
US acoustics USX-4085 (85 watts RMS x 4)
US acoustics USX-2150 (150 watts RMS x 2; 400 watts x 1 bridged)
MTX Thunder8000 T8104 10" sub
Q-Logic QLH-CL10 10" hatchback box — rear cargo area
Clarion ProAudio SRC-4652 4"x6" plate speakers — dash
Pioneer TS-G1345 5 1/4" speakers — rear sound bar
StreetWires 12-gauge speaker wire
StreetWires Zero Noise patch cables
Optima Red Top Battery
Mark Shelton knew that he'd be decking out his 2000 Jeep Wrangler TJ with some serious audio gear, so he first installed the Crime Guard 745i2 alarm system. This top-of-the-line car alarm was the perfect choice for the Jeep — its 2-zone/2-stage microwave motion detector provides coverage even with the top off and the windows open.
Mark chose Sony's MDX-C8970 as his in-dash system controller. This MiniDisc receiver and its companion Sony CDX-727 10-disc changer (mounted on the back floor) are highly resistant to skipping (a big plus for off-roading), and the receiver's Voice Drive feature allows him to select source, radio presets, and discs in the changer with up to 12 programmable vocal phrases — hands free!
Mark has achieved excellent stereo imaging in the TJ. A pair of Clarion SRC-4652 4"x6" 2-ways replaced the factory squawkers in the front dash. The balanced-drive PEI dome tweeters and 4" polylaminate woofers supply lively mids and bright highs. Pioneer's TS-G1345 5 1/4" full-range speakers fill in the rear from the sound bar. All are driven by the four-channel USX-4085 amp, one of two US acoustics amps sunk under his rear bench seat.
An MTX Thunder8000 T8104 woofer (housed in a Q-Logic hatchback box) sits in the rear cargo area, fed 400 watts by the US acoustics USX-2150 amp in bridged mode. Mark used 12-gauge StreetWire speaker wire throughout the Jeep, and packed PolyFill behind the speakers for a "little warmer sound." The Optima Red Top battery supplies plenty of power to the TJ's winch and the US acoustic amps. Mark, thanks for the look at your clean Jeep!

Mark Shelton surveys his kingdom from one slammin' Wrangler.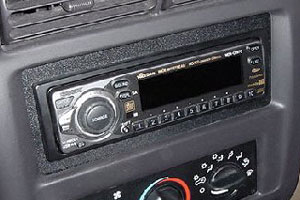 Sony's MDX-C8970 in-dash MiniDisc receiver offers awesome digital sound-shaping, superior sound quality, and voice command convenience.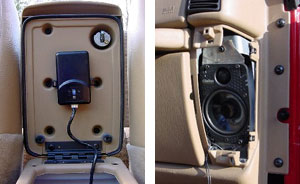 Left: The Crime Guard motion sensor stands guard under the center console lid, providing security even with the top off.
Right: The dash-mounted Clarion ProAudio SRC-4652 4"x6" plate speakers combine with the Sony receiver's digital processing for precise front imaging.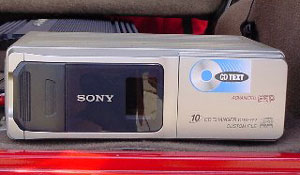 Sony's CDX-727 10-disc CD changer kicks out the jams with its high-quality D/A converter, electronic shock protection, and disc titling for up to 110 discs.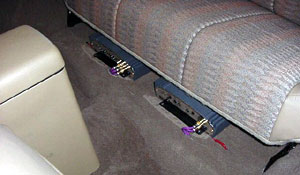 The US acoustics USX-4085and USX-2150 amplifiers pump out plenty of power from under the rear bench seat to conquer the Wrangler's road noise.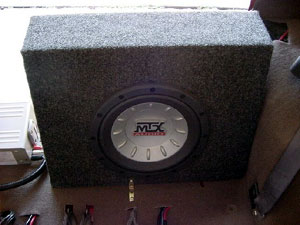 The MTX Thunder8000 T8104 10" sub in its Q-Logic hatchback style box receives 400 watts of power from the US acoustics USX-2150 amp (bridged to mono operation).