Dallas Simon's 1999 Mazda Miata
Heads up!
Welcome to this article from the Crutchfield archives. Have fun reading it, but be aware that the information may be outdated and links may be broken.
Items installed:
Dallas Simon fell in love with his 1999 10th Anniversary Edition Mazda Miata the moment he saw it. It's a head-turner — Mazda only produced 3,000 of these cars for the US market. Dallas was looking for an easy, cost-effective way to give his Mazda a performance boost, and decided to install a Typhoon Intake.
K&N's Typhoon intakes are designed to replace the factory air box and air intake in compact sports cars, increasing airflow to the engine for improved performance. (Depending on the vehicle, a Typhoon intake can boost power by 5 to 15 horsepower.) Its reusable filter can be cleaned periodically to maintain smooth airflow. They're street legal in all 50 states, and most models are offered in four different colors, so you can pick one that's right for your vehicle's color scheme.
K&N offers a Typhoon intake for the 1999-2003 Miata. Dallas doesn't even change his own oil, but a quick look through K&N's detailed, step-by-step Miata instructions convinced him he could handle the job. In less than an hour, he replaced the Miata's old air box and hose with the deep blue Typhoon intake.
Originally, air entered the engine through a small rectangular opening at the end of the factory air intake, crowded up against the inner fender. Now, the engine gulps in air from the large K&N air filter that has a 360° intake — the engine gets more air with every stroke. Dallas notices the Miata's added power every time he steps on the gas. He estimates the power gain at around 8 horsepower, which makes a big difference in a vehicle that only weighs 2000 pounds.
The engine sounds cooler — "a sexy little growl when you step on the gas" — and looks cooler, since the Typhoon intake is color-matched to the Miata's blue exterior! Great deal, especially for an investment of less than $180. Thanks, Dallas, for the look at your beautiful machine.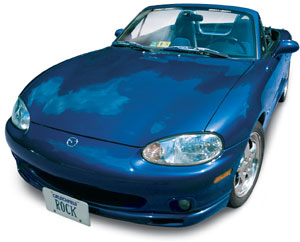 Dallas Simon's 1999 Mazda Miata — only 3,000 of these 10th Anniversary Edition models were made for the U.S. market.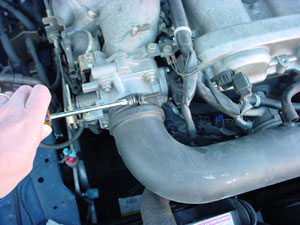 Removing the factory intake hose from the throttle body.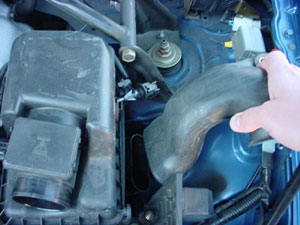 Removing the air intake from the factory air box.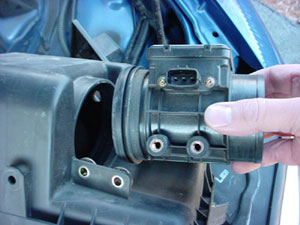 Dallas removes the mass air sensor from the factory air box; this part is reinstalled with the K&N Typhoon intake.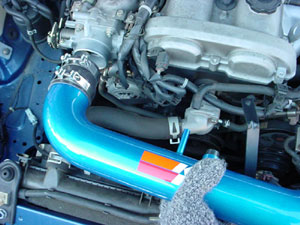 Clamping the Typhoon intake on to the throttle body.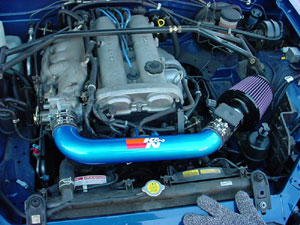 With the factory air box gone, the new air filter has plenty of room to breathe.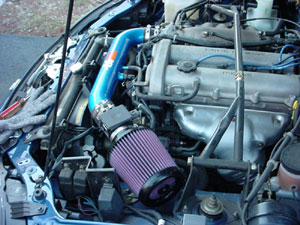 A side view of the Typhoon intake installed in the Miata — you can see the mass air sensor reinstalled next to the air filter.