Alex Ticknor's 1997 Subaru Legacy
Items installed:
Installation Description
The Kenwood Excelon KDC-X889 runs everything with SRS WOW effects and 5-volt preamp outs. In the front door panels are 6.5" 4-way Sony XS-V1641H. Then in the rear deck is a pair of component 6.5" Kenwood KFC-P605ie. These speakers are run off of an Audiobahn A6004T amp that delivers 75 watts RMS X 4.
The subs and amps were installed so that the spare tire was still accessible. The pair of 12" Audiobahn AW1206T subs have peak power-handling of 2,200 watts each, and are in a sealed Q-Logic QLH-.8512DE box. The subs are each powered by an Audiobahn A8000T amp. The amps, crossovers, capacitors, and distribution blocks are mounted on a carpeted board that creates trunk space while still allowing the spare tire to be removed.
Q&A Section
Why did you decide to upgrade your A/V system?
Stock just wasn't loud enough.
What's the first thing you show people about your installation?
The blue lit trunk and the deck.
Why did you choose these products?
I chose this equipment for performance.
What was the most difficult part of the installation?
Running speaker wire to the front doors.
What plans, if any, do you have for future upgrades?
None with this car, but I'm about to start installing on a 1994 Toyota Supra.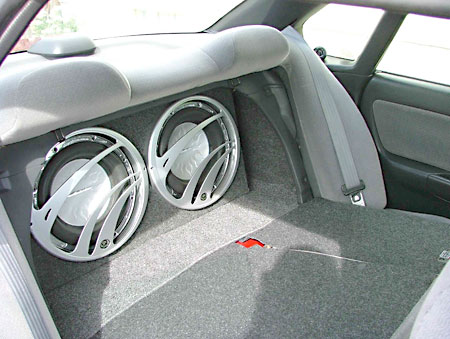 Pair of Audiobahn AW1206T Subs in a Q-Logic QLH-.8512DE Box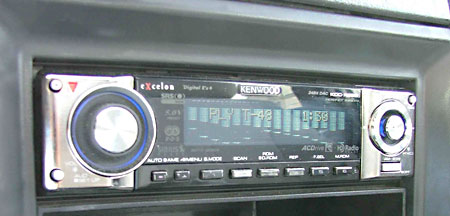 Kenwood Excelon KDC-X889 Deck with G-Analyzer, System Q EX, SRS WOW, and Digital E's+ crossover system.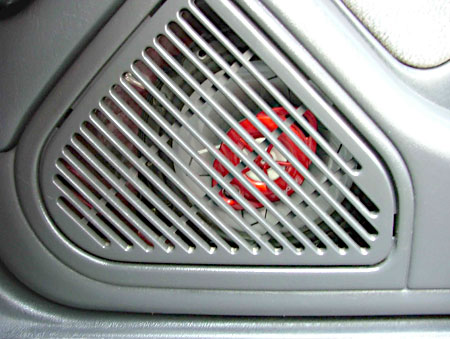 6.5" 4-way Sony XS-V1641H in the front door panel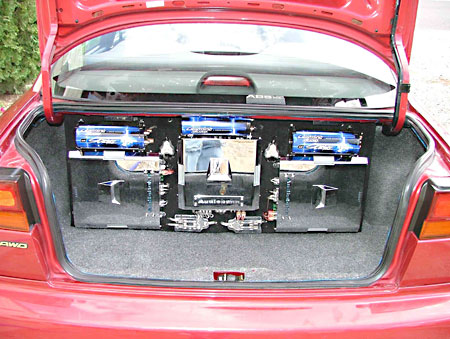 Trunk install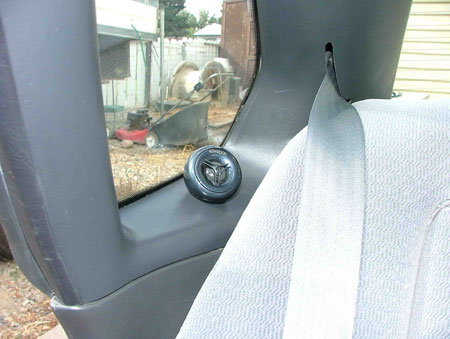 Tweeters on Kenwood KFC-P605ie 6-1/2" component speaker system