James Turner's Honda CRX
Heads up!
Welcome to this article from the Crutchfield archives. Have fun reading it, but be aware that the information may be outdated and links may be broken.
Items installed:
Under the Hood


1.6L DOHC - ZC (JDM) Engine with 5 speed manual DX transmission
NGK platinum spark plugs
MSD SCI ingnition control module
MSD Blaster SS ignition coil
MSD modified distributor cap
Vitek ignition wires
Prothane urethane motor mount inserts and shift stabilizers
DC Sports 4-2-1 ceramic coated header (86-89 Integra top half, 88-91 CRX downpipe)
Venom hi-volume fuel rail
Venom hi-flow injectors
Venom adjustable timing gears
Venom Fang car jewelry
Venom VCN2000 computerized nitrous system
Venom hi-volume in tank fuel pump
Venom hi-flow fuel filter
Weapon R V2 filter and intake system
Weapon R fuel regulator
NOS purge kit

Stiff Stuff
KONI adjustable front and rear shocks
Weapon R Pro Circuit coil overs
DC Sports rear strut bars
Neuspeed polished front tower strut bar
Suspension Techniques front and rear sway bars

Rollers
Kumho ECSTA 712 205/40ZR-17 tires
Enkei CDR9 17x7 wheels

Stoppers
Power Stop cross-drilled rotors (front)
VGX carbon metallic pads
Goodrich stainless steel brake lines (front and rear)

Flow
DC Sports polished stainless steel 2" exhaust cat-back system with polished muffler and 4" polished stainless steel tip
Custom made straight pipe cat replacement

Exterior
House of Colors Orion Metallic Silver with ghost flames
Aerogear Z3 fiberglass front fenders
Kaminari body kit for 88-89 Honda CRX
custom made aluminum wing spoiler with custom brackets

Interior
MOMO Apache leather steering wheel
MOMO Corse Super Tuning pedals
MOMO Combat shift knob
MOMO emergency brake handle
Autometer Ultralite gauges (oil pressure, vacuum, rich-lean indicator, 5" monster tach, water temperature, nitrous pressure)
Weapon R G-Spec floor mats
Matrix racing seats
Optima Yellow Top battery

Audio/Video
Panasonic CY-VMD9000U In-dash CD/DVD player with built-in 7" LCD monitor
Panasonic CA-TU7000U Audio/Video Expansion Unit
Polk/Momo MM455 5-1/4" Component Speaker System — front doors
Polk EX3560 6-1/2" Component Speaker System — rear sides
MTX Thunder6500D Mono Subwoofer Amplifier (500 watts RMS x 1 @ 2 ohms)
MTX Thunder6304 4-channel amplifier (37.5 watts RMS x 4 @ 4 ohms)
Polk GNX12DVC 12" dual 4-ohm voice coil subwoofer in a custom 1/4" thick sealed aluminum cylinder (.80 cubic feet)
Panasonic CX-DP88U 8-disc CD Changer
Monster Cable 1-farad DigiCap capacitor
Dynamat sound deadening material
Monster Cable RCA patch cables, power, and ground cable
Alpine SEA8081 alarm system with radar perimeter sensor
Streetglow neon
When James Turner, the South Atlantic Regional Sales Manager for Polk Audio, found a 1989 CRX at a junkyard for $200, he just couldn't pass up the opportunity. He'd recently finished tricking out an Acura Integra, and he felt excited about tackling a new custom car project.
The day he bought the car, the task before him certainly looked ominous. The CRX dripped oil all the way to his house, literally painting the pavement. Despite blowing up the engine just two blocks from his house, James managed to get the car to his garage and took stock of the enormous job ahead of him. He'd promised his many sponsors (including Venom Performance, DC Sports, MTX, Panasonic, and of course, Polk Audio) he'd have the CRX ready for shows in just 10 months.
One look at this beautiful car now and it's amazing to think how much work James has done. He completely rebuilt the entire CRX from the ground up: the stock Honda CRX DX engine got yanked and replaced with a 130-horsepower Japanese-built ZC engine. A Venom VCN2000 computerized nitrous system adds another 25 to 180 horsepower to this road rocket! The VCN2000 constantly monitors the fuel-oxygen ratio and adjusts the rich/lean mixture to safeguard the engine, while cranking out maximum boost.
James has added a plethora of other engine performance upgrades, including a Venom hi-volume fuel rail, hi-flow injectors, and hi-volume in-tank fuel pump to ensure this car will deliver the goods when you step on the gas. Anodized blue Venom Fang Car jewelry pieces (dip stick, oil cap, radiator cap, cam gears, etc.) add a touch of color to the polished steel and chrome of the engine components, blending nicely with the blue StreetGlow undercarriage ground effects.
The exterior of the CRX absolutely glistens — James chose an Orion Metallic Silver paint finish with ghosted flames. 17-inch Enkei CDR9 wheels, a silver Kaminari body kit, Aerogear Z3 fiberglass front fenders, and APC clear corners and bumper lenses adorn the body. The rear of the car showcases a DC Sports exhaust cat-back system with polished muffler and 4" stainless steel tip. It gives the CRX a nice, fat rumble when James hits the juice.
Inside, the custom work is every bit as dazzling as on the exterior. The blue-on-silver motif that begins under the hood and expands along the exterior gets the full treatment in the interior. Matrix racing seats feature bright blue restraining belts. A blue and black MOMO Apache leather steering wheel, blue MOMO combat shift knob and emergency brake handle, and blue/silver MOMO Corse Super Tuning pedals accent the cockpit. Autometer Ultralite gauges set off in a custom side mount display all the vital system info: oil pressure, vacuum, rich-lean indicator, water temperature, and nitrous pressure. A monster 5" tachometer keeps James running below the red line, except when he's chirping his tires.
The centerpiece of the audio/video set up is Panasonic's CY-VMD9000U — an in-dash multimedia command center that incorporates a 7" widescreen monitor with a DVD/CD player. The Panasonic CA-TU7000U hideaway A/V unit connects the 8-disc CX-DP88U CD changer to the in-dash DVD player, and sends signal to two MTX Thunder amps mounted in a recessed bay in the rear of the car. Polk/MOMO MM455 5-1/4" component speakers grace the front doors, pumping out plenty of bright highs and punchy mids. The 4-channel MTX Thunder6304 amplifier supplies 37.5 watts RMS to each door, and another 37.5 watts RMS to each of the Polk EX3560 6-1/2" component speaker pairs mounted in the rear panels.
A unique, sealed aluminum enclosure encases a Polk GNX 12" dual voice coil subwoofer up on the rear deck. James asked his machine shop to roll the 1/4" thick air craft aluminum into a perfect cylinder to create a virtually non-resonant enclosure that looks spectacular mounted next to the Venom nitrous tank. A blue-tinted MTX Thunder6500D mono amplifier surges 500 watts RMS to the sub, which is wired in parallel for crushing bass performance. An Alpine SEA8081 alarm system establishes a radar perimeter around the CRX to deter thieves and protect the thousands of dollars of gear he's installed.
Keep your eyes out for James and the CRX at the next show you attend — he can sometimes be found at the Crutchfield tent. And don't forget to check out the February/March 2003 issue of Honda Tuning magazine for a full spread on this amazing ride. Thanks, James, for giving us a tour of your beautiful CRX!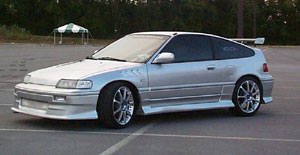 Super fly! James Turner's totally refitted CRX soaks up the morning sun before another show.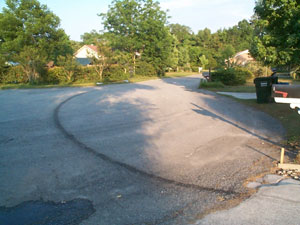 The CRX dripped oil all the way home from the salvage yard.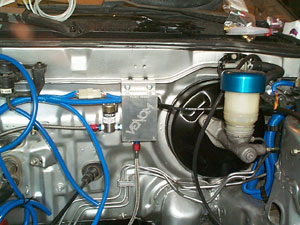 James installed the Venom VCN2000 module on the firewall before putting in the new ZC engine. The VCN2000 comes with a handheld display that he can use to configure the nitrous system to operate in three different modes.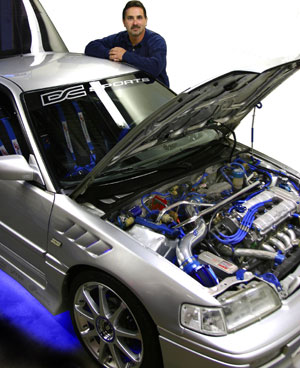 The engine looks amazing and totally burns.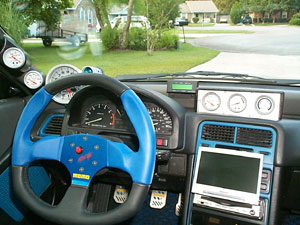 A look at the cockpit of the CRX, featuring the Panasonic in-dash monitor/DVD player, MOMO steering wheel and pedals, Autometer gauges, and Venom nitrous controller.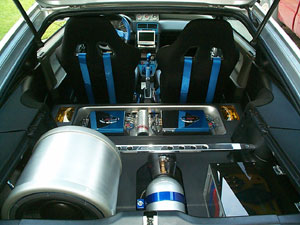 A view of the rear compartment shows the amps and capacitor, custom sub enclosure, nitrous tank, and Optima battery.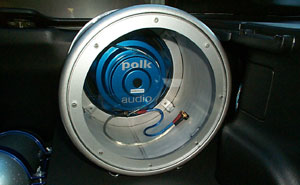 The Polk GNX 12" DVC sub in its brushed aluminum enclosure.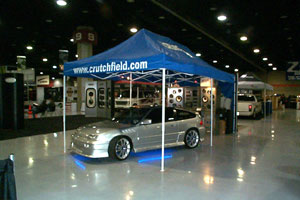 Look for James and his radical CRX at the next custom car event you attend.