Mike Wiener's Jeep Cherokee
Items installed:
Aiwa CDC-MP3 CD/MP3 receiver
Polk EX602a 6-1/2" speakers — front doors
Polk EX502a 5-1/4" speakers — rear ceiling
Rockford Fosgate RFZ1410 Punch 10" component subwoofer
Kenwood KFC-T204 3/4" dome tweeters
Profile California Jam J200.2 amplifier (60 watts RMS x 2, 180 x 1)
Scosche EFX amplifier wiring kit
It's a wonderful thing to see American ingenuity in action. Michael Wiener wanted to improve the sound in his 1999 Jeep Cherokee Sport, but felt that any upgrades should be invisible to the outside world. So, he designed a powerful system with a minimum profile — and a couple of interesting twists.
Mike didn't want a CD changer out in the open in the back of his Jeep, so he picked the Aiwa CDC-MP3 CD/MP3 receiver to go in the dash. Its strong internal amp (22 watts RMS/45 peak x 4) has plenty of power for his speaker system, and its ability to play MP3-encoded CD-Rs and CD-RWs eliminates the need for an external changer. Mike transferred over 50 of his favorite CDs onto a handful of discs (over 10 hours of tunes on each one) which he stores in a visor holder.
He installed the Polk EX602a 6-1/2" speakers in his front doors and EX502a 5-1/4" speakers in the rear ceiling factory locations. The EX Series speakers combine excellent sound quality with high efficiency, so they sound great with the Aiwa's built-in amp. Mike then discovered that the Cherokee comes prewired for tweeters, so he installed Kenwood's KFC-T204 3/4" dome tweeters in the factory door locations. The Kenwood tweets are parallel-wired with the Polk door speakers, and powered by the Aiwa.
Michael came up with an ingenious solution to getting powerful bass in the Cherokee without letting the whole world know. He built a sealed enclosure to house his Rockford Fosgate RFZ1410 10" subwoofer, and mounted the enclosure inside his spare tire. (The entire assembly pops right out if he ever needs to fix a flat.) Under the back seat, he installed the Profile California Jam J200.2 amplifier, which pumps out 180 watts RMS in bridged mode to the Rockford Fosgate sub. Mike used a Scosche EFX amp wiring kit to connect the Jam amp, and StreetWires 14-gauge speaker wire for the subwoofer.
Mike Wiener has put together a powerful "stealth" sound system — with the spare tire cover on, the only sign of an upgrade is the Aiwa receiver in the dash. Thanks, Mike, for letting us take a look at your jammin' Jeep!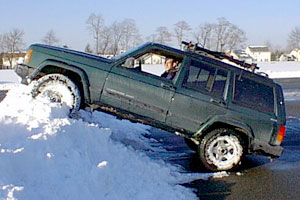 Mike and his 1999 Jeep Cherokee playing in the snow.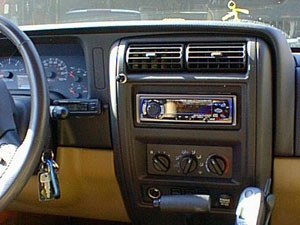 The Aiwa CDC-MP3 CD receiver boasts good looks, great power, and the ability to play back MP3 files recorded on CD-R or CD-RW.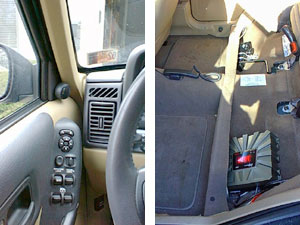 Left: Kenwood's KFC-T204 3/4" dome tweeter contributes to a strong front soundstage from its vantage point in the Cherokee's door.
Right: With the back seat removed, you can check out the futuristic Profile California Jam J200.2 amplifier, cranking out 180 watts in bridged mode to the Punch sub.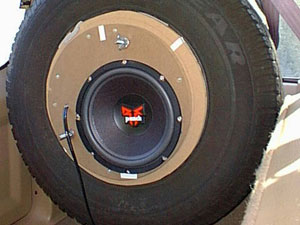 Rockford Fosgate meets Goodyear — Mike Wiener's custom sealed enclosure houses a Punch 10" subwoofer in the middle of a spare tire.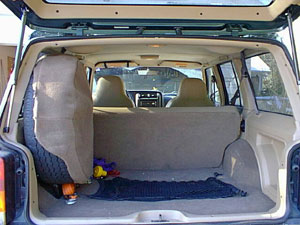 What system? With the spare tire cover in place, the Aiwa receiver is the only clue to the powerhouse system in this Cherokee.